David Beckham and his MLS franchise head for the 'burbs
Repeatedly denied zoning for a stadium in Miami, David Beckham took to the road.
It's said that big money just means bigger problems. David Beckham can attest.
Sir Alex Ferguson's personal shoe rack amassed a sizeable fortune while still playing, moving beyond athletic endorsements into fashion and other investments. When the end approached, Mr Spice was able to donate his entire Paris Saint-Germain salary to charity while still maintaining his advantage over teammate Zlatan Ibrahimovic in their personal tattoo contest.
After hanging up his boots, Beckham delved into his next venture. Whereas many former players stay involved through coaching, Golden Balls activated the clause in his Major League Soccer contract that allowed him to acquire a franchise for the bargain-basement price of $25 million. With his pick of available cities, the celebrity socialite remained true to himself by choosing Miami. Afternoons in the owner's box. Evenings on South Beach. The easy life.
Unfortunately, the powers that be in Miami proved immune to Beckham's bright smile and gracious nature. It's not like he was trying to blackmail Miami-Dade into financing his stadium. His ownership group, formerly Miami Beckham United but now doing business as Miami Freedom Park LLC, features a who's who of Miami corporate leaders including Sprint CEO Marcelo Claure, MasTec's sibling tandem, Jorge and Jose Mas as well as SoftBank CEO Masayoshi Son. The group always intended to pay their own way.
Beckham's vision was to bring a downtown stadium to Miami, one reachable by mass transit that would echo the appeal of English stadia where supporters walk to the ground on Match Day. MLS supported the plan. Their most successful grounds are downtown projects. As Beckham and co were doing everything according to their wishes, the league bent over backwards to give the former LA Galaxy star time.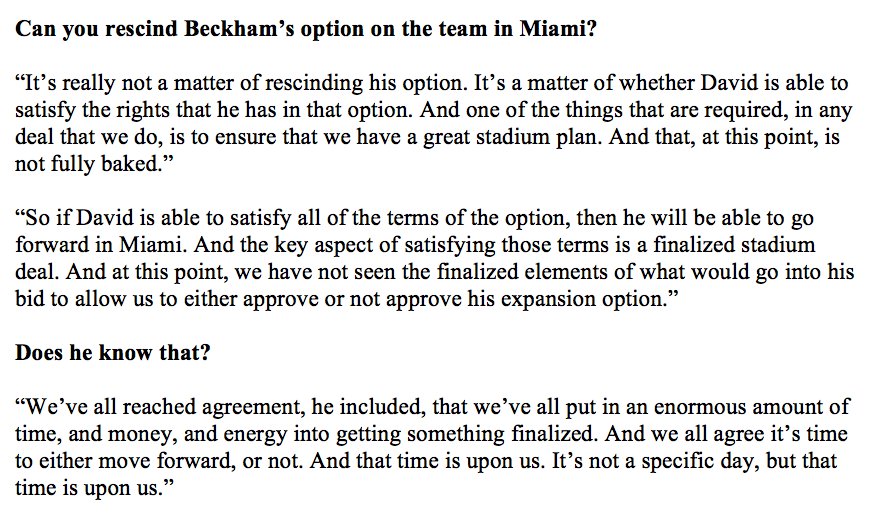 Beckham needed every second the league gave him. Every site chosen found opposition whether it was Miami Heat and Carnival Cruise owner Mickey Arison nixing his Port of Miami and Bayfront locations or the city choosing to pay for Miami Marlins owner Jeffrey Loria's stadium built where the University of Miami's Orange Bowl once stood rather than green-lighting the MLS ground that wouldn't cost the taxpayer a penny.
Miami Beckham United went so far as to buy property in rundown Overtown only for residents to voice concerns over traffic. MBU listened, promising to bus supporters in from parking lots at nearby Tri-Rail stations and work to develop a pedestrian mall around the ground to revitalise the community with the team at its heart. Then a neighbourhood association across the Miami River protested that stadium lighting and noise would intrude on their quiet summer evenings. A tract of land near Miami International Airport was also mooted and opposed by local businesses and residents. Politicians denied MBU zoning and permits for each.
With MLS running out of time and patience, the rebranded group gave up on Miami for now and did what all rich folk in America do. They moved out to the suburbs. MFP began talking with the City of Fort Lauderdale about Lockhart Stadium, an ageing facility that struggled to keep a regular tenant over the years but hosted local high school gridiron and soccer games.
Over the decades, four iterations of Fort Lauderdale Strikers called it home too. Manchester United legend George Best turned out for the original North American Soccer League side in 1978. The team moved to Minnesota after the 1983 campaign, albeit not for the weather. Two other Strikers teams played in second and third-tier leagues in the eighties then the noughties. The second began life as Miami FC, rebranded when they moved north, then fell into limbo in 2016 when the second North American Soccer League disintegrated. Between their times, the Florida Strikers took up residence and even localised their name to Fort Lauderdale for the 1995 season.
That team was followed by the MLS' Miami Fusion who called the stadium home from 1998-2001. Colombian legend Carlos Valderrama's presence made the Fusion an instant hit but poor management and ticket sales eventually led to its dissolution.
Fort Lauderdale does in a few months what Miami is (still) working on half a decade.
So Miami Beckham United aka Inter Miami will play in ....
FtLauderdale ..
for 2yrs? longer? forever?
@WPLGLocal10
https://t.co/piIpz40P8p
When the edifice became unmanageable and was demolished, Fort Lauderdale commissioners needed to redevelop the site. They were eager to welcome Beckham's new franchise and fast-tracked construction on the property. MFP's initial rendering promises four stands with two covered, a bare minimum to cope with the Florida heat and humidity for afternoon matches. Even evening affairs will be hot and uncomfortable without misting or other cooling systems.
Unfortunately, the location is nothing like Beckham's dream. The property is surrounded by business parks, hotels and an executive airport. There is little to no pedestrian traffic or retail business to supplement the matchday experience. Access to the interstate and turnpike are nearby but local roads will be clogged by 18,000 supporters attempting to reach the new ground.
In keeping with the group's original plan, the project is privately financed. While the franchise still hopes to move to Miami, a training facility attached to the stadium will continue to be used. In exchange for a 50-year lease and naming rights to the ground, MFP agreed to subsidise public fields and park area and provide access to two local schools who have no stadium for their gridiron teams.
Inter is slated to begin play in March 2020 but it's difficult to see how the franchise can complete the complex in seven months. While construction is booming in Fort Lauderdale with literally dozens of high rises going up around the downtown area, nothing happens that quickly. Inspections and other matters slow things down even though Florida is a 'right to work' [anti-union] state. As a downtown resident, I cross the Andrews Avenue drawbridge every day on my commute. in the midst of refortification and a facelift, the span was slated to be closed for a month starting on the eighth to complete the heavy work. At the writing, it remains open. There is every reason to believe delays will affect Beckham's project as they do other work in the city.
The initial question is where the team will play its opening matches? Will it share space with either the Marlins or Dolphins in their massive stadiums? Will they use Florida Atlantic's complex, even further away from Miami in Boca Raton? Will they play a game or two at different venues as DC United did last season while waiting for their Audi Field to open? Will they begin the campaign with an extended road trip as Portland Timbers did while Providence Park underwent upgrades? Can fans expect anything other than the most essential amenities from the hurried project? At the moment, the team is looking like Miami Interrupted rather than Inter Miami.
I'm not sure whether to be excited to benefit from Golden Ball's problems or not. If Inter does well, it will only open doors in Miami. Beckham is counting on it. When someone puts a wall between him and his target, he always finds a way to dip and bend around it to hit a match winner.