Mr Rooney goes to Washington II: Red Devil ravages MLS
Manchester United's all-time scorer bedevils opponents while whipping DC United into playoff shape.
Wayne Rooney was a Manchester United man. A Scouser, his career began at Everton but as United's all-time scorer, he will always be a North-West Red no matter what some may feel. When he no longer suited needs at Old Trafford, he donned Goodison Park blue again for a short spell. Now he's gone to Washington, taking up residence in an even bigger white house than Donald Trump's. The Red Devils legend donned the appropriately coloured kit of a different United side and made the black hole of America his own.
The Merseyside-born striker was raised an Evertonian. He read his studies from the School of Science, put in part-time shifts at the toffee factory and sang hymns from the pews in the Church of Goodison at the weekend. He wore his Everton pyjamas every night, it's said, even when he was on the books at Manchester United.
His time with his boyhood club can easily be forgotten by neutrals. Two years to kick off his senior career, then the heroic return when he was deemed surplus at Old Trafford. Neither period witnessed his best although playing too well carried him far from the toffee factory and not well enough back to the Church of Goodison.
At 32, Wayne had done everything England could ask. Playing for the club he supported, winning all the domestic and continental accolades with Manchester United, becoming the nation's top scorer. All that yet the nation still didn't love him. Nor the media who delighted in demonising him.
Psychologists will tell you the abused often become abusers themselves. Wazza is definitely demonising Major League Soccer.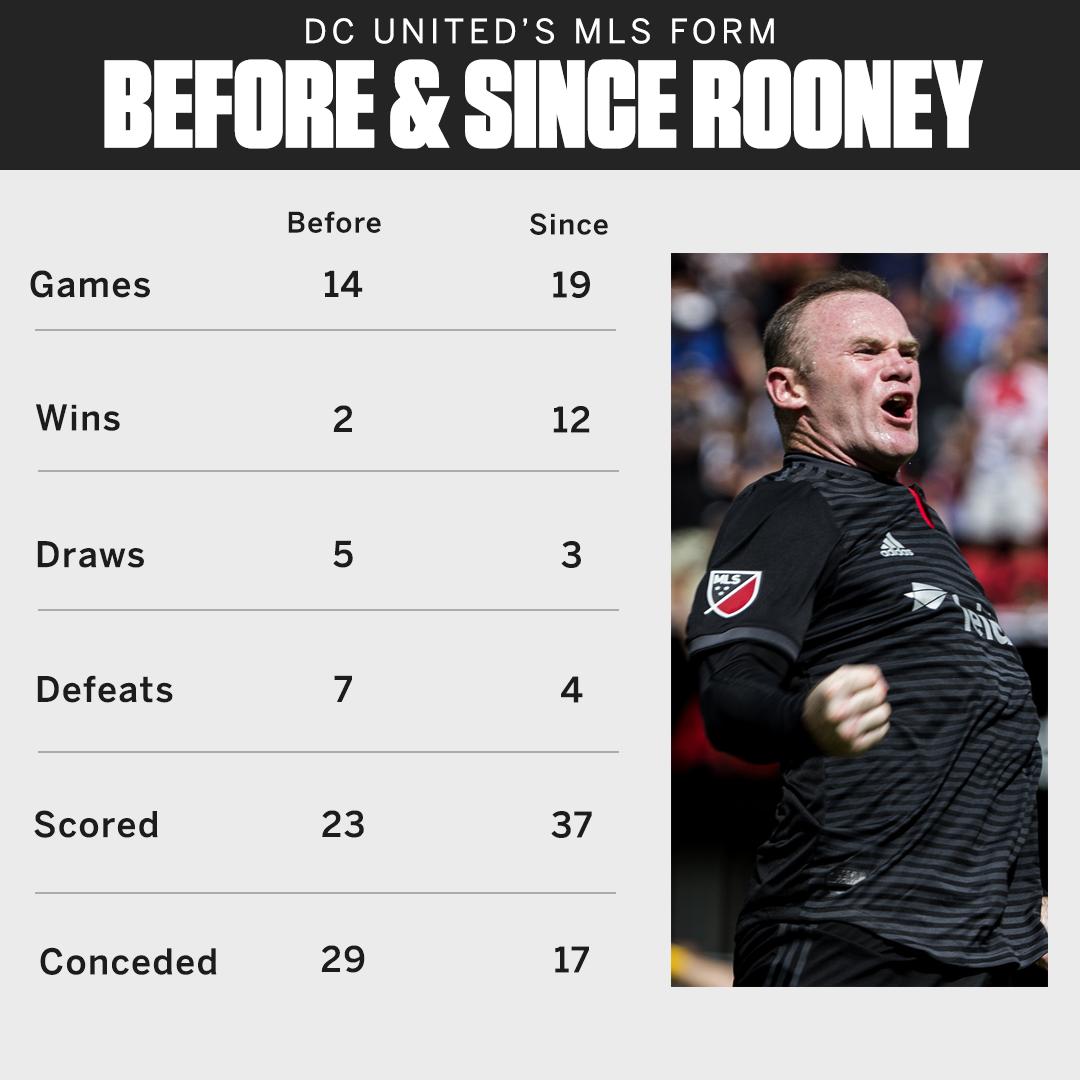 There were passing rumours Rooney could join an MLS club every time exasperation with a poor patch reached fever pitch. Whispers of LA Galaxy being interested always surface. In Hollywood's backyard, they're the epitome of the league's fascination with football celebrity. Nothing materialised. Ten goals weren't enough to keep him on Everton's books even though it was club best last term. Rumours surfaced again. And lingered. This time, the capital club owned his MLS rights.
Negotiations took ages. Having come home, Rooney was reluctant to leave. In the end, the media's unsocial attitude and Sam Allardyce's refusal to play him properly [in his 27 Premier League starts, Big Sam subbed him off 20 times] made it easy to shut up shop and go to America.
The 'land of the free' offered a fresh new start. The opportunity to get away from the media and not stand in the limelight. Maybe the occasional mention on Sky Sports as per their contractual obligations to talk about the league. He'd also be able to go to the shop himself without being hassled for autographs when he just wants a loaf of bread and pint of milk. Alright, maybe not milk.
Oh and how he's loving it. The football I mean. Not the pints.
It's safe to say the transition is going swimmingly. Twelve goals and six assists in 19 matches. Yes, it's MLS but he's surpassed his Toffees numbers in the equivalent of half a PL season.
He's not waiting in the box for tap-ins either. He's scored some beauties and set up teammates in grand style. Greater license to roam has led to a renaissance of the marauding striker Sir Alex Ferguson coveted. A consummate professional, he's incorporated the supporting role he was asked to play in his later United years into his American freedom. Of course, at DC he's probably the best player in every position so he could probably play where ever he likes.
Success has followed Rooney to the club. DCU were on the scrap heap when he arrived, bottom in the Eastern Conference. He's been the catalyst in a complete turnaround.
The former England captain is preparing for his first taste of playoff football. To even be in the mix for the MLS Cup is an achievement given where the club was when he arrived. The Black and Red have won four on the bounce, sit fifth, complete their season at the weekend, then play the first-round match against an opponent to be determined on Wednesday or Thursday.
Wayne is a winner again, with silverware very much in the frame. Whether he can win it is another question. Other quality players, like NYCFC's David Villa, Atlanta United's Josef Martinez, NY Red Bull's Bradley Wright-Phillips and possibly Sporting Kansas City's Johnny Russell or former teammate Zlatan Ibrahimovic with the LA Galaxy, may stand in his path, but they all should be warned. The Red Devil is coming for them.