De Boer debacle shows Crystal Palace identity crisis
Crystal Palace made their new coach, Frank De Boer, their former coach as they look set to replace him with Roy Hodgson. The Dutchman became the first managerial sacking of the season in the Premier League after Burnley's New Zealand striker Chris Wood scored his second goal in as many matches for his new side to leave Palace rock bottom of the league and still looking for their first goal of a Premier League season we are only four games into.

Despite the Burnley game being their best performance of the season to date, the Crystal Palace players had shown a real lack of ability to play for their new coach in the opening four games of the season, and the formula finessed by Sam Allardyce to keep them up at the back end of last season had seemingly been torn up by De Boer who wanted his new side to play a more delicate, passing style.

The former Ajax and Inter Milan boss paid the price for an apparent clash of footballing cultures as he struggled to adapt to the Premier League during the 360 minutes of football he oversaw as head coach of one of its member clubs. De Boer also paid the price for injuries to key man: Wilfried Zaha as well as Connor Wickham, and Bakary Sako, all of whom would've hoped to help dissipate Palace's attacking deficiencies had they been fit. But ultimately he paid the price for the initial error of judgement which the decision to appoint him in the first place had been.

The writing had been on the wall for De Boer since before the international break, and when former manager Dougie Freedman returned to the club ten days before the end of the transfer window it seemed as though his days were numbered. The Scot came in as sporting director and you wondered what exactly he had been brought in to do. The timing of Freedman's return seemed odd given Palace's only major transfer deal, post his return, was to bring Mamadou Sakho, a vital man in the survival effort last season. Sakho's permanent transfer from Liverpool had been basically finalised for most of the summer, barring some minor quibbling between the buying and selling clubs over fees and add-ons. Was Freedman really there to deal with transfers or was he waiting in the wings to take his old managerial position back from a now increasingly vulnerable looking Frank De Boer?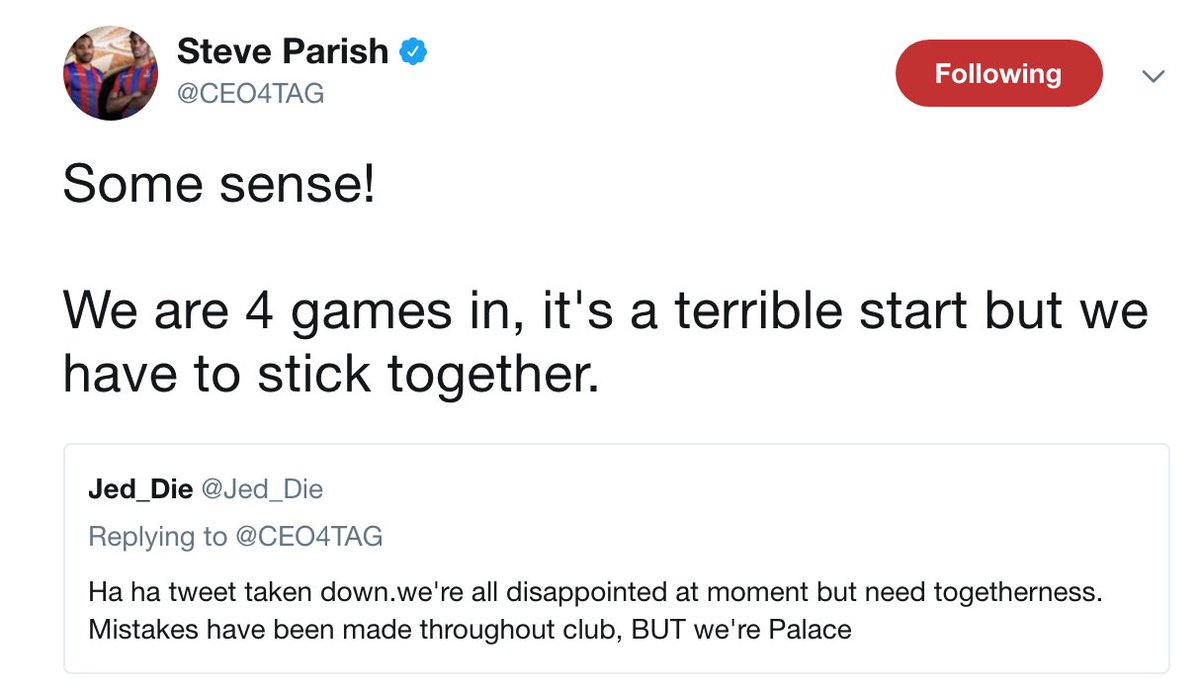 When Sam Allardyce chose not to remain as manager of Crystal Palace at the end of last season, many felt that they were losing the best fit they'd had for the job since Dougie Freedman had left the club in 2012 to take the Bolton Wanderers job. During that time the London club have got through Tony Pulis, Ian Holloway, Neill Warnock and Alan Pardew among others before making what seemed to be a sensible appointment in Sam Allardyce last season after his tenure as England manager had been cut short. All in all, Crystal Palace have had 16 managers since 2010 and the appointment of Frank De Boer certainly appeared to be a change of direction for the club.

Off the back of a disastrous time in charge of Inter Milan, De Boer had a point to prove. He had previously won the Dutch Eredivisie four times in his first four seasons as a manager. Four consecutive titles being a record that his boyhood club Ajax had never before achieved, and they added to the five he had won with Ajax as a player in the nineties. The two subsequent seasons though saw Ajax fall second to PSV and in the summer of 2016 De Boer stepped down as Ajax manager.

Inter took De Boer to Milan to replace outgoing manager Roberto Mancini but he lasted only 14 games there before the club decided he was not the man for them. There have been so many managers exit through the doors of the San Siro in recent years that it's difficult to define any of them as bad managers when it happens to them. A club which has shown itself to be one of the most unpredictable in Italy is hardly a stable place to make your name as an elite European coach but De Boer had shown himself both there and at Ajax to be an uncompromising character who ruffled feathers in the changing room and at times with the press. It makes it all the more confusing therefore that in the summer Palace Chairman Steve Parish set his sights on the Dutchman to fill Sam Allardyce sized shoes in the Selhurst Park dugout.

When you look through the long list of managers that Crystal Palace has hired and fired in recent years, a real pattern emerges. They're all British: Attilio Lombardo 's ill-fated seven games in charge in 1998 the last time the club had appointed a foreign manager. They're all pragmatic: Allardyce aside, a list of Steve Bruce, Iain Dowie, Peter Taylor, Neil Warnock, George Burley, Ian Holloway and Tony Pulis reads like a who's who of career coaches who know their way around the lower Premier League and upper Football League echelons, and know how to work effectively in them. Add the decidedly streaky tenure of Alan Pardew to the list and you've got a particular picture painted as to the type of manager that fits the Crystal Palace managerial brief: scrappy, bullish and capable of turning a fairly average group into a side of Premier League survivalists.

De Boer was supposed to be the man to change that image. If Steve Parish had wanted to continue down the well-trodden path of Palace old he could've looked to David Moyes, to Nigel Pearson, or even Roy Hodgson who is now the favourite for the job. It seems clear though that what Steve Parish wanted to do was to move away from the old Palace way of employing effective managers with Premier League experience. De Boer was to evolve Palace, to change them into a side of mid-table maestros who would spray the ball around and moments of brilliance from the aforementioned Wilfried Zaha, Andros Townsend, Jason Puncheon and Christian Benteke would delight Eagles fans and give the club a likeability that Swansea enjoyed under Brendan Rodgers and Michael Laudrup, and that Mark Hughes looked to have given Stoke when for a moment pundits branded them "Stoke-alona". So why then did the club decide that after just four games, enough was enough?

It looks from the outside that the decision to oust De Boer was an admittance by Palace that they made a mistake in appointing him. They should've gone for one of those more expectable candidates and not for a Hollywood name who had been hurt by his experience at one of Europe's basket-case clubs. The club made few signings in the summer, bringing in three centre backs and a midfielder on loan. For anyone to come into a club like Palace and change their style with such a small turnover of players would've been tricky. And De Boer is no shrinking violet, but for a man who had been so obviously damaged by his time at Inter less than a year ago, it was destined to fail.

Crystal Palace now are set to revert back to type by installing Roy Hodgson as their new manager. Hodgson played for the club and certainly fits the model which they've time and time again adhered to in their appointments. With the likes of Benteke, Zaha and Sakho in his squad, Roy Hodgson will fancy his chances of keeping the club in the Premier League. He'll return the side to tactics more akin to those adopted by Sam Allardyce, and many a Palace manager before him. But this will be no easy job.

Hodgson irked Wilfried Zaha when he was England manager, he repeatedly left the winger out of England squads which got to Zaha enough to, ultimately, switch his international allegiances to the nation of his birth, Ivory Coast, rather than the nation he had lived in since he was four and whom he'd represented at youth and full international level. There were also issues with Andros Townsend for Hodgson when he was England manager. Those issues were smaller than those he faced with Zaha, but he will have to heal relationships with both players if he's to get anything like the type of tune from them that he'll be hoping for.

You can't help but feel that much like when they brought in Tony Pulis, this union with Roy Hodgson is a marriage of convenience, that he is coming in to save them this year, that already this season is likely to be focussed on staying up, rather than achieving any higher targets, but that in the end they want to change. Palace spend big money on transfers and wages these days, and for them to go for a name like Frank De Boer, to flirt with the idea of changing their approach, and then four games into a season to walk away from it all smacks of a club struggling with its own identity. Hodgson almost certainly isn't there for the long haul, and let's hope that next time Crystal Palace try to adopt a new style, they show a little more courage in their convictions than to whimper back to their old ways after four games.