De Boer's ambitious plan to introduce attacking football to Serie A nipped in the bud
The old adage "When in Rome, do as the Romans do" is universally known. Still, Frank de Boer refused to believe it applied to the rest of the Serie A beyond the two clubs in the eternal City. Internazionale's far-flung executives came together long enough to disagree, however. With the Dutchman's offensive tricks not treating Nerazzurri supporters to much joy, just four wins in his eleven league matches, Suning, the club's Chinese ownership consortium assembled on Hallowe'en to allegedly wield the grisly axe via Skype. Proving Italian football is at least willing to accept we now live in a social media world, if not one of attractive, attacking football, De Boer took to Twitter to comment on his dismissal.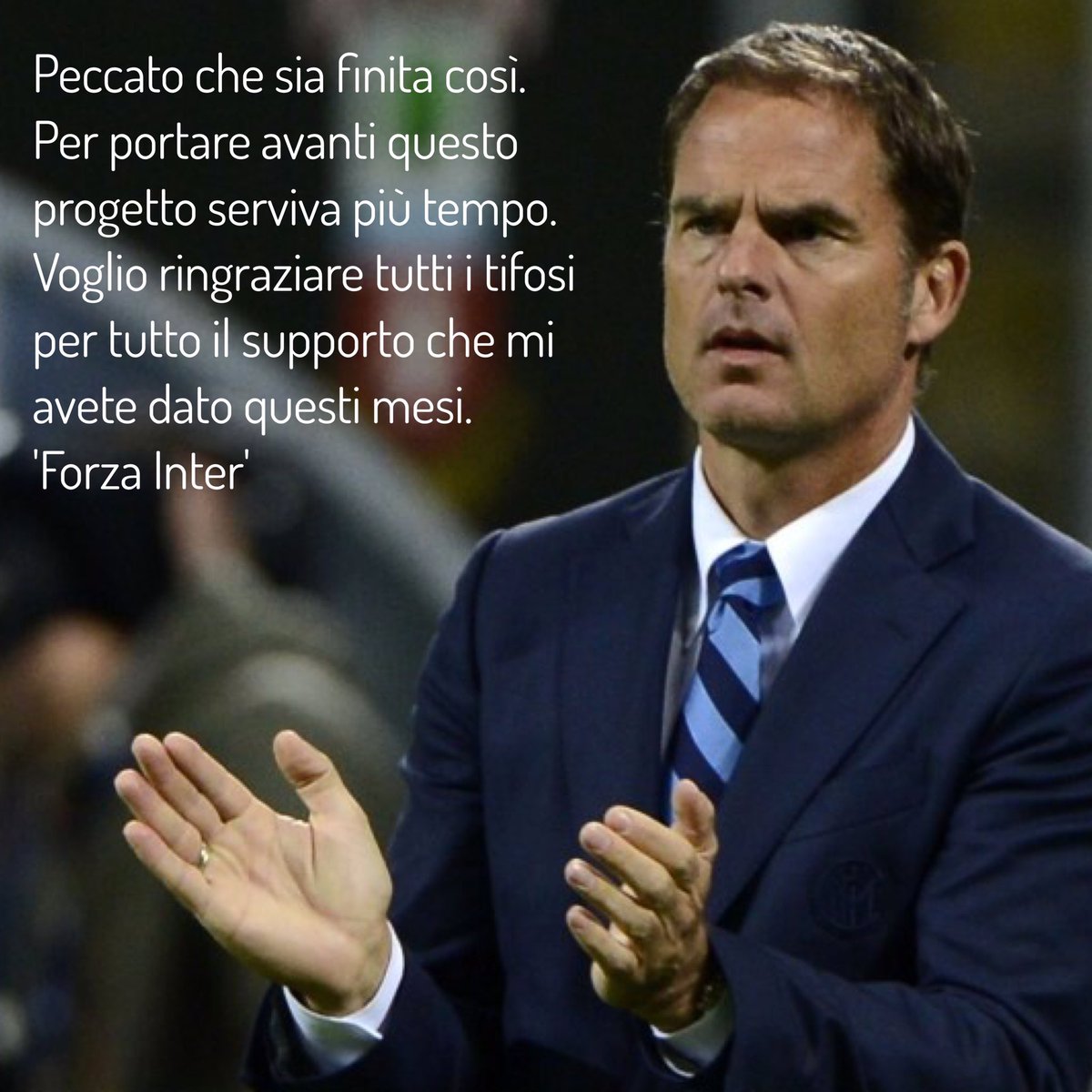 Translation:
"Too bad it ended like this. This project needed more time to be carried out. I want to thank all the fans for all the support you've given me over these months." 
There's no word whether de Boer used a napkin or his shirttail to wipe the excess sarcasm that dripped all over his keyboard when he typed the last sentence.
Eighty-five days isn't much time to revolutionize a club's footballing philosophy. Yet, just as you can't convince Premier League fans the influx of foreign investment and talent is stifling English football's development, or Real Madrid fans their club should stop buying a new set of designer-name players every season as though they were the
latest fashions from Paris
, Italian football fans stubbornly deny 
catenaccio
has run its course. Thus, like the majority of revolutions, this one was put down quickly.
The Bleacher Report's
Matt Jones reported
that the Mirror's Jack Rathbone labeled De Boer "awful" and "inept throughout," while ESPNFC's David Amoyal referenced his unfamiliarity with Serie A. Lack of time to instill his ideas on the squad aside, there is some truth to those assessments. The Serie A table reveals, despite the Dutchman's last-minute buys in the transfer window, which included Gabigol, João Mário, Éver Banega, and Antonio Candreva, it's in the final third where Inter have been least effective. They are joint tenth in goals conceded, but have scored one less than they've allowed, which has them joint eleventh in that regard, twelfth overall. By comparison, their San Siro co-tenants, Milan, have conceded exactly as many goals, but scored four more, lifting them into third place. What a difference a timely strike can make.
On the other hand, the NY Times' Rory Smith tweeted it was "a shame about Frank de Boer, but at least he'll be well-rested." If the difference between mid-table and a Champions League place is just a handful of goals scored, one has to wonder whether De Boer had lost the plot as badly as critics allege, or if he was given the boot just as things were coming together? Inter had lost four of their last five matches, which argues against such a notion. Conversely, De Boer's final loss, 0-1 to Sampdoria, was just the first time in ten matches his side had failed to score. So, who knows? Unfortunately, time can no longer tell.
Moreover, the architect of Ajax's most recent dynasty may not get much rest if David Moyes' Sunderland woes continue, causing Black Cats owner Ellis Short to begin searching for a mid-season replacement possessing the name recognition commensurate with taking over a Premier League side. In the meantime, the favorite to take over the Inter job is Stefano Pioli, the former Lazio manager, who obviously is familiar with Italian football, although outside names such as Laurent Blanc and Louis van Gaal have also been bandied about.
While nothing is wrong with defensive football, per se, Antonio Conte proved at Juventus, and with the Azzurri, a conservative approach can only remain competitive on a grander stage when augmented by some serious attacking threat. He is currently applying the same theories successfully at Chelsea, while Massimiliano Allegri continues his good (and well-funded) work with the Old Lady. Meanwhile, Serie A has been rescued from its fading co-efficient and diminishing European places by the recent negotiations between the ECA and UEFA, guaranteeing four annual berths in the Champions League to the four money leagues (La Liga, the EPL, and Bundesliga being the other three, for you cave dwellers out there), but it remains, Bianconeri aside, Italian football is no longer as competitive on the European stage.

Whether or not one enjoys solid defensive tactics, it has to be admitted it's goals that get people out of their seats. Serie A could do with a healthy injection of attacking flair to regain its place in European football's fore, but both Rudi García and Luis Enrique encountered discouraging resistance to their creative tendencies at Roma, and now De Boer has been summarily rejected in Milan. Is there any coach with the credentials to bring Italian football into the light of the sun?

The most obvious choice seems to be Pep Guardiola. He's won wherever he's gone while sticking to his possession oriented, positive football brand. It has to be said, though, he's also been welcomed everywhere, been given a blank chequebook, and, until his arrival at Manchester City, only coached clubs with a lengthy history of domestic dominance. Yet, Guardiola also has a reputation for restlessness and a personal need for new challenges.

If Pep were to come to the San Siro when he tires of English weather, Inter would surely be his most daunting challenge to date. Their ownership, though well-heeled, is both naive and detached, leaving the Spaniard without the management support to which he is accustomed. As well, the Nerrazzurri faithful remember they are the ones who burst the bubble on his invincible reputation at Barcelona, when José Mourinho was in charge. Would they be willing to turn to the light side, should Suning moot recruiting Guardiola? And would his new squad be open to a completely alien playing style. If the union ever came off, it would be Pep Guardiola without a safety net, and the thing about tightrope walkers is the fall can be just as spectacular as making it across the chasm.