Should Dean Henderson extend his stay at Sheffield United?
Dean Henderson now has a huge career decision to make...
Background image: Richard Barrett-Small, CC BY 2.0
At a time when Manchester United are enduring mediocrity, one of their own is punching above his weight in a different environment. Moving upwards in the Premier League ladder, Dean Henderson continues to thrive under the microscope at Sheffield United.
The United loanee has completely bought into Chris Wilder's philosophy, becoming the working class hero needed to succeed with the Blades. In a unique system with a different approach to games, the 22-year-old has found himself in his most natural habitat with a stacked defensive shape standing in front of him and protecting his goal.
With four clean-sheets into the first few months of the new season, Sheffield has risen as perhaps the most surprising element in the Premier League. Having conceded the tied-least number of goals (with league-leaders Liverpool), Wilder's side has, incidentally, had a better start to the season than the Red Devils.
While their stubborn shape itself enough to frustrate the opposition, Henderson's there as a brick wall whenever they've been breached. Whether it's the stylish clutch saves to keep his side from sinking, or asserting his authority inside the area, the budding shot-stopper has already proven himself a mature candidate with a defiant attitude.
He might be a stranger in the United ranks, but has formed a special bond with those ahead in the Sheffield United side. Having thrived in Wilder's system for over twelve months now, the youngster knows his backline's strengths and weaknesses inside out - while also having garnered enough respect with his consistent performance-levels.
Since making his initial loan move to Yorkshire, Henderson has appeared in every single league match they've played. There's a reason why the Blades were itching to get their clean-sheet machine back for another season. The young goalkeeper has become a crucial cog in this puzzle, whether it comes to working possession out from the back or saving them from deep danger.
Moreover, his infectious character work as its own influence for them. The 22-year-old celebrated the Blades' impending promotion like a fanboy with the supporters, only amplifying his popularity in the Steel City. He possesses a warrior-like spirit for standing strong in the face of danger, while his passionate approach is also encouraged by his short-term manager.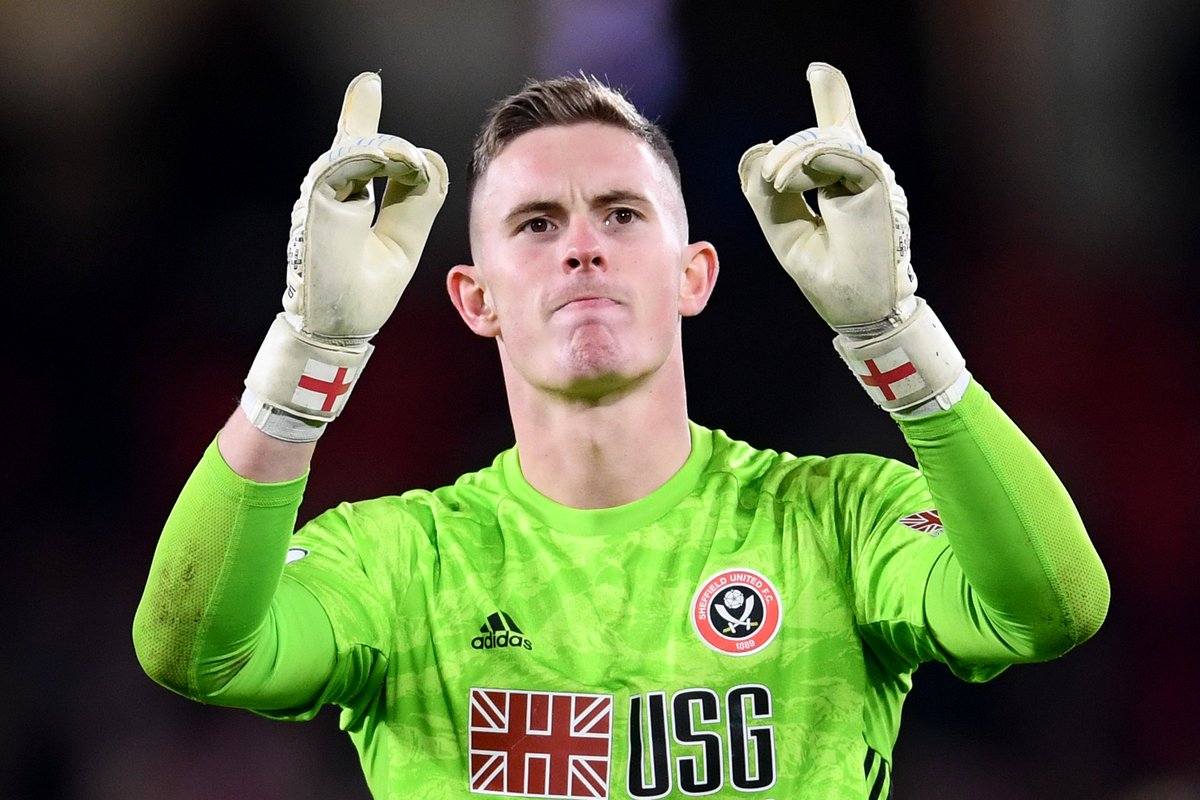 25 - @
SheffieldUnited
's Dean Henderson has kept 25 clean sheets in the league since the start of last season; more than any other goalkeeper in England's top four tiers. Guardian.
https://t.co/NI5t2hqL55
Of course, his overzealous personality does have its downsides. The young goalkeeper's culpable of timely errors (see his mistake against Liverpool), but his fiery attitude wears off in rejuvenating his team-mates. Sheffield United is a place where fighting characters are instilled, allowing him to stay true to his nature.
There's also an old-school vibe to the youngster, be it his blunt approach or often wearing 90s style caps shielding himself from the bright Sheffield sun (when it rarely comes out). With the modern goalkeeping traits inscribed, the England international already possesses an incredibly strong will when playing against the best.
Manchester United must be giddy watching their academy product thrive under the pressure of the league's competition. However, a permanent spot in the goalkeeping department just isn't there for the taking. David De Gea's new deal means he'll be their undisputed number one for the foreseeable future.
Rather than risking his development rotting the bench with a transitioning Manchester side, perhaps staying at Sheffield for the next few years is the best option for Henderson. The friendly relations between the two means they can pen down an extended loan spell, focusing on accelerating the youngster's development into England's best in between the sticks.
He's already received his maiden call-up from Gareth Southgate's side. As long as he keeps scripting the clean-sheets, the youngster will keep garnering the coach's attention. Sticking with Sheffield will be like striking two birds with one stone. Not only can he continue honing his development into De Gea's eventual successor at Old Trafford, but maintaining consistency with his inspired work in The Blades' goal will also help parry with Jordan Pickford for the illustrious national team role. It's a win-win.