Ode to Diego Simeone
Dutch referee Bjorn Kuipers blows his whistle reluctantly. He's even more reticent about booking players. All that paperwork, I guess. Whatever his reasons, Kuiper's forbearance makes for a fluid game.
Juventus began their Champions League Round of 16 second leg at the Allianz Stadium trailing Atletico Madrid 2-0. The Bianconeri needed to establish an attacking rhythm to find at least two goals. A stop-and-start affair didn't favour them. The Dutchman was the ideal match official for Massimiliano Allegri's high-octane strategy.
Conversely, he was the worst possible choice for Diego Simeone, who wanted to prevent Juve from getting out of the blocks. Before the match, the Argentine expressed his concern regarding the Old Lady's attacking prowess and ability to win the ball.
We will have to be very careful.
His decision to sit back rather than pursue an away goal, thereby forcing Juventus to score four to progress, cost the Rojiblancos dearly. Cristiano Ronaldo headed home two goals and converted a late penalty that referee Kuipers couldn't ignore. He also sent another header just wide and won a 50-50 ball in the early-going, setting up a Giorgio Chiellini volley that VAR declined to give. Don't get me started on UEFA's obsession with protecting goalkeepers like they were Gran's fine bone china or NFL quarterbacks.
Simeone's conservative tactics might have fared better with a more whistle-happy official. Regardless, Kuipers was less unkind to the fiery Atleti boss than evolution.
Once upon a time, teams cared less for fitness. Players had to run, of course, but working out, dieting, monitoring body fat and, heaven forbid, training in the close season weren't mandated. Players began smoking, drinking and partying immediately after the final whistle. Radja Nainggolan arrived 25 years too late.
Back in the day, technique and skill set players apart. Defenders were large, physical specimens whose duties resemble the doorman's at your favourite strip club. Discreet brutality and physical intimidation kept strikers from taking too many liberties.
In the early 90s, sports science changed the game. Suddenly, even the more thuggish players were in peak condition. Defenders who could catch strikers rather than waiting for them to wander too close before kicking or pummeling them made geniuses out of managers like Simeone, Jose Mourinho, Antonio Conte, Sam Allardyce and Tony Pulis.
Unfortunately, evolution was only just getting started. Pep Guardiola burst onto the scene, demanding his defenders be as technically adept as your attackers and goalkeepers play out from the back. When anyone and everyone can join in the attack, it's only a matter of time before modern offensive-minded sides hotwire the parked bus. While Simeone's squad adopted a bunker mentality against Cristiano Ronaldo, Manchester City lit up Schalke 04 for seven.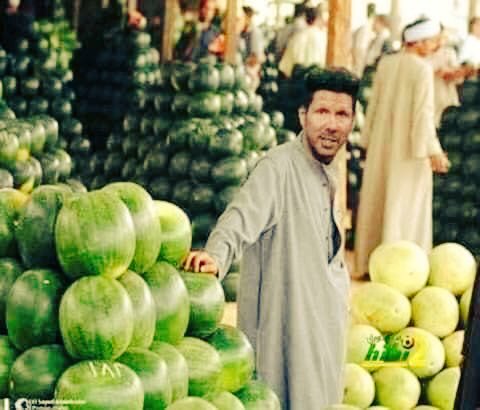 🔊Reporter: Do you see Juventus doing a remondanta (Comeback) against you just like Ajax and Man United did?
🔊Diego Simeone: I will sell Watermelon in the streets of Madrid if that happens 😨😨
FT: Juve 3 ATM 0
Simeone right now #
Ronaldo
https://t.co/0Ucsl0RFXp
The defeat in Turin was Simeone's first against an Italian club since taking Atleti's reins. Murmurs already suggested the 48-year-old's race was run with Los Colchoneros, that there was nothing left to add, that maybe both the club and manager needed a change.
If that's true, his next destination is difficult to determine. While the Argentine remains an excellent manager who has won La Liga, two Europa Leagues and made a pair of Champions League finals, other defensive-minded bosses with equally impressive CVs sit in television studios or at home rather than in a dugout. Jose Mourinho. Antonio Conte. Louis van Gaal.
In England, Sam Allardyce isn't appreciated even when his strategy lifts a club into the top half of the Premier League. Tony Pulis toils in the Championship. Top-flight clubs are expected to play attractive, positive football.
Serie A, where Simeone made his name as a hard-nosed defensive midfielder, is no longer an exclusively defensive league. Clubs play more openly. Only five teams, Juventus, Napoli, Milan, Inter and Torino, surrender less than a goal per game this term. With 11 games remaining, ten already shipped 38. Eight claim at least 40 goals.
On the other hand, if this is Simeone's ceiling at the Metropolitano, he can't complain for lack of headroom. Losing to Juventus and Cristiano Ronaldo in the Champions League shames no one. Sitting second to Barcelona and Lionel Messi in La Liga is hardly a disgrace either. If he wants to champion defensive football, no other club serves him better and Atletico should be honoured to have him.
Nor should anyone deny him. If every club plays the same style, championships will be decided off the pitch. Goals will matter less than money to sign the best players, coaches and astute backroom personnel. European football will become little different in that regard than the NFL. Football's charm is not just that anyone can play but that they can play in any manner they choose.