Mourinho v Sir Alex: Winning as a means and an end
You want to believe in a manager who's won multiple Champions Leagues and titles in four top-flight competitions. Jose Mourinho makes that difficult. You're never certain what game he's playing. Even when you understand he's manipulative and self-absorbed, he pulls at your strings.
I switched off Mourinho when he ditched Inter for Real Madrid in the presser following his Champions League triumph over Bayern Munich. At that point, it was just a hint dropped but it was also a damp squib on the team and fans' joy that became a reality within 72 hours. Understand, I have no illusions about loyalty in football professionals. Even so, denying rumours in public for a week or two while breaking it to his players in private a few days after the game would have allowed everyone invested to celebrate properly. A treble haul deserved that much. Instead, he took everything they had to give and, with nothing left, cast them aside. He treated Javier Zanetti, Esteban Cambiasso, Marco Materazzi, Maicon, Wesley Sneijder and the rest like the empty bottles and cigarette butts a drunk who sleeps rough leaves in the doorway for the shopkeeper to clean up in the morning.
After watching him feud with Sergio Ramos and Iker Casillas at Real Madrid, then David Luiz, Cesc Fabregas and Eden Hazard upon his return to Chelsea, I spent the spring and early summer of 2016 writing in vain against his appointment at Manchester United, then the rest of the summer forecasting the coming misery. And here we are.
Like I said, however, four European titles [two Champions Leagues, a Europa League and a UEFA Cup], eight league titles with Porto [2], Chelsea [3], Inter [2] and Real Madrid [1], plus matching sets of domestic cups and supercups at each of his last five clubs [Community Shields count], make you want to believe. He sprinkles in just enough hopeful moments between the long, depressing stretches.
Early November was a sprinkle. His feud with Anthony Martial resolved in a manner that made you wonder if it ever existed. Then a series of second-half comebacks struck a cautiously optimistic note on the Portuguese's ability to read and manage games. He claimed pride in the manner "the boys" fought. Sir Alex Ferguson used to say things like that, albeit for him it was "the lads."
The problem is you never know when to take what Mourinho says at face value. It's like being sucked into a shell game you can never win.
Does he really need to do Luke Shaw's thinking for him? Yes, we should sell the fat, lazy bastard. Wait, no, look at the six-pack he put on in the offseason and the way he bombs forward. He's got exactly the type of moxie the boss wants in a player. What man-management by Jose to heap all that abuse on him.
Does Jose really think we'll struggle to make the top four this season? Nah, that's just reverse psychology. He's lowering expectations so that when United challenge for the title, we'll all marvel at his genius. Wait, no, he meant it. It's not the gaffer's fault, though. The board didn't back him when he wanted a pair of centre-halves in the summer. Chris Smalling and Phil Jones are shite. Not United material. That Victor Lindelof is no better, never should have wasted good money on him. Hold on, though. Look at how he's clutching his thigh and hobbling while still fending off and dancing away from two Crystal Palace attackers when he's been left alone at the back. Fighting through the pain because he knows the boss made his last substitution 20 minutes ago. That's the stuff that makes a real United man. See how the boss gets his players motivated?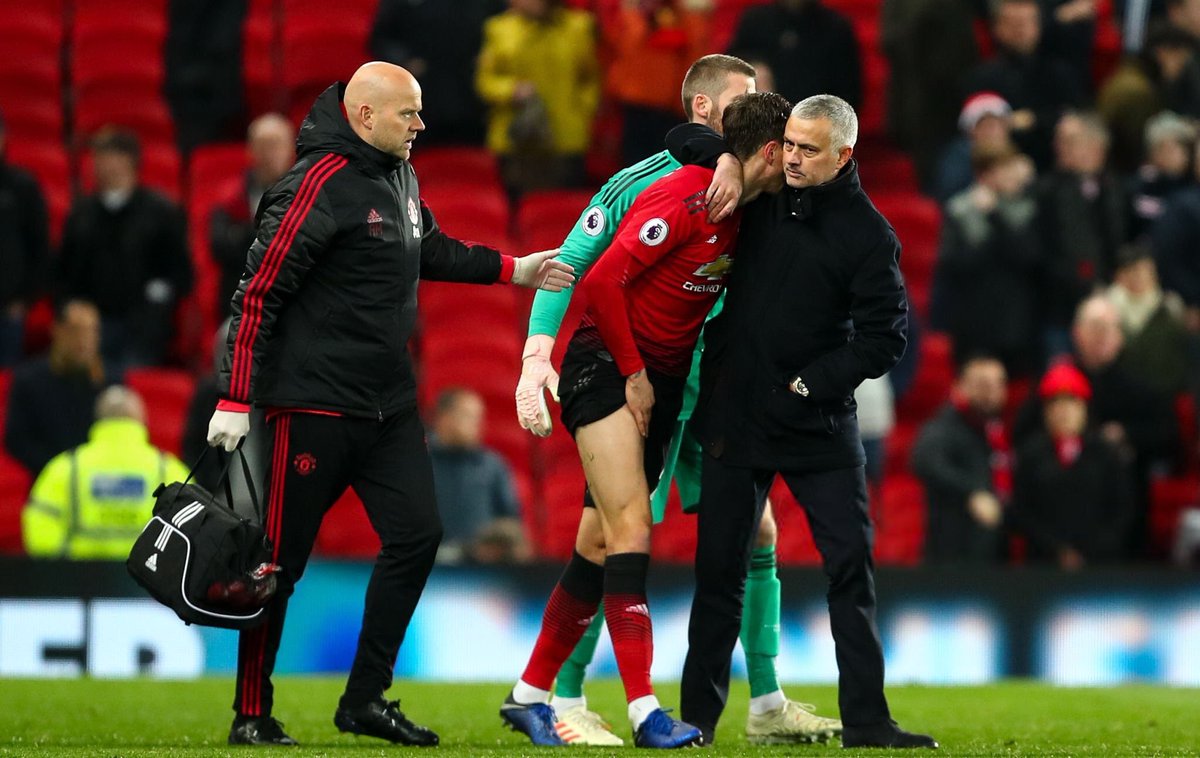 Just as he did at Chelsea, Mourinho has a significant portion of the United fanbase lapping it up. Sir Alex did that, too. The difference was the old man was talking about surpassing Liverpool's all-time title mark and backing up the bluster. He wasn't making excuses for failure. With almost all his attacking players injured and a rampant Arsenal invading Old Trafford, he'd say he could only work with the tools at hand, name seven defenders to his starting XI, then attack the bejesus out of an unsuspecting Arsene Wenger. He would never warn supporters his substitutions weren't going to work every time, then watch his team be outclassed in the Manchester Derby on one side of the international break and, on the other, take off Jesse Lingard, Paul Pogba and Juan Mata, his entire creative force, to preserve a goalless draw at home against relegation-threatened, goal-starved Crystal Palace.
You can blame the board if you like. Fair play; they stopped backing him in the market.
When Pep Guardiola failed in 2016/17, Sheikh Mansour conjured up more cash to replace those targets who didn't come good for the manager. Aymeric Laporte transferred in the January window because Benjamin Mendy was always on the mend while Danilo and John Stones weren't cutting it. Ederson arrived in the summer for Claudio "Hands of Stone" Bravo. Moreover, Ferran Soriano and Txiki Begiristain never gave up on Riyad Mahrez, finally landing the creative winger after more than a year chipping away at Leicester City's resolve not to sell.
The City owner and board's motto is 'whatever it takes'. The Glazers and Ed Woodward proclaim 'this far and no further'.
Some people will tell you Manchester City are scoring a 100 points per season while United's ownership syphons off billions. Fair play again but it only serves to underline the difference between Fergie and Mourinho. When the self-named Special One arrived on the scene, Chelsea put up 95 and 91 points in to win two Premier League titles. Sir Alex responded by rattling off three for United.
Times have changed.
Football has changed.
Jose Mourinho hasn't.
"All failure is failure to adapt"
#MUFC🇾🇪
https://t.co/wfte9E5kB0
He managed that under the same conditions Mourinho now faces as Manchester United boss. The red-nosed Scot didn't claim the new owners wouldn't support him. Whatever his opinion on their backing, he always claimed money was available when required, then got on with it. Mourinho's way is more confrontational.
Following their first meeting at Stamford Bridge, when Fergie brought his traditional bottle of wine, their respective comments to the press revealed subtle, yet significantly unique forms of arrogance.
Mourinho: This is nothing against Sir Alex whatsoever. After the game on Wednesday, we were together in my office and we spoke and drank wine. Unfortunately, it was a very bad bottle of wine and he was complaining. So, when we go to Old Trafford for the second leg, on my birthday, I will take a beautiful bottle of Portuguese wine.

But he is a great manager. He is clever and used his power and his prestige. The referee should not allow it. I have a lot of respect for Ferguson. I call him boss because he is the manager's boss.

Maybe when I turn 60 and have been managing in the same league for 20 years and have the respect of everybody I will have the power to speak to people and make them tremble a little bit.
Sir Alex: Forget the mind games. I like him. I think he sees himself as the young gunslinger who has come into town to challenge the sheriff who has been around a while. He was certainly full of it, calling me "boss" and "big man" when we had our post-match drink.
Fergie laughed off being called big man and boss because he never needed to hear that. He only cared about building a winner. Conversely, Mourinho obsesses over it. For him, being the boss is what matters. A true manager is more than telling people what to do. It's about, for lack of a better word, managing. SAF managed individual players, the squad as a whole, match preparation, tactics and adjustments, match officials, the media and, most importantly [because he knew when and when not to be confrontational], the board. He was in control because it was necessary to win.
Mourinho nearly matches him but fails when it comes to dealing with Ed Woodward and the Glazers. He struggles to win because he thinks he must to gain control. Jose is five years from being sixty and a dozen from managing two decades in the Premier League. Sadly, he is centuries from making people "tremble a bit" when he speaks. More and more, they just shake their heads.