What now for Diogo Dalot at Manchester United?
Despite his limited first-team experience [6 games] at Porto, Manchester United pounced on the 20-year-old last summer. The gamble isn't paying off.
Background Image: Jakub Mularski
Club legend Gary Neville retired in 2011. Manchester United did not replace him for seven years. Then they bought two young right backs in as many summer windows.
Over the initial seven years, United tried to replace GNev with in-house options. Rafael had achieved a cult following at Old Trafford, especially after his tete-a-tete with former teammate Carlos Tevez in the Manchester Derby, but he was never a long-term solution. When he moved to Lyon in 2015, Antonio Valencia filled the role. The Ecuadorian had struggled as a winger in the six seasons since coming to the club from Wigan. Both he and Matteo Darmian were solid defensively, unspectacular in attack. United's game has always featured overlapping fullbacks pumping service into the box.
Desperate to get back to that dynamic, the club signed teenager Diogo Dalot from Porto. The youngster had only played a half-dozen games for Os Dragoes' first team but he showed amazing potential in the final third. Jose Mourinho and Ed Woodward rolled the dice. Added to their risk was a meniscal injury that ruled him out of the preseason. He picked up another injury trying to get up to speed and wasn't fully fit until December, just in time for Mourinho to be sacked.
He didn't play much for the Special One or Ole Gunnar Solskjaer. When he did, his aggression was evident. Starting off with the reserves, he drew Mourinho's attention. He shone on his debut v Young Boys, giving United the thrust they had been missing from the position. Dalot was positive; he drove forward with intent. In the opponent's end, he was exciting.
Defensively, he failed to inspire. Many wrote that off as par for the course with a 20-year-old. He didn't read attacks well and could be caught out. Arsenal attacked and exposed him when he featured as a wingback against them. The Gunners continually exploited the empty space behind him and to the right of the centre-half, usually Chris Smalling. Dalot recovered well on certain occasions but his uncertainty was there for all to see. Both Mourinho and Solskjaer experimented with moving him forward. He was the anti-Valencia if you will.
The youngster found himself limited to coming off the bench for the more reliable but slower Ashley Young. His versatility in playing as a full or wing back on either flank as well as on the right wing made him of some use. There were impressive performances v Fulham, Brighton, Wolves and Crystal Palace. His surprisingly early volley on the counterattack drew the handball for which VAR awarded the winning penalty shot against Paris Saint-Germain in the Champions League Round of 16. Dalot and Scott McTominay were the only two to hold their own against Barcelona at Old Trafford. McTominay's work drew further starts. Dalot's didn't.
Meanwhile, Aaron Wan-Bissaka was proving a 20-year-old could handle defensive responsibility as Crystal Palace's Player of the Year. United pushed hard to pry him loose from Selhurst Park and finally succeeded. With the money invested in the young Englishman and the attention he's receiving during United's Asian tour, he must be tipped as the Red Devils' starting right back for their Matchday One encounter with Chelsea on 11 August.
The question is where that leaves Dalot?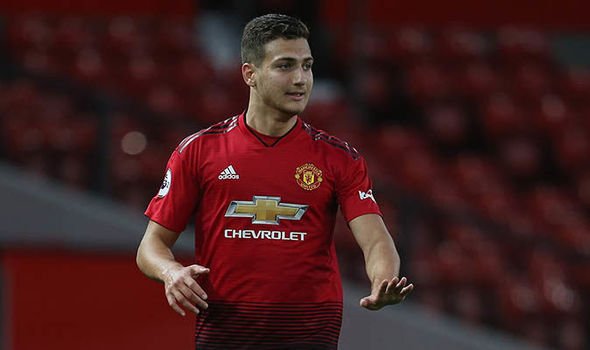 Diogo Dalot created more big chances per game (0.44) than any other Man Utd player to play 1000+ Premier League minutes last season.
Excellent attacking full-back. 🇵🇹
https://t.co/sdp2lcSl9x
Luke Shaw is the starting left-back. Ashley Young's contract is extended. Both he and Dalot can play either side. At the moment, the young Portuguese's playing time appears to depend on whether Solskjaer is chasing the game or protecting a lead. Dalot's crossing accuracy of 27.66% is among the Premier League's best. Can he expect to start in the League Cup to give his defensive game some work? A healthy competition between Wan-Bissaka and Dalot secures United's right side of the defence for at least a decade.
Dalot's excellent dribbling and crossing skills add an extra dimension to United's attack from the right side. He could also come off the bench to feature on the wing. That depends on whether Romelu Lukaku stays and how Daniel James, Anthony Martial, Jesse Lingard and Juan Mata are used. The latter three all have more goals in them and James is a natural winger.
Against Perth Glory, Dalot displayed his wares. He was positive, taking his man on and showing attacking intent. His passing and link-up play was good enough. He appears to have more muscle on his frame as well. Added strength should aid him in United's third.
While Ashley Young's game is fading, Dalot's is coming on. His work in the final third outshines Wan-Bissaka's like a diamond does a lump of coal. If he can make inroads defensively, he could be Solskjaer's first choice off the bench on either flank. If he can't, he may very well find himself on the squad's fringes.