Dirk Kuyt finally retires on a high - should he be considered a legend?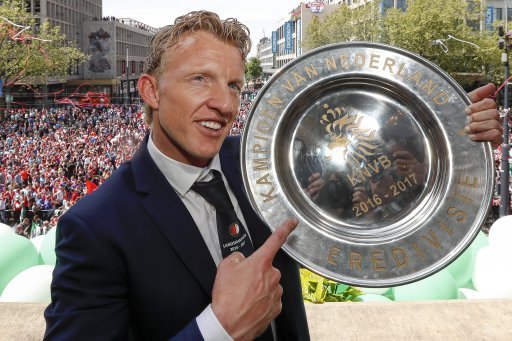 Dirk Kuyt, after winning the Eredivisie with Feyenoord has decided to hang up his boots for good.
Retiring as a Champion 💪🏆
https://t.co/zHkUIq098e
Last weekend, Dirk Kuyt scored a hat-trick that sealed Feyenoord's Eredivisie title win. It was also Feyenoord's first in 18 years. On Wednesday, the Dutch forward announced his retirement from football. With a career that spans nearly two decades, Dirk Kuyt has given his best to the beautiful game. Taking a look at Kuyt's career, would you consider him a football legend?
People with bowlegs oftentimes turn out to be good footballers if they take up the sport – that's an unverified assertion anyway. Nevertheless, Dirk Kuyt is one bow-legged footballer who was very good at the game, up until he hung his boots.
During his playing days, Dirk Kuyt was an epitome of a player who could comfortably play anywhere in attack. Blond-haired, 184 centimetres tall, and of course those famous bow-legs, Kuyt cuts a figure of a tough professional footballer who looks older than he is and always means business.
For most ardent Premier League followers, Dirk Kuyt is most notable during his time at Anfield with Liverpool. However, Kuyt was already a household name in his home country before he transferred to Liverpool in the summer of 2006.
The Dutchman started his professional career with Utrecht, signing his first professional contract at 18. It was at Utrecht where he would catch the eye of Feyenoord who signed him just before his twenty-third birthday.
Dirk Kuyt at Feyenoord – first spell
Dirk Kuyt signed for Feyenoord in 2003. At Feyenoord, Kuyt blossomed! He came in as a 23-year-old who was just beginning to find his feet but matured into an Orange superstar who was capable of doing almost anything he wanted with the ball.
A year after he joined Feyenoord, Kuyt was installed as the Feyenoord captain. His performance speaking volumes. Remarkably, for the three seasons he spent with Feyenoord, he was the Club's highest goalscorer. He ended the 2004-2005 season as the Eredivisie top scorer with twenty-nine goals. That was the peak for Kuyt – he would never again, score that many league goals in a single season.
When Liverpool came calling in 2006, he was an established star; named Dutch footballer of the year, the £10 million paid for his services by the Reds, seemed quite a bargain. Kuyt would spend six memorable seasons at Anfield.
Dirk Kuyt was rather inconsistent during his time at Liverpool. He failed to replicate the superb goalscoring form he exhibited at De Kuip. He scored 12 league goals in 34-appearances in the 2006-07 season. However, he could only manage three in 32 league games the following season. The 13 league goals he scored in the 2010-11 season, 15 in all competitions after 41 games, was his best return for the Reds.
In 2012, Kuyt left Liverpool having won nothing, save the League Cup in the 2011-12 season; the same season he left.
Dirk Kuyt at Feyenoord – second spell
After leaving Liverpool, an ageing Kuyt joined Fenerbahce in 2012. He spent three seasons at the club, scoring 37 goals in 130 appearances for the Turkish outfit. He won everything there was to be won in Turkey, including the Turkish Cup in the 2012-13 season and the Turkish Süper Lig in the 2013-14 season. In 2015, he returned to Feyenoord for his second spell with the club.
Despite a difficult first season, Kuyt helped Feyenoord win the KNVB Cup in 2015-16. The Crème de la crème came a week ago when Dirk Kuyt scored a hat-trick to seal the Eredivisie title for Feyenoord. He ended the season with twelve league goals.
Dirk Kuyt said of winning the Eredivisie title:
Should Dirk Kuyt be considered a football legend?
I don't see a reason why not. For a player who scored over 250 career goals, won major titles in two European leagues; won the Eredivisie golden shoe; won Dutch Golden Shoe twice; won Dutch player of the year; played over 100 times for his country including two World Cups; played in a World Cup final match – there's little or no reason not to consider him a football legend.