Disappointments and distractions during final day of the Premier League season
Unfortunately, the final round of Premier League fixtures were mostly played as training games and not treated with the same respect as usual. There were a number of incidents on Sunday that ruined the conclusion of the 2016/2017 campaign.
John Terry's farewell
During the 26th minute of the game at Stamford Bridge, it was agreed that John Terry would be substituted and given a guard of honour by his teammates. Although this was a touching sentiment for
the Chelsea legend as he said goodbye to the club
, it was bizarre that this occurred in the middle of a match. Sunderland literally kicked the ball out so that this could happen. It showed respect to Terry but disrespect to the integrity of the game.
A farewell prior to or after the game would have been a lot more appropriate. A great example was shown by Bayern Munich when Philipp Lahm played his final game for the club on Saturday. The German full-back was honoured before their game against Freiburg and played 87 minutes before being subbed and applauded off by the fans. Despite the good intentions behind the gesture towards Terry, it disrupted the game and could have certainly taken place before or after the match.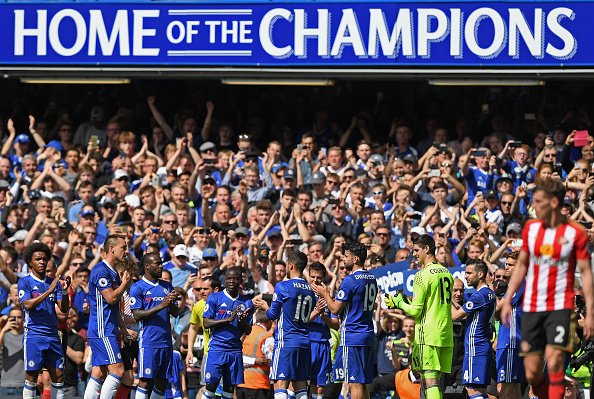 New home kits


In a marketing ploy to get fans to buy their kits for next season, Liverpool and Leicester City wore their brand new home strips. This is aggravating because it becomes another distraction (albeit a minor one) and it seems a little unprofessional for a team to finish the season with a different kit than they began with. Revealing the kit on the last day of the season also seems like an anticlimax and perhaps will make the first game of next season less special, as fans have now already seen the players in their new strips.


Beyond woeful defending


Sunderland and Middlesbrough both defended awfully, but it is Hull and Watford who should be ashamed of their atrocious efforts at the weekend. Regardless of the opposition, no Premier League side should be losing 5-0 or 7-1 at home, it is that simple. Thousands of fans spend time and money to watch their football club and long to be excited, not humiliated. It was almost like watching friendly games against really mismatched teams.

When hosting Tottenham Hotspur, every Hull player should have been playing his socks off in order to secure a summer transfer to a Premier League club, or to at least give

Marco Silva

(or whoever will be in charge in August) a reason to be a regular starter next season. Watford players should have also been looking to impress their incoming manager and finish the season on a high. However, their lacklustre performance against Manchester City left them 17th in the table. I truly felt for the young defender, Brandon Mason. The 19-year-old was one of Watford's most hard-working player's on the day and wasn't helped by the sluggishness of his teammates.

A lot of credit must be given to Man City and Spurs as well. They did not take their foot off the gas for one minute in those games and showed real professionalism throughout.
At least some teams continued to battle
A lot of mid-table sides provided some of the best matches on Sunday. Although Burnley, Southampton and West Brom all lost, their fans should be happy that their players gave it a real go and did not capitulate like numerous other teams.
As a great lover of the Premier League and all its entertainment, it was sad to see a few events and extremely poor performances overshadow the actual football on the final day.