Do Chelsea have a Kepa problem to solve?
How can Lampard get the best out of his struggling goal-Kepa?
There's a goalkeeping problem brewing at Chelsea. Sure, Kepa Arizzabalaga's tuned up Superman mode a few times to save his side this season. But his growing personal disappointments are beginning to take a toll on their campaign.
He boasts very unwanted records summing up his dismal season. Kepa holds the worst shot saving percentage (53%) in the league, has conceded the most number of goals from outside the box (6) and errors against Newcastle, Arsenal recently indicated that things aren't improving.
After having a pretty successful debut term with the London Giants, reality has hit hard. He hasn't been able to adapt to Frank Lampard's system. Under Maurizio Sarri's tutelage, the Spaniard would be more protected because of his style pertaining to a stronger defensive shape.
But the new manager's been more insistent on pouring bodies forward than resolving his structure. Indeed, Lampard's often seen fault in his forward players missing chances than his defenders or goalkeeper's defects.
Kepa has also slacked off due to the emphasis being placed on Chelsea's attacking might. He's only kept six clean-sheets in over forty games this time around. Last season, the Spaniard had twenty-three in fifty-one. Of course, having inexperienced defenders ahead hasn't helped. Neither has David Luiz's departure.
But those decisions were made keeping in mind his effectiveness in between the sticks. Not many could predict his shocking drop in form after showcasing utmost confidence under Sarri-even to the extent when he refused to be substituted in the Carabao Cup final last year.
This time around, however, he's lost his promising traits. The Spaniard looks indecisive, unsure in regards to knowing when to commit to incoming threat and misreading shots at goal, often resulting in embarrassment. There have been too many occasions when he's made a fool of himself.
Lampard must motivate his number one to regain his self-belief. There's no denying his potential. Kepa's still a commendable shot-stopper with agile reflexes not many can boast. However, his inner-doubt must be banished to reap the best out from the goalkeeper. The Chelsea gaffer must use his man-management skills to get him firing again.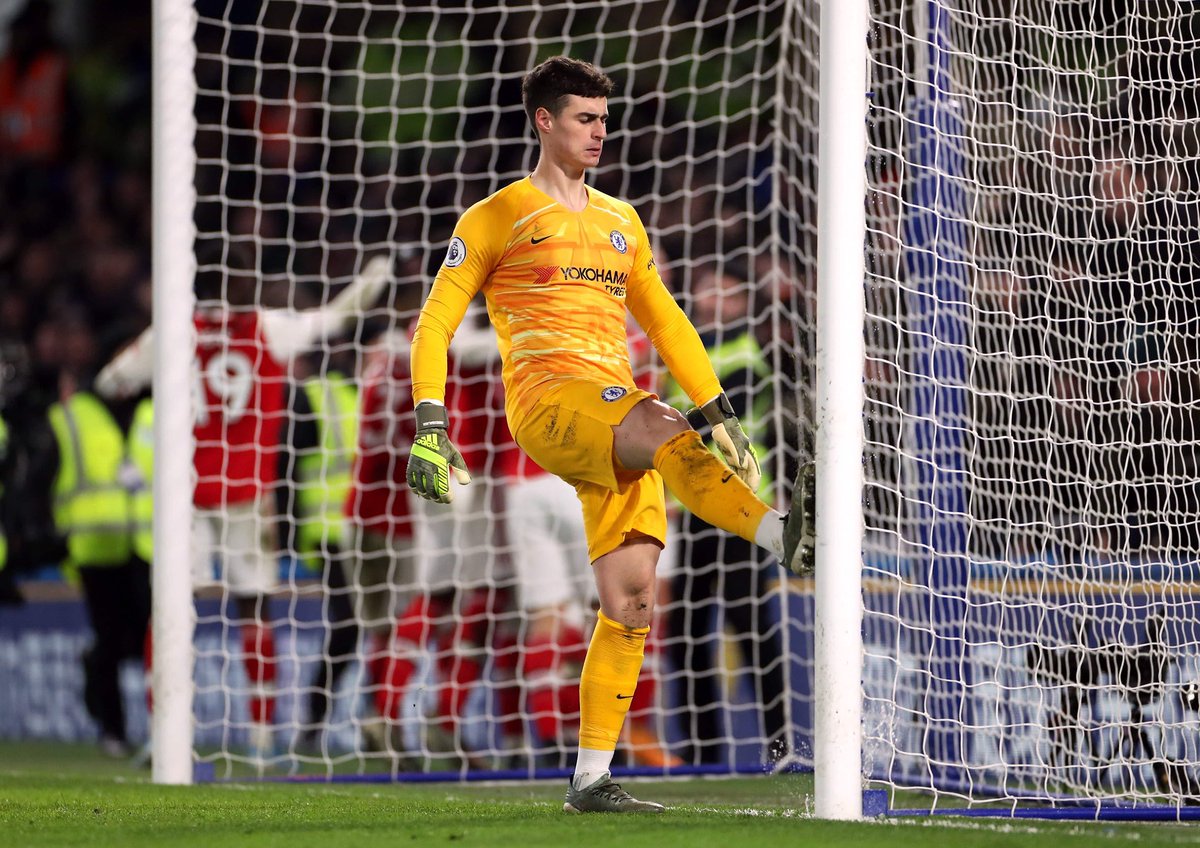 Kepa Arrizabalaga faced 2 shots on goal against Arsenal tonight, both of them found the back of the net.
Disappointing. 🤦‍♂️
https://t.co/hKDBGIB3cv
The 25-year-old's also too smug for his own good. By trying to blame team-mates for his own mistakes, he ends up causing trust issues. The Blues gaffer is known for his strict disciplinary action, with his infamous fine chart making headlines. Now he must humble down his goalkeeper to keep him in check.
That being said, Chelsea's inability to sign defenders in the transfer window must frustrate Arizzabalaga. He needs experienced defenders ahead for better protection. With more reliable prospects ahead, the Spaniard should be able to rediscover his confidence.
Time, however, is running out. With two-thirds of the season done, he doesn't have much time to prove himself to both his coaches. Luis Enrique is surely watching his Premier League goalkeeper's struggle to maintain consistency. Kepa went ahead of De Gea in the pecking order, but now both have regressed.
La Roja's boss will perhaps look into Athletic Bilbao's Unai Simon's excellent work as worthy for being his number one in the upcoming European Championships. Arizzabalaga doesn't like staying on the bench. In order to win his place at the summer competition, he must come up with heroic efforts to redeem his recent fluffs.
Even Lampard's patience can only wear on for so long. Chelsea isn't spending big now, but they will in the summer. If the Spaniard's form keeps on deteriorating, he'll have to search for a proper alternative or somebody to give him competition.
With Thibaut Courtois having rediscovered his peak at Madrid, the pressure's been amplified on Kepa to match his predecessor's excellence. So far, he's crumbled under the weight. If he doesn't regain last season's exemplary form, things could go from bad to worse for everyone involved...