Does Fabio Canavaro deserve the sack at Guangzhou Evergrande?
They have hot seats in China, too.
Imagine a replica of Juventus in the Chinese Super League. Year in, year out, Guangzhou Evergrande ruled the CSL as the Old Lady does Liga Calcio but a change in the dugout last season interrupted that reign. After being League champions back-to-back since 2011, Former Juventus and Real Madrid star Fabio Cannavaro failed to sustain the South China Tigers' dominance.
It shouldn't need saying that the Italian legend was hired to do the exact opposite. However, the club kept faith with the Ballon d'Or winner for another season. So far, Cannavaro has kept the side ahead of the chasing pack.
That pack is led by reigning champions Shanghai SIPG and it is becoming difficult to hold onto the top spot. The holders moved within a point of Guangzhou in the last round of matches. Evergrande owners fear the title will slip from their grasp again and thus summoned Cannavaro to the club's corporate headquarters to attend a mandatory 'enterprise culture studies class'. This is Chinese for a good kick in the arse.
While the Italian is away on the said course, team captain Zheng Zhi is in charge of coaching duties. In the midst of such a bizarre situation, many wonder if the club's hierarchy wishes to relieve the manager of his duties. But should Cannavaro be sacked?
Juventus fans would definitely want Maurizio Sarri out if he fails to win the Scudetto in his first, let alone second campaign. After possessing it so long, the title is perceived as a birthright. Failure to preserve tradition is unacceptable, no matter on which side of the world you find yourself.
The South China Tigers built a healthy lead atop the league table until recently. A string of poor results led to concerns about ending the campaign empty-handed. After a stunning 1-0 defeat to Wuhan Zall at home, a side they've always beaten home and away, the team was next dumped out of the Asian Champions League, losing both legs to Japanese side Urawa Red Diamonds.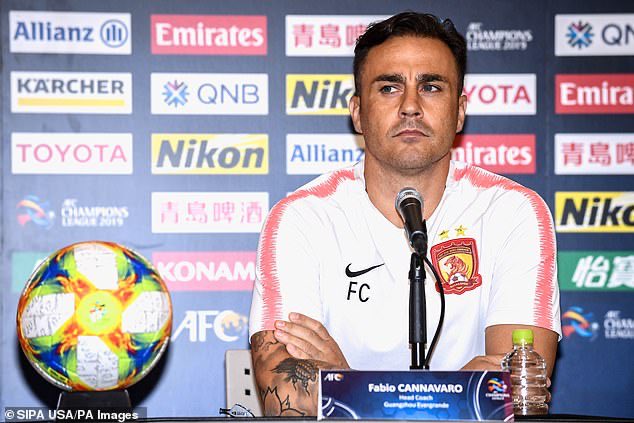 Fabio Cannavaro's job as manager of Guangzhou Evergrande is in now doubt
Fabio Cannavaro faces the sack at China's Guangzhou Evergrande as club chiefs bizarrely call him in for an 'enterprise culture studies class'... despite them being top of the league!
https://t.co/kAuBOjPM2w
On the one hand, Cannavaro's schooling could be a last-ditch attempt to help the manager to rediscover his winning touch. On the other, it could be an attempt to ease him out of the club. How many European managers have been 'temporarily' relieved of duties while an issue is resolved only to be handed their walking papers shortly thereafter? Monaco placed Thierry Henry on administrative leave while they convinced Leonardo Jardim to return to the club. Wimbledon suspended Wally Downes in September due to an FA gambling investigation then cut him loose a month later when the FA found him guilty and banned him for a month.
Wimbledon have won four of six since Downes was relieved of duties. Jardim saved Monaco from the drop last season but has them in mid-table, equidistant between second-place Nantes and the Ligue 1 drop zone. There's no guarantee sacking Cannavaro will return Guangzhou to winning ways.
With three games left to play, Cannavaro's absence could prove to be a costly distraction, particularly so when SIPG are Evergrande's next opponents. The simple truth is players win matches on the pitch. The gaffer can only influence the squad when he's in the clubhouse, not while on a sabbatical to attend a re-education seminar. Irreparable damage may already be done. If he returns, will his players still trust him? If he doesn't, can Zheng Zhi work a miracle?
The winner of this match sits in the pole position with two matches remaining. Although they'll only be two points down if the captain can't motivate his teammates, Guangzhou will need others to do the work for them. Ordering the manager to report to the head office at such a critical juncture fractures the team. Demonstrating concern is understandable. Disrupting the squad so late in a title run is poor timing, to say the least, and more likely suicidal. The manager and team should have been shown support through the period until season's end.
With Cannavaro in charge and given time to prepare for Guangzhou's most critical match, he might have engineered a victory that would put the former champions four points ahead. Even a draw leaves their destiny in their own hands. Victories over Hebei China Fortune and Shanghai Shenhua in the runout would put the title back in their hands. Pressing the panic button at this point was unnecessary. If the Guangzhou board are unhappy with Cannavaro, he can be sacked at season's end regardless of the outcome. Why play Russian roulette with their title chances?