Does the media impact matters on the pitch?
If you believe what is written in the English media, you would be forgiven for thinking Manchester City and Liverpool are both vibrant attacking forces, bulldozing their way through all opposition, Tottenham Hotspur is full of youthful exuberance, yet inconsistent and Manchester United is a spent force, lurching from one crisis to the next. But are these portrayals having another effect? Are they influencing the way teams set up to play?
In the last week, both Derby County and Wolverhampton Wanderers have produced shocks at Old Trafford. More than that, each side took the game to Man United, arguably outplaying them. Gone are the days when sides turned up at the Theatre of Dreams with a defeatist attitude. Has this braver approach developed due to the media's conditioning, at least in recent times, that the Red Devils aren't what they once were?
It's possible the negative portrayal of United is encouraging to opponents. That is to say, teams will adapt their strategy, setting up more attacking, based on how the opposition is depicted in the media.
Conversely, the reverse is perhaps true. Last season Man City were hailed as the Premier League's greatest team in history, a title I feel they don't deserve, which conceivably had an impact on their oppositions' psyche heading into matches. Led to believe they were up against England's most formidable side ever, some opponents may have simply accepted defeat from the off. Was their intention not to overcome the champions elect, but to keep the scoreline down instead?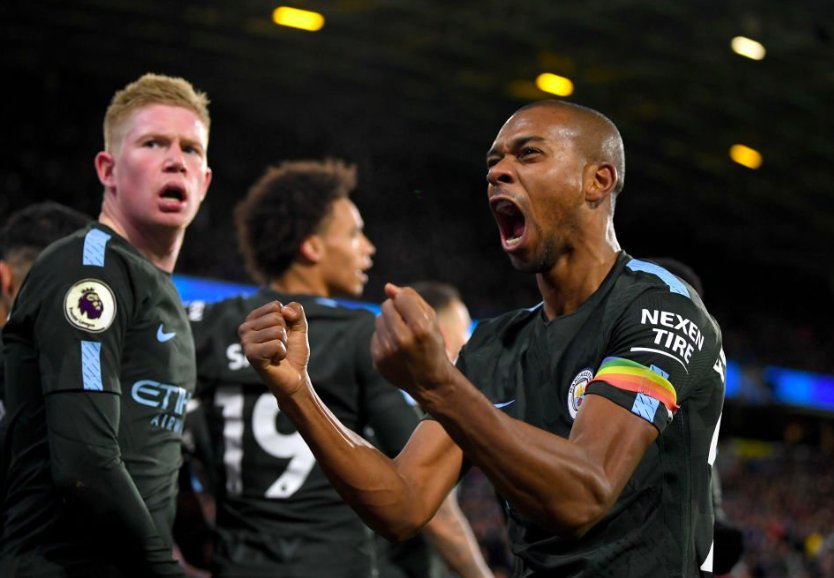 The media's positive reinforcement could have pushed Man City on. Winning breeds confidence, as well as helps carry forward momentum, anyway, but favourable backline headlines may have also played a part. If true, there's a potential situation where not only do other sides start to think the Citizens are unbeatable, they themselves believe it, too. The result is Premier League opponents cowering at the thought of facing them, and City approaching games utterly convinced an easy win is in store.
The same is possibly now happening with Liverpool. Despite some thinking that performance hasn't been great so far, the Reds remain unbeaten after seven league games. They have been given a glowing review in the press. Was their opposition already defeated before the match had started?
Even Tottenham, a team which finished above Liverpool last season, seemed resigned to fate at home two weeks ago, delivering one of their worst performances in a long time. The hype surrounding Merseyside's red half is potentially creating an air of invincibility, the same as it did for City. Time will tell.
It is not absolutely certain that how the media portrays clubs is having a significant impact on the pitch. Nevertheless, it remains a possibility, one which cannot be totally dismissed. Some managers would definitely explain such things are noticed, especially following a defeat. Is this just a convenient excuse, or a sign of something more?