Top-six hopes on the line when Blades invade Molineux?
Arsenal, Manchester United and Tottenham all loom. Can Wolves and Sheffield United prove they belong in the European places?
The Premier League boasts a unique mixture of tradition and unexpected surprises. The same clubs are always expected to challenge for honours and the Champions League but, every season, a new dark horse gives them a run for their money. Leicester City won the race for the title in 2015/16. No one saw that coming. Then Burnley, Bournemouth and Wolves took their turns. This season, it's a free for all. Leicester are back, wedged between Manchester City and Liverpool as the campaign's opening third wraps up. The bigger surprise is that Wolves and Sheffield United, teams who only earned promotion in the last two sessions, are right there as well. The two upstarts meet at Molineux today, each hoping to prove they are for real by claiming all three points.
Defeat isn't an appetising thought for either. Arsenal, Manchester United and Tottenham, traditional top-six powerhouses, nip at their heels. Chris Wilder's Blades had it all to do to rescue a draw after surrendering a two-goal lead to the Mancunians last week. Ole Gunnar Solskjaer's Red Devils ripped apart what had formerly been an impenetrable rearguard with three second-half goals at Bramall Lane. Slumping Tottenham sacked Mauricio Pochettino and won both matches under new boss Jose Mourinho, scoring seven goals in the process. Arsenal followed their North London rivals' example, handing Unai Emery his walking papers on Friday, following a Europa League defeat to Eintracht Frankfurt at the Emirates. Interim manager Freddie Ljungberg has several delicate issues to handle [Granit Xhaka, Mesut Ozil, Nicolas Pepe, where to find an effective defender] but if he can elicit a similar response from the Gunners to the one Mourinho evoked in Spurs, neither Sheffield United nor Wolves can afford to drop a single point.
All three giants face bottom-half teams. Tottenham host Bournemouth while Aston Villa find themselves guests at Old Trafford. Arsenal journey to Carrow Road to face relegation-mired Norwich City. Even seventh-place Burnley enjoy an inviting three-point opportunity when struggling Crystal Palace come to Turf Moor. If either Wolves or the Blades go down to defeat in today's encounter, they could find themselves as low as tenth in the table, possibly with the door to the continent slammed shut behind. If the match ends in a draw, both could be exposed as early-season pretenders.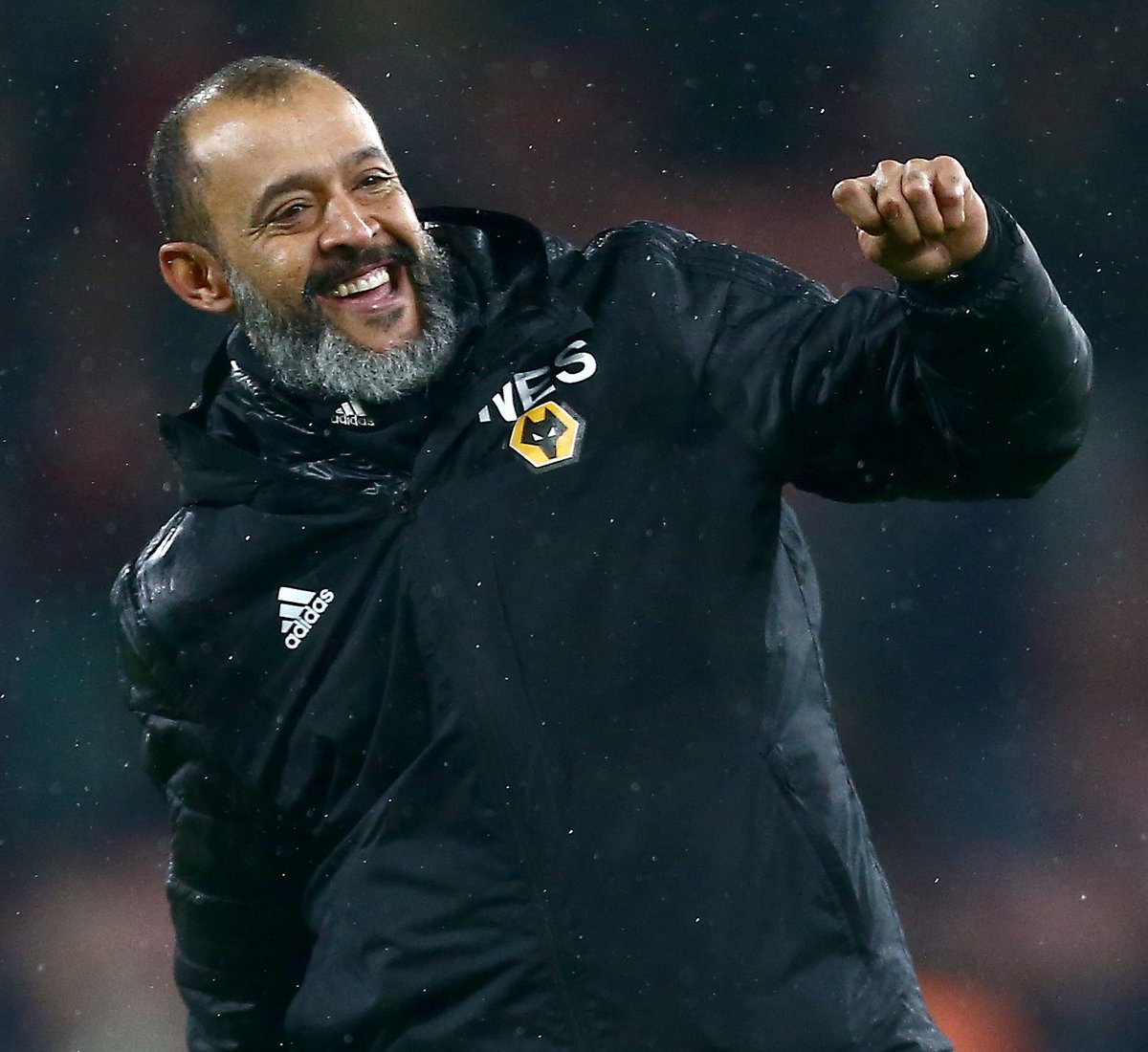 Moutinho and Jimenez took Wolves up to fifth in the Premier League today 🐺🙌
Another top-six contender? 🤔
https://t.co/yQPrfhNAy1
Thanks to a far more enterprising attack, Wolves look the more credible side. They're unbeaten in eight Premier League matches and earned their way into the Europa League knockout stages. Meanwhile, the Blades' 16 Premier League goals are easily worst among clubs in the table's top half. While they did score three at home against Manchester United, they conceded the same, raising questions about their vaunted defence. Molineux is not a place to bring doubts.
Einstein didn't have football in mind when he said time is relative but the theory clearly applies. It's 13 games into the campaign. Massive clubs like the Gunners, Red Devils and Spurs enjoy all the time in the world to turn their seasons around. All have taken measures. Results are already evident for both United and Tottenham. Expect Arsenal to make a push as well, whether Ljungberg has an immediate effect or the board moves quickly to name Emery's permanent replacement. Meanwhile, history shows this is the stage when smaller clubs with fewer resources begin to run out of time. This match represents the witching hour for both the Wanderers and Sheffield United but especially the visiting Blades.