Does Yangel Herrera deserve a shot at Manchester City?
Yangel Herrera is yet to make an appearance for parent club, Manchester City
Manchester City signed Yangel Herrera from Atletico Venezuela in 2017. Over two years after, the 21-year-old is yet to touch feet on Mancunian soil. He may only be some metres away though, following another powerful loan spell.
City snapped four youngsters in 2017's winter. Finley Burns, Nabil Touaizi, Gabriel Jesus and Herrera. While the other three were expected to bide their time in the academy, Jesus hiked straight into the first team. Herrera didn't hold such pedigree. Work permit issues hindered his switch.
The defensive midfielder was loaned to New York City. There he established himself as a key man and learned at the feet of ex-City star Patrick Vieira. Herrera enhanced his burgeoning reputation at the U20 World Cup in the summer. As captain, he was his team's leader and whole engine room.
Venezuela reached the final. Although it ultimately ended in a 1-0 loss to England, it was a remarkable achievement for a nation that had never reached a major international final or qualified for the World Cup proper. Herrera was the breakout star – clinching the tournament's Bronze Ball.
Another superb year in Major League Soccer followed, then Herrera spent another term at Huesca in Spain. His impact was immediate. The modest club shifted from a 2-4-12 record prior to Herrera's arrival, to 3-6-6 when he played. It was ultimately not enough to prevent relegation albeit the midfielder proved he was ready for top-flight action.
City's resolve to send him out on loan yet again caused a bit of an uproar. Herrera was highly tipped to succeed Fernandinho. He is a versatile, box-to-box midfielder – capable of breaking-up play and contributing going forward. Not the conventional sitting midfielder, he makes the lung-bursting forward runs, offering extra depth in attack.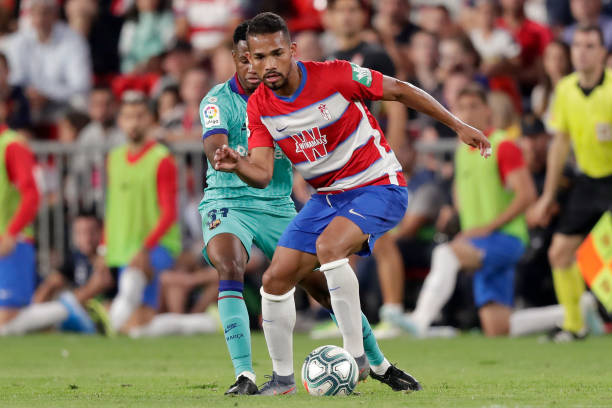 Yangel Herrera:
"My goal is to be able to make a great campaign here, in Granada, and leave the team at the top. Then we'll see. Let's see if I have the opportunity to go to Manchester City or stay here, that will be seen at the end of the season. I am very comfortable here."
https://t.co/90inVQDymX
Yet the Citizens opted for experience over the prospect. Pep Guardiola's broke the club's transfer record to the land Rodri from his country. Herrera was sent the other way on another one-year learning course at Granada. Together with his new teammates, Herrera is rewriting the narrative in the Primera Division.
Granada is punching above their weight. The Andalusians are fourth on the table with 14 points – four fewer than leaders Real Madrid. Already, they have claimed impressive wins over Barcelona and Sevilla. Herrera appeared only five times but is putting in solid shifts in the heart of the midfield.
In matches he's featured, the box-to-box midfielder showed his tireless motor. His ability to slot in defence has been a priceless asset to Diego Martínez. With Guardiola's team hit by severe injury at the back, the 21-year-old could just be a solution-in-waiting.
Having made his debut as a substitute in 2016, Herrera became a cemented starter for Venezuela in late 2017. He has started nine games since that shift, missing two via injury. He was on target in the recent 1-0 victory over Bolivia.
By establishing himself at the international level, Herrera would qualify for a work permit to play in the Premier League. Unless his form dips and he gets dropped by, he would be clear to join Guardiola's squad next summer. That would be a dream come true for the 21-year-old...