Egypt's extraordinary journey to Russia 2018
Egypt became Africa's second side, after Nigeria, to confirm their spot at the 2018 FIFA World Cup following a hard-fought 2-1 win over Congo. We look at the Pharaohs' incredible journey to Russia.
It was a crisp Sunday afternoon in Alexandria; the perfect atmosphere for a football game. Egypt was on the brink of qualifying for the World Cup. A feat last accomplished in 1990. Group rivals, Uganda and Ghana had played out a scoreless draw the day before, leaving the door wide open for the North Africans to end their hoodoo with a victory over winless Congo. A certain kind of excitement and tension rolled into one across the nation.

Many other countries would have staged a game of such magnitude in their capital cities. But no, Egypt went north. The reason isn't far-fetched: the 70,000-capacity Borg El-Arab Stadium, formally opened in 2007, is their largest arena. It is also perceived to be untainted, not jinxed like other stadiums. Indeed, the Pharaohs had repeatedly faltered at the last hurdle in their own backyard - most notably against the Black Stars en route to the 2014 edition.

The Egyptian national team hasn't only had to contend with some sort of spell working against it, there's also their Argentine coach to consider. Hector Cuper is the manager who lost two successive Champions League finals while at Valencia. He's that despised Inter Milan gaffer who handed the Serie A title to Juventus on the season's final day. That's not all, though. At Mallorca, Cuper was beaten twice in two finals: first the Copa del Rey and then the UEFA Cup Winners' Cup.
Yet, none of his previous jobs compared to the burden of steering Egypt to the Mundial. To such an extent, the 61-year-old confessed to "taking hypertension medicine due to the stress". Well, for his current players, Cuper's bombshell had nothing to do with them. Instead, they had to focus on their next game - a place at next year's World Cup was within Egypt's grasp.

A little over 80,000 supporters were seated before proceedings began in Alexandria; an extra 8,000 entered in time for kickoff. They were forced to wait until after the hour mark to witness their team take the lead. Mohamed Salah latched on to Mohamed Elneny's through pass to send the fans into a boisterous mood. Sadly, however, with just two minutes remaining, their joy was halted as Congo struck back through Arnold Bouka Mouto. At that point, it was as though Cuper's ghost had returned to haunt him.

Time was running out for Egypt. Only seconds remained on the clock. Then, the game's decisive moment arrived - Cuper's team were awarded a penalty. Salah was the hero once again, converting the spot kick to seal his nation's place at the World Cup.
That late winner sent thousands of Egyptian supporters into raucous celebrations - car horns were honked and the country's red, white and black colours were proudly waved. In Cairo, an army helicopter dropped hundreds of flags on fans gathered outside the city's iconic Tahrir square.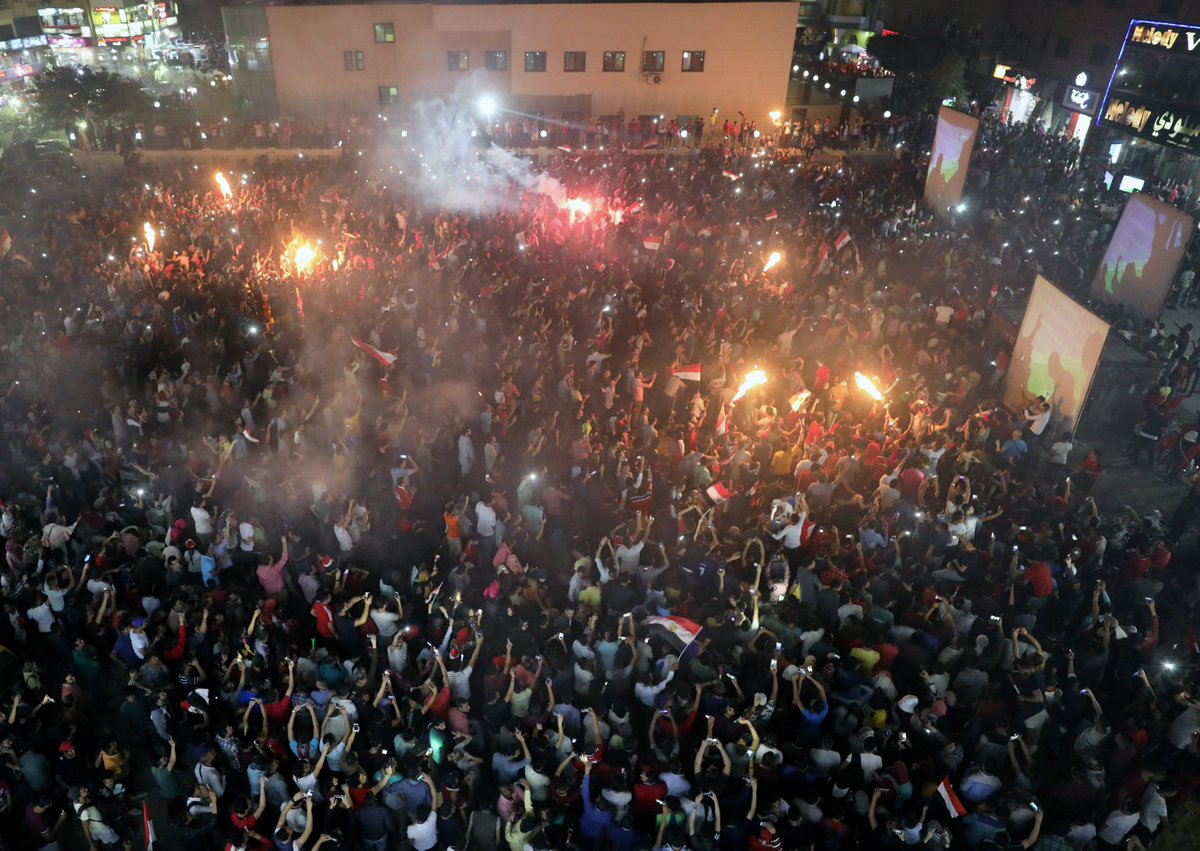 Egypt and Hector Cuper have finally succeeded - thanks to Mohamad Salah and the new generation of Pharaohs.