England winning on penalties? What is this madness?!
No, England fans, you're not dreaming. The Three Lions did actually win a World Cup penalty shootout for the first time ever.
Italia 90, France 98 and Germany 06. Three spot-kick showdowns in international football's greatest competition. Three defeats. Last night, over twenty years of hurt was eradicated, thanks to Gareth Southgate's immensely brave squad.
While watching the game, as Yerry Mina headed home in the 93rd minute, it felt like same-old-same-old for England. It was destined to be decided from twelve-yards, everyone was expecting the inevitable. To great surprise and sheer delight, five courageous individuals stepped forward, with a little help from the brilliant Jordan Pickford.
Harry Kane, as cool as ever. Marcus Rashford, perfect. Jordan Henderson was the unfortunate one, although his was down to a good save rather than a poor effort. Kieran Trippier slammed home the important penalty to draw things level, before Eric Dier won it. Unbelievable stuff. The elation, the joy, the ecstasy was so evident. The Three Lions were in dreamland.
Now to Pickford. He's hardly had a save to make at these World Cup finals, and that simply sensational stop he made just before Mina's leveller has been somewhat looked over in the aftermath. That was fantastic, probably the best in the tournament to date. Clearly, he carried that momentum, belief, and desperation to not be beaten into the spot-kick battle. Although not the tallest, he's a real presence in between the sticks. The Everton man got close to one or two before THAT moment. He deserves all the credit that's coming his way.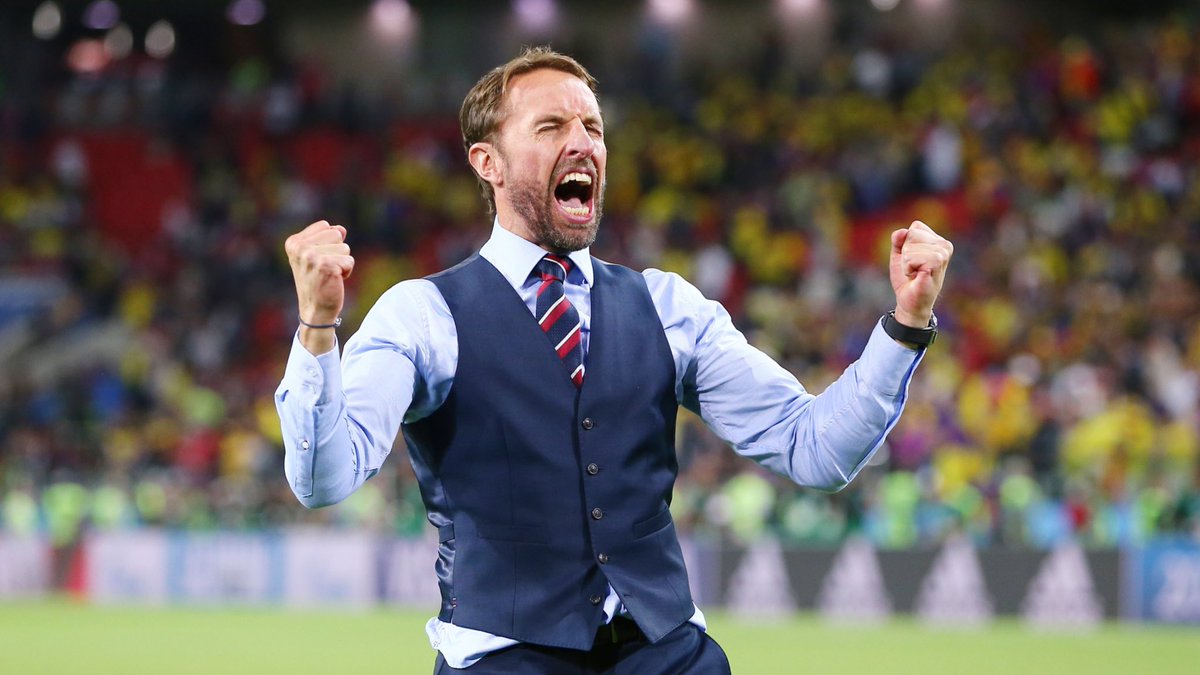 Sure, for the nerves, a slender, scrappy, 1-0 victory would've been the best option. However, getting those penalty-kick demons abolished was the perfect result. The players will be beaming with confidence. Defeat was stared at directly in the face. These brave Lions were determined not to be beaten.
What's most impressive is the fact that Southgate had his squad prepared and ready for this moment. After missing his kick at EURO 96, this moment was twenty-two years in the making. The Englishman ensured his players wouldn't suffer the same fate as he did. What a man. What a moment.
To a player, these boys deserve it. Put club rivalry aside for potentially another week-and-a-half. They're such a likeable bunch, who just seem to love being out on the football field alongside each other. From playing darts with the media in an effort to build bridges, to contacting with fans on Twitter and having a laugh, this is what it's all about. Nothing brings people together like the beautiful game.
The question will be asked, where were you when England won their first ever World Cup penalty shootout? Don't underestimate just how vital July 3rd, 2018 will be for the home of football. This will be etched in the history books, forever.
Next up, Sweden. Whatever happens from here, England have given us something to remember. Those days of agony, heartache and pain are a thing of the past. Southgate's Lions are only looking forward. For now, though, let's just enjoy it. Who knows what could happen. It couldn't actually come home, could it?