Enter the West Midlands Matrix: Aston Villa vs. West Brom
Enter the West Midlands football matrix. There are safari parks along the way but the roads to football grounds are filled with bad intentions. Are you sure you want to jack back into the Bull Ring?
In light traffic, you can drive from Villa Park to the Hawthorns in 12 minutes. Ten if you're in Death Race 2000 mode. You can go through Handsworth Wood or Smethwick, observing the divided second city. West Bromwich Albion supporters will be taking the tour at the weekend. Aston Villa host the Baggies in a West Midlands Derby with Championship permutations.
The West Midlands football matrix offers derbies at every turn. Birmingham City, Wolves and Coventry City are massive clubs too. To a neutral like myself, the Villa and Albion represent the biggest although the politics of football in the region are more complex than I imagined. After setting out my stall with tweets to West Brom and Villa fans asking their opinion on which rivalry is the most heated, I received a crash course in West Midlands allegiances.
Most Villans consider Birmingham City their chief foe. The Second City Derby takes precedence in AVFC households. Villa is the older club. City began life as Small Heath Alliance but couldn't wrest bragging rights from the already established Villa in competitive play. Frustrated on the pitch, Small Heath attempted to become the club in Birmingham by annexing the city's name as their own. The back-door move fostered a suppressed rage that has grown with each generation of Claret and Blue faithful. They have dominated the rivalry with a 56-33-38 record in 127 matches. Nor has Villa lost to Birmingham since the derby resumed in 2016 after a five-year hiatus.
Villa also boast a standout record against Albion with 77 wins and 37 draws in 168 contests. They'll need to draw on history as well as the home crowd in this encounter, however. While the team struggles to match last year's promotion push under new boss Dean Smith this term, the Baggies are firmly ensconced in the playoff places.
More magic of the sort conjured against Sheffield United last weekend will be welcome. Billy Sharp put the Blades ahead barely ten minutes in then added two more early in the second half. For 20 minutes, Villa faithful contemplated not just a defeat in that match but a lost season. Then Tyrone Mings and Tammy Abraham pegged two back on 82 and 86 minutes, setting the stage for an improbable stoppage-time equaliser from Andre Green. Call it voodoo, witchcraft or just a sheer miracle, Smith's side cannot afford to be so generous with Darren Moore's side in this tilt.
Their midweek whistle-stop tour of London taught them that stoppage time is a fickle mistress. Neal Maupay's 92nd-minute goal was magic for Brentford on the night, the Bees taking all three points with a 1-0 victory. The Second City Derby might be the bigger rivalry but the Baggies' visit to Villa Park is the most important match of this campaign for the home support.
Meanwhile, Albion fans aren't as clear regarding their main rival. Wolves topped my unscientific survey but not by a majority. Villa rank close behind. The ambiguity could be a byproduct from WBA's yo-yo existence in the noughties. West Brom spent most of the new millennium's first decade being too good for the Championship but not good enough for the Premier League. Consequently, they tended to play Villa one season and Wolves the next.
While Villa took a midweek jaunt to London, travel won't be a factor for West Brom. They've spent the week touring the neighbourhood as it were. Last weekend, they took a 40-minute drive to the Bet365 where they disposed of a Peter-Crouch-less Stoke City, 1-0. Midweek, the Baggies hosted Nottingham Forest in a controversial draw. Late in the game, Dwight Gayle went down in the box. Blue and white stripes claimed contact. Solid red shirts cried simulation. The referee sided with the former. Jay Rodriguez rescued a 2-2 draw from the spot. Unfortunately, the official might have bottled it.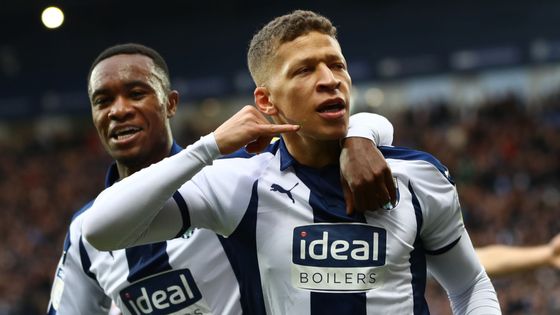 BREAKING: The FA have charged West Brom striker Dwight Gayle with an alleged act of simulation in the 2-2 draw against Nottingham Forest #
ssn
https://t.co/cuqbk3wTar
Aston Villa fans can only cross their fingers that Lady Luck abandons West Brom at the second asking as it did them at Griffin Park.
Former England international, Cyrille Regis, turned out for both Aston Villa and West Brom in his time. He wasn't of two minds regarding which rivalry stood out. Before his death, last year, he went on record to claim Aston Villa and West Bromwich Albion represented the totality of West Midlands football. For him, the atmosphere in this game was unbeatable. He acknowledged the importance of rivalries with Birmingham and Wolves but held out for Villa v West Brom.
Having been on both sides of the battle, Cyrille knew what he was talking about but history's best quality is that it's always rewriting itself.
When the teams kick off today, West Brom represent the team in ascendance. Fourth in the table and looking to bat off any playoff chasers, they need a result. Darren Moore's squad can't allow the occasion to take away from the job at hand. Aston Villa's playoff hopes require a result from every match at this point. In tenth, Dean Smith's crew are seven points off the pace. Anything less than a win pushes the playoffs almost entirely out of reach.
Surprisingly, such a critical match between historic rivals isn't being televised. Maybe supporters on both sides should have listened to old Cyrille.