Equal time: Atletico Madrid better off with Rodrigo Moreno
Background photo: Zarateman. CC0 1.0
Atletico Madrid have had a busy transfer window. With 10 first-team players leaving and another nine coming in to replace them, it has been a summer of upheaval in eastern Madrid.
The big-name departure was Antoine Griezmann. The Frenchman has been linked with a move away from Los Colchoneros for a few years now, so his £108m move to La Liga rivals Barcelona was inevitable. He has been vital to Atletico's fortunes since signing in 2014, but just one Europa League crown and the following UEFA Super Cup in five years wasn't enough to satisfy his craving of success.
So out he went, and in came Joao Felix. The Portuguese wonderkid is barely old enough to drive, but that didn't stop Los Rojiblancos splashing £113.4m to bring him to the Wanda Metropolitano. He has hit the ground running in pre-season and look like he will help fill the Griezmann-shaped hole in attacking midfield.
But the World Cup-winner was a key player all across the front line, and so there is still, arguably, a gap in the squad to recruit a new striker. Diego Costa and Alvaro Morata are good options there, while Nikola Kalinic and new arrival Ivan Saponjic add depth. However, not one of them hit the back of the net more than six times in 2018/19. They need to add more goals in this area.
Enter, Rodrigo Moreno. The Valencia star has been linked with a move to the Spanish capital, with Atleti apparently prepared to pay £55m to land the 28-year-old. On paper it seems a lot for a man of his age, but they do have a net spend this summer of -£60m. The player is entering his prime, and the club have the cash to do a deal.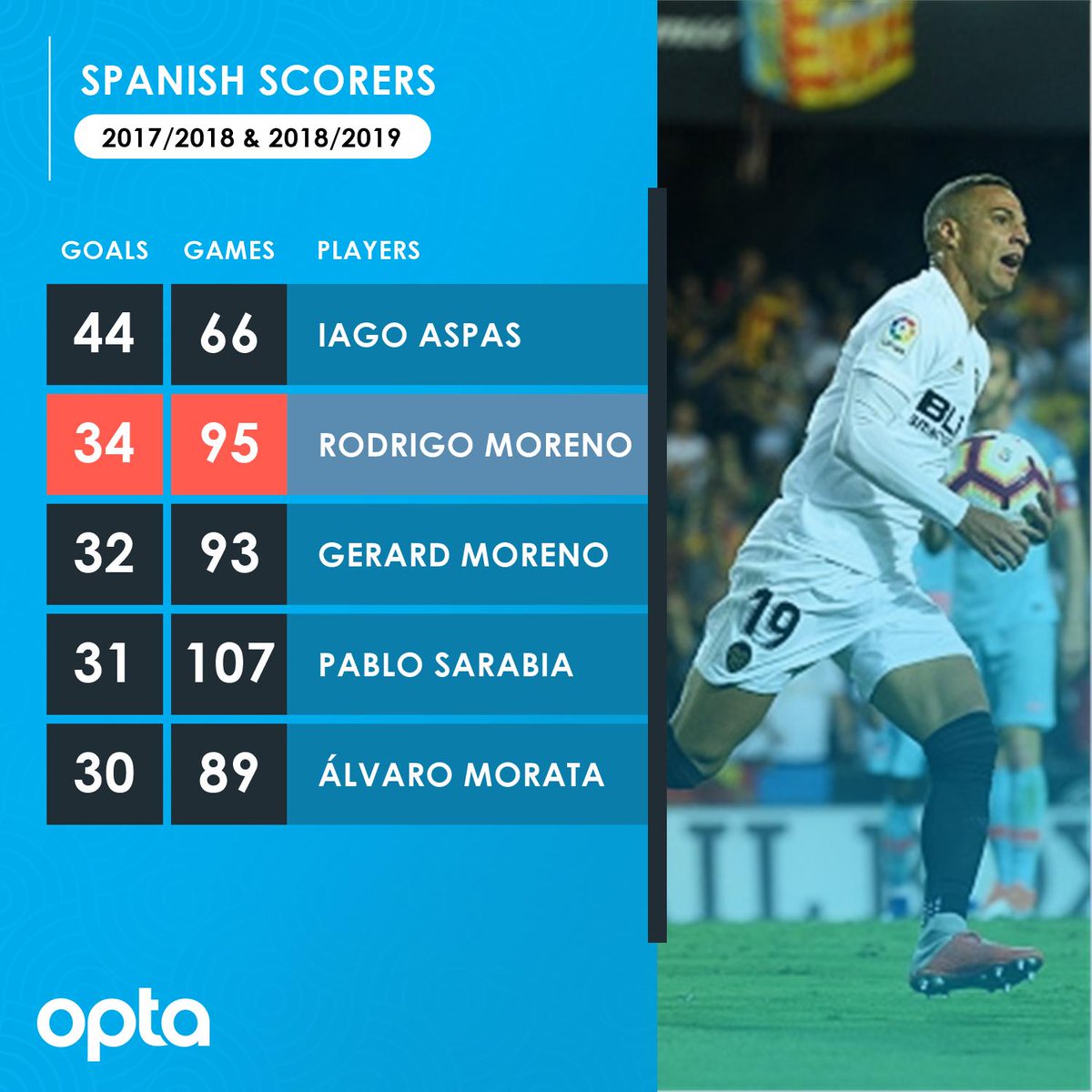 34 - Only Iago Aspas (44) has scored more goals than Rodrigo Moreno (34) between the Spanish players in the Top 5 European Leagues last two seasons (all competitions). Profitable
https://t.co/Gw4ZgAoTNz
Last season saw him score 15 and assist a further 10 in 51 games for Los Ches, while he bagged 19 in 2017/18. He knows where the goal is. In theory, around better players and with service from the likes of Felix, Saul and new club captain Koke, he should be able to improve on these numbers.
Rodrigo brings everything that Costa and Morata don't. He is quick, agile and a nightmare for defenders when running at them with the ball. His pace and trickery can unlock defences in ways that the others cannot. The two former Chelsea strikers often rely upon their physicality to create space to score and are target men more than playing forwards.
This type of player can be valuable and has a place in some systems and leagues but isn't best suited for a club with title ambitions in La Liga. The Valencia man would give them something different. He is a more orthodox option in a footballing culture where passing and flair are more important.
That's not to say Costa and Morata aren't of use to Diego Simeone. They are both proven strikers in Europe's top leagues. Any team would be lucky to have them among their ranks.
But Rodrigo adds a different option and gives El Cholo more options at the sharp end of the pitch. Signing the Spanish international would allow him to take a more 'horses for courses' approach when deciding who will lead the line in any given match.
Playing against a team that struggles with pace? Rodrigo is your man. Up against good ball-playing defenders? Stick Costa there to unsettle them. Feel like a good all-rounder is the best bet? Look no further than Morata.
More than this, it gives Atleti the chance to switch it up mid-game if things aren't going well. If they go with Rodrigo from the beginning and it's not working out, then the other two offer an entirely different option that the opposition mightn't have prepared for. It works the other way too. The Valencia forward can offer pace and directness off the bench to run at tired defenders and make things happen late in the game.
Rodrigo is the ideal man to bolster Atletico Madrid's attacking options. When looking at a new signing it's not just about who has looked the best elsewhere, but who will improve your squad most. The Spaniard offers something entirely different, better equipping Los Colchoneros for their exploits in the coming season, both domestically and in Europe.