Equal Time: Crystal Palace needs to go all out for Mikel John Obi
Background photo: Rockybiggs, CC-BY-SA 4.0
Rumours emanating from Selhurst Park indicate Roy Hodgson's Crystal Palace are seriously considering signing Nigerian midfielder Mikel John Obi. This should not end up as just another rumour; Palace must go all out to win Mikel's signature.
How much will Mikel cost Palace?
Mikel will cost Palace nothing. Following the end of his contract with Chinese Super League side Tianjin Teda, the player is now a free agent. That means if Crystal Palace can do some shrewd business to meet the Super Eagles captain's wages, they will have a Premier League maestro on their books as the campaign enters its business end.
Nor does Palace need to go over and beyond to meet his salary demands. Mikel was earning £140,000-per-week at Teda. With some convincing, given he'll be getting a chance to play in the best league in the world. The Eagles could easily negotiate a pay-cut.
Is Mikel needed at Palace?
From the rumour mill, there are at least half-a-dozen Premier League sides looking to get Mikel. Of the lot, it's hard to see any that needs his services as much as Palace.
Palace would have to make room in their squad to accommodate the 31-year-old. It's nothing Hodgson can't handle. Looks like they're already in the process. Reports say 22-year-old Ajax flop Jairo Riedewald is already on his way out of Selhurst Park.
You can envisage Mikel coming in and stamping his authority on the side. Palace needs someone with that sort of influence who's not Wilfred Zaha. That's what a relegation-threatened side gets when a Champions League winner joins their squad.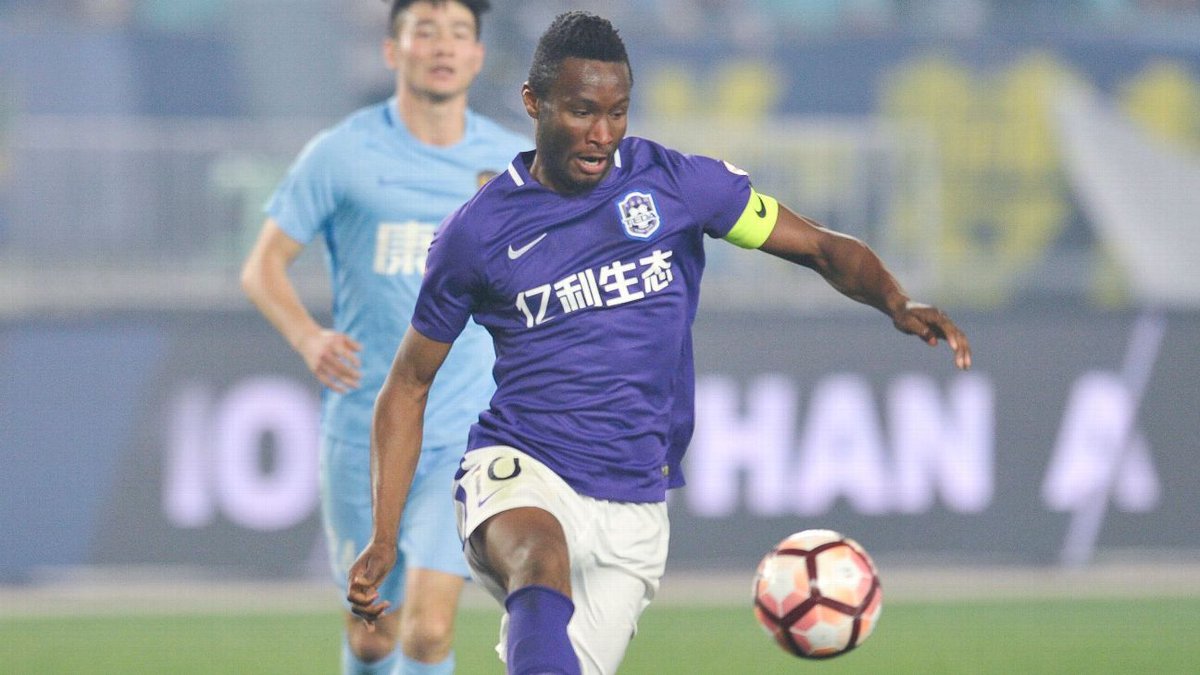 Importantly, Mikel knows how to win in the Premier League. He won the League a couple of times with Chelsea, not to mention every other domestic title available in the English top-tier. In fact, Mikel has more First Division English titles to his name than Crystal Palace. They need someone with that sort of experience.
Mikel will apply his experience to do a clinical job in central midfield. He might not score much or provide assists. He'll make sure his more advanced teammates can do that without looking over their shoulders. Shielding the defence and freeing up the forward players comes naturally to the Nigerian. He's not unlike Manchester United's Nemanja Matic.
As the season heats up, Palace need all the help they can get to avoid the drop. They're struggling to keep the ball during games. According to Whoscored.com, Palace's average possession per game stands at 47.7%. That affects their performance in the final third where they've notched a paltry 20 goals in 22 games. At the other end, they've let in 28.
Roy Hodgson's men need to become more economical with the ball; they need to connect more as a team. That's where someone like Mikel comes in.
Best for all parties
Mikel's family never left London when he departed for China. It's an 11-hour flight. I wonder how many of those tiring trips Mikel made over the last year-and-a-half? Crystal Palace is a London-based football club. The Eagles can use this as a bargaining chip.
Palace gets a seasoned midfielder with a winning mentality. Not just that, they get someone with immense experience in the Premier League; a natural leader, a ball winner who's still in his prime.
The player will be overjoyed his twins, wife and multi-million-pound house would no longer be 11 hours away. Added to the prospect of playing Premier League football. That's what you call a win-win situation.
What stands in Palace's way?
Money. If Palace finds his wages a stumbling block the transfer would be dead in the water. Again, they shouldn't let that happen.
However, Mikel John Obi is still considering his options. From how well he did in China as captain of Tianjin Teda, some Chinese clubs are interested in his services. Back to money. Everyone knows how easy it is for a Chinese club to turn a player's head. Crystal Palace cannot compete in that regard. They must emphasise the Premier League's status and his family's proximity. He's had 18 months to put a price on both.