Equal Time: Leonardo Jardim should eschew Manchester United for Real Madrid
Leonardo Jardim isn't a better choice than Zinedine Zidane at the English or Spanish giants, but he's a better fit at the Bernabeu than Old Trafford.
Maybe it's a lingering effect from my Star Trek: The Next Generation phase. It occurred to me when I reacted positively to rumours touting deposed Monaco boss Leonardo Jardim to manage Manchester United that I put great stock in the leadership qualities of bald Frenchmen. Jean-Luc Picard and all that. A moment later, I remembered Jardim's Venezuelan. He's just been working in France for the past four seasons. But congratulations to another chauve, Thierry Henry, for landing in Jardim's place.
As with every other issue surrounding the club, United fans divide on the South American's suitability to coach their club. Some are excited by his playing style and influence on young players. Others doubt he can handle the clubhouse prima donnas.
I side with the first group. If Jardim can turn Marcus Rashford and Jesse Lingard into Kylian Mbappe and James Rodriguez, long may he reign at Old Trafford. People who say he must prove himself at a better club than Monaco before coming to Manchester fail to consider two things:
As Monaco boss, our man handed Pep Guardiola his beret in the Champions League when the Catalan was a Kyle Walker and Ederson away from destroying the Premiership.
Sir Alex Ferguson, who knew none better how to handle prima donnas, arrived at United from Aberdeen, a club with a distinctly inferior legacy to Monaco.
No, the 44-year-old can do the job. That said, he'll never be given the opportunity. Ed Woodward and the United board are too concerned with the brand to install a coach who, due to a language barrier, lacks the charisma to keep the fans and media preoccupied while the Glazers continue to chug millions from the massive pitcher otherwise known as the club's sizeable profits.
It's true Zinedine Zidane isn't fluent in English either. His monumental legacy as a player and manager renders that irrelevant. While he learns, his translator won't work too hard, needing only relay reporters' questions. Zidane's disdainful glares won't need interpreting. Better, they'll provide reams of copy in print, endlessly viral tweets, Instagrams and memes on social media.
Expect the same effect to occur within the squad. I'd take Zizou as United boss before Jardim, yes, although either's a wonderful choice.
Even if Ed's written the suddenly available tactician onto his shortlist, Jose Mourinho isn't going anywhere at the moment. His £12 million severance package ensures he'll be around at least through the holidays. With both Zidane and Laurent Blanc available, the latter qualified despite a full head of hair, Jose would've been in the sack before the Newcastle game if now was the time. While Leonardo Jardim's an excellent coach, he doesn't push past either Frenchman to the front of the queue.
For argument's sake, let's assume Mou's gone before budding Manchester United fans open their holiday presents, as occurred at Stamford Bridge. It's possible Jardim will already be in a post rivalling United's pedigree.
Julen Lopetegui's not enjoying the best start to life at the Santiago Bernabeu. The Spaniard's a mere two points off Sevilla's pace [wait, the Rojiblancos?] but his Real Madrid squad hasn't scored in four games. During the drought, they've been hammered by the surprise leaders, drawn with city rivals Atletico and been beaten in the 95th minute by Alaves.
Los Blancos should be running away with La Liga. Their fans know it. Marca and AS know it. Team president Florentino Perez knows it.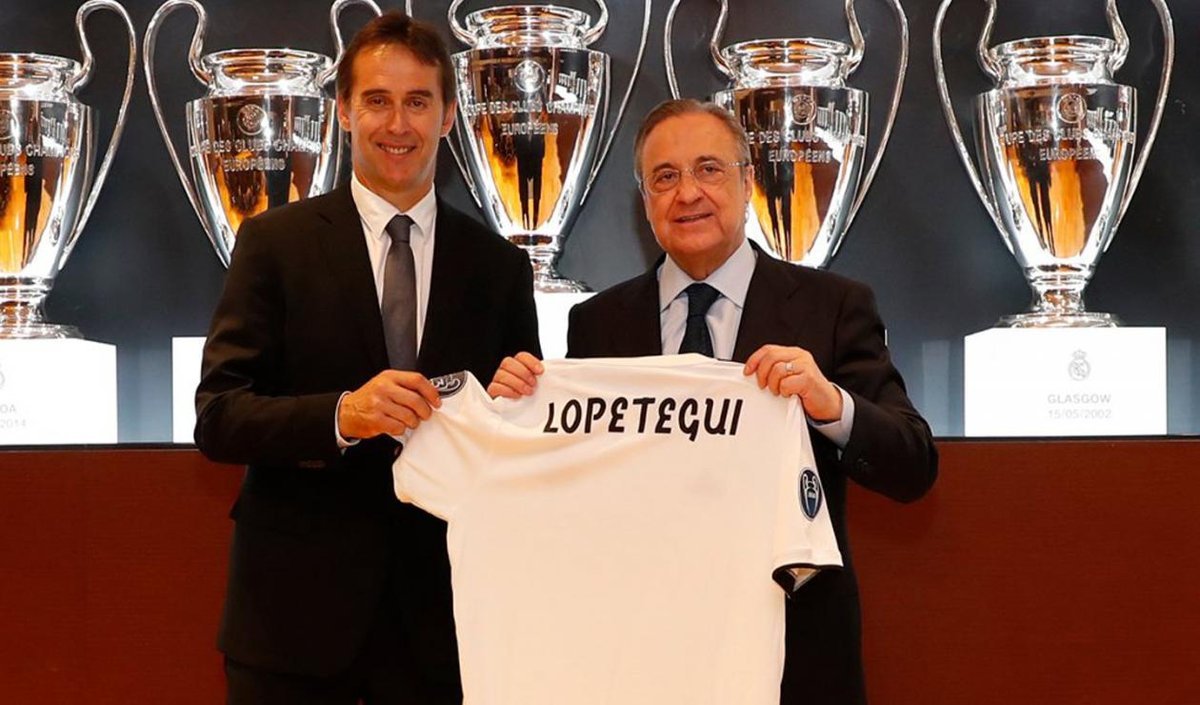 Florentino Pérez had dinner with Julen Lopetegui after the match against CSKA Moscow to clarify a few things which were expected and to make sure they are on the same page. [AS]
https://t.co/q4o6J318ku
Perez demonstrated remarkable patience with Zinedine Zidane's occasional struggles because the Juve and RM legend's a remarkable leader who won a World Cup on the pitch, Champions Leagues both as player and manager. Lopetegui's an unremarkable career backup goalkeeper who mismanaged negotiations with the Merengues, resulting in his sack from the Spanish national team on the eve of the World Cup. He doesn't rate the same forbearance.
One more disappointing performance, let alone result, Perez will be on the horn. For all the same reasons Jardim appeals as a potential United boss, he should be the first contact the Madrid chief makes.
He can work with budding stars like Marco Asensio and Lucas Vazquez. He'd make Raphael Varane and Isco more complete players. Gareth Bale could be his Radamel Falcao in La Liga, a veteran influence with more game left in the tank than many think.
As well, the situation with certain prima donnas in the Bernabeu camp makes him all the more attractive. Karim Benzema's struggles attract attention. The 30-year-old's most conspicuous among the starting XI during this goalless run. His tank's on E. Toni Kroos' travails haven't drawn much comment. One strike in the World Cup papers over the cracks in his pedestrian-paced play. Negative results for both club and country expose them.
Like United, Real's not a selling club. When needs must, they've cleaned house, however. Check with Wesley Sneijder and Arjen Robben. Both enjoyed success with their new clubs when pushed out at their peaks. Perez isn't the type to wait on players to lose all their value, even if Zidane convinced him to stick with Benzema.
Money must supply a replacement for the unproductive French striker, no matter considering Madrid bank more than anyone. Cash won't be needed if Jardim wishes to seek an alternative to Kroos and possibly Luka Modric, whose value will never be higher.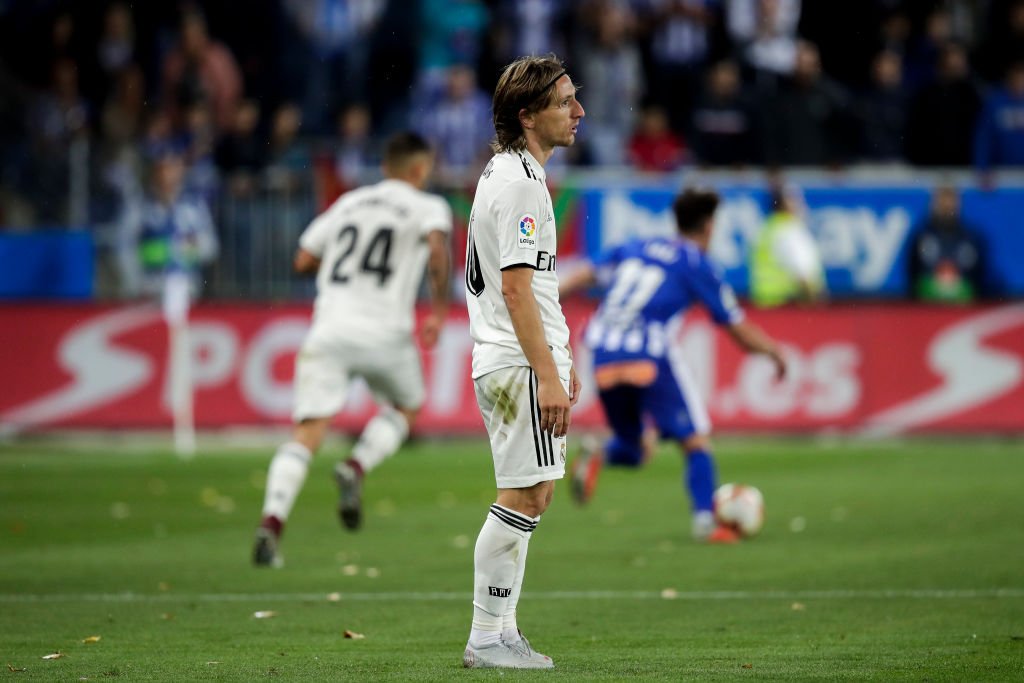 Inter Milan are set to revive their interest in Luka Modrić when the transfer window reopens in January. (Source: Corriere dello Sport)
https://t.co/zLKYKYKSSu
The Croatian's 33 although his newfound status as FIFA's Best reportedly attracted interest from the club who won a Champions League after snapping up another RM No.10, Inter. Several Premier League clubs, including United, could use a playmaker. The ex-Spurs man knows English football. There's one more big contract in him even though Perez is too savvy to pay it.
Modric is expendable because Los Blancos own two younger, gifted playmakers on loan at other elite clubs. Either James Rodriguez or Mateo Kovacic [if not both] can return to play for Jardim. The thought puts me on Karl-Heinz Rummenigge's bad side, but James might agree to don white again for his former mentor.
By hiring a former Champions League semi-finalist to replace Julen Lopetegui, Real Madrid positions themselves to turn over their ageing roster, usher in a new, exciting era in the Spanish capital and put an experienced coach in place who knows how to derive the best from young stars. By accepting the offer [if it comes], the Venezuelan puts himself in a much better situation where, despite Florentino Perez's ruthless streak, he will enjoy far greater support than in Manchester. Nor will anyone care that he doesn't speak English. The Santiago Bernabeu, not Old Trafford, is where Leonardo Jardim belongs.