Equal Time: Arsenal must never hire Mourinho
Jose Mourinho is the wrong man for Arsenal, anytime, any day.
Background Image: Ronnie MacDonald, CC BY 2.0
When a man stays in a job for more than two decades, there should be a lasting legacy. Arsene Wenger oversaw the most successful period in Arsenal's history on and off the pitch. He won 17 trophies in total, including three Premier League titles, achievements unmatched by any other manager at the club. Yet, that did not prevent fans from demanding more. Sir Alex Ferguson's exploits at Manchester United might have been a contributing factor, except that United faithful were never satisfied with the Scot either. The simple fact is we are all greedy and can never have enough. There are times, however, when we must realise that greed is our undoing.
It wasn't just Ferguson who marginalised Wenger. When other managers arrived in the league with other clubs, Jose Mourinho at Chelsea, Roberto Mancini, Manuel Pellegrini and finally Pep Guardiola at Manchester City, the Frenchman began to look more like Darren Ferguson than Sir Alex.
Jose Mourinho took every opportunity to rub it in on the Frenchman. The pair engaged in several spats in the technical area. The Portuguese made sure the world knew the extent of Wenger's failures. But he did not limit it to the manager. He also threw shade at the club as a whole, especially after triumphing over the team on the pitch. That did not endear him to most Arsenal fans.
Wenger's reign at the Emirates Stadium finally came to an end two summers ago. Unai Emery was expected to take the club to the next level. So far, the Spanish gaffer has not been able to engineer any significant progress. The team failed to secure a top-four place last term or to qualify for the Champions League when they lost the Europa League final. We've already discussed supporters' expectations. The disappointment was epic. The Gunners board decided Unai could remedy the situation given more time. Unfortunately, 2019/20 is playing out like 2018/19.
Poor man-management and tactics spawned further problems off the pitch. Fifth after 11 matches, six points behind Leicester City and Chelsea, qualifying for the Champions League will prove difficult. Granit Xhaka heard enough from fans and told them where they could go and the means of transportation they should use. Pierre-Emerick Aubameyang repeatedly challenges his defence and manager's tactics in the press. With Manchester United and Tottenham also expected to recover from their early woes to challenge for a top-four spot, Arsenal will most likely go empty-handed for yet another campaign.
Fans believe a change in the dugout is the solution. Lo and behold, an old enemy is the frontrunner to succeed Emery. But giving the former Chelsea and United boss the reins is like putting a loaded revolver to your temple.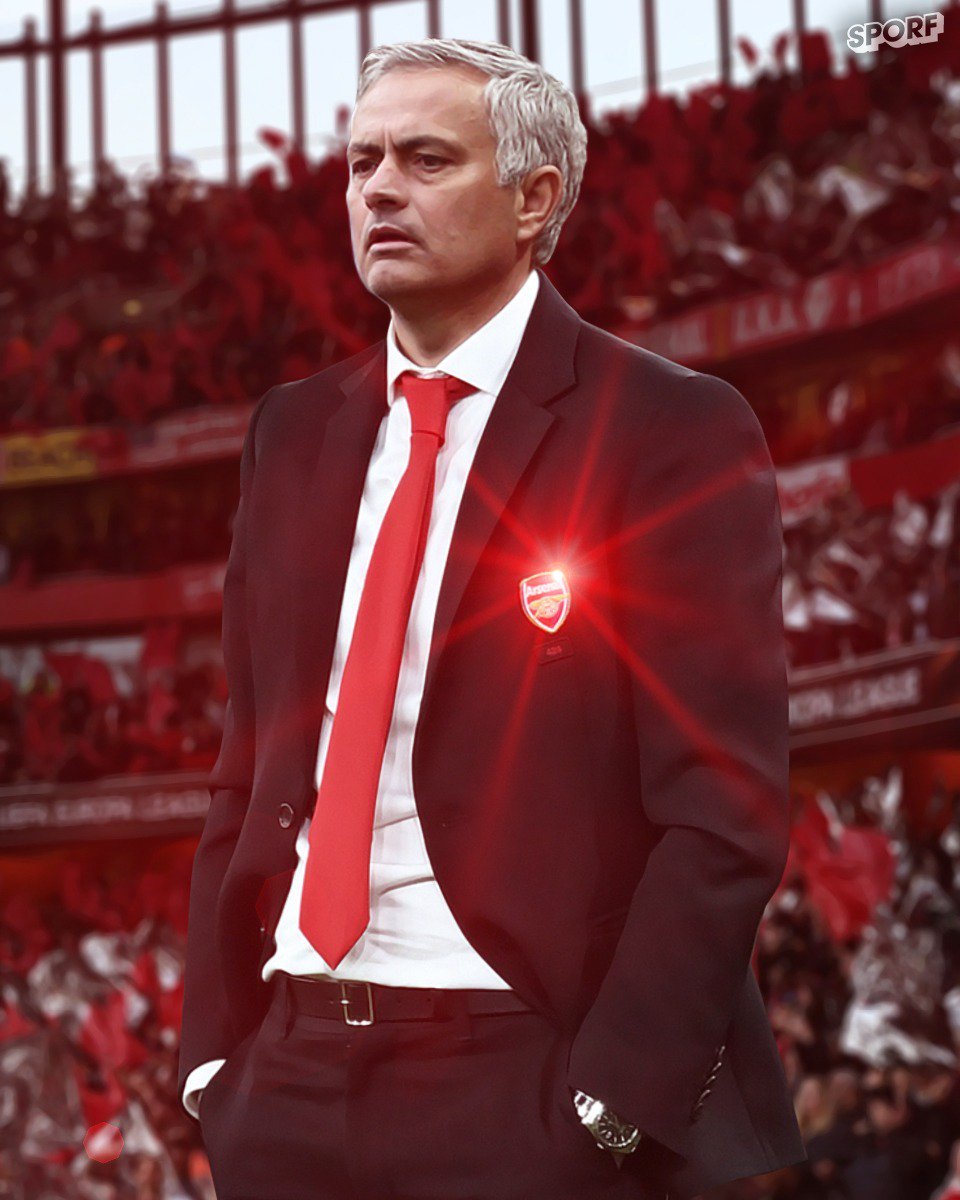 🇵🇹 Benfica
🇵🇹 União de Leiria
🇵🇹 Porto
🏴󠁧󠁢󠁥󠁮󠁧󠁿 Chelsea
🇮🇹 Inter Milan
🇪🇸 Real Madrid
🏴󠁧󠁢󠁥󠁮󠁧󠁿 Chelsea
🏴󠁧󠁢󠁥󠁮󠁧󠁿 Man United
✍ Arsenal
🗞 @
ESPNFC
are reporting that Jose Mourinho would be interested in replacing Unai Emery at @
Arsenal
.
https://t.co/U6zeLADjZv
For starters, the very idea of Mourinho goes against Arsenal values. They are night and day, oil and water, Trump and Hillary. Arsenal would be selling their soul to appoint the Portuguese as manager.
Youth development vs splashing the cash
Arsenal is built on youth, developing a squad through a long-term view with minimal resources. The business model served the club well over the years, allowing the side to move from crumbling, outdated Highbury to the Emirates Stadium. Nor did it prevent the team from achieving relative success both domestically and on the continent.
Although the club never won the Champions League trophy, it qualified for the competition for 16 years straight, reaching the final in 2006 only to lose narrowly to Barcelona. The Gunners dipped into the market again in recent years, signing high-profile names to achieve success, but the fundamental values remained. Mourinho, on the other hand, believes in spending to achieve results. Under him, emerging talents like Bukayo Saka, Joe Willock, Reiss Nelson, Emile Smith Rowe and Gabriel Martinelli can kiss their Arsenal careers goodbye.
Some may point to his record at United, where he played Scott McTominay, Jesse Lingard and Marcus Rashford. The latter made more appearances than any other player at Old Trafford for Mourinho. The telling fact, however, is they were largely appearances off the bench. As far as McTominay has come, people forget that he didn't force his way into the Special One's lineup. Instead, injuries and suspensions forced Mourinho's hand. When Nemanja Matic and Ander Herrera were available again, the Lancastrian sat until the manager's feud with Paul Pogba reached DefCon 1. Mourinho will never rely on youngsters unless he has no other choice or it's politically expedient.
Beautiful and free-flowing football vs a conservative approach
Mourinho is anti-football. His archaic belief in avoiding risk refuses to consider playing from the back or pushing the fullbacks beyond the midfielders. Of course, his methods delivered results for more than a decade but times have changed. Manchester City, Liverpool and even Leicester City under Brendan Rodgers lick their chops when opponents park the bus and attempt to absorb pressure. They now hold the key to unlocking low blocks. Arsenal cannot return to the past with Mourinho. There is nothing to return to.
Building for the future vs tearing down
Yes, Mourinho was a game-changer when he first arrived in England. Fresh from conquering Europe with Porto, he joined forces with Roman Abramovic to dominate the Premier League. It lasted for two seasons and that was it. Although he went on to conquer Europe with Inter Milan afterwards, it was with a veteran squad he inherited from Roberto Mancini. Similarly, the Real Madrid squad he took over from Manuel Pellegrini had just recorded their highest points total in La Liga in club history even though Barcelona proved better on the year.
Arsenal needs a manager who will develop an enduring project, one who can build on Wenger's work to take the club to the next level. Even if he enjoys some early success, Mourinho will leave the Emirates in ruins.
Man-management vs setting the house on fire
Since leading Inter to the treble in 2010, Mourinho's man-management has been called to question regularly. From Real Madrid to Chelsea to United, the 56-year-old allowed his thirst for power to take precedent over building rapport and a good working relationship with his players, especially the influential ones.
At Madrid, he had feuded with Sergio Ramos, Cristiano Ronaldo and Iker Casillas. At Chelsea he fell out with Juan Mata, Cesc Fabregas, David Luiz and Eden Hazard. Old Trafford was no different. He embarrassed Luke Shaw and fought with Anthony Martial and Paul Pogba. He allowed those feuds to interfere with results on the pitch. When he refused to even substitute Pogba into his last defeat at Anfield, he was sacked. You can bet his first targets at Arsenal will be Granit Xhaka and Pierre-Emerick Aubameyang.
Consequently, he will place the team in a worse situation than existed before his arrival. United were FA Cup champions before he stepped foot into the Theatre of Dreams. Where are they now? Whatever short-term success, if any, will not be worth the trouble. Better results can be achieved with Luis Enrique, Julian Nagelsmann, Erik ten Hag, Massimiliano Allegri or even Brendan Rodgers. Take your pick.
Hiring Mourinho will be an expensive, short-term experiment during which the laboratory will explode. Mourinho will merely drop his lab coat at the cleaners and return to the television studio where he will explain to the world how the disaster was everyone else's fault but his. That's something that has become synonymous with him wherever he goes.