Everton are sleepwalking into a relegation battle
Currently sitting tenth in the table, outsiders would likely claim it is nonsense for Everton to be worried about relegation at this stage.
Earlier in the season, that was a worry until a slight lift under Sam Allardyce to begin December moved the Toffees mid-table. That's where they've remained.
Things have not gone well since that early bounce though. Everton are currently sleepwalking their way into a renewed relegation battle. A 2-1 defeat at Turf Moor means Everton have now lost eight of their last ten games in the Premier League. They've lost their last six away, including the FA Cup defeat at Anfield. Wins at Goodison Park over Crystal Palace and Leicester momentarily lifted hope, but that has quickly died out.
Only seven points separate Everton from the bottom three pending Manchester United's visit to Selhurst Park to take on 18th-place Crystal Palace. That is nowhere near a big enough gap to feel free from relegation danger.
The mid-table logjam, in which just 10 points separate eighth from 18th with nine matches to go, means every club save Burnley and the top six are in danger. Everton's momentum make them prime candidates to slide down.
Every campaign has a team that suddenly finds themselves scrapping at the death. On current evidence, it will be the Blues in 2018. Their problems are too plentiful.
At the back, Sam Allardyce has a top goalkeeper in the making, but Jordan Pickford has conceded more goals than any other number one in the Premier League this season.
Pickford's defence has conceded 49 league goals so far, third worst in the division. Since Big Sam took charge, they have faced more shots than all but one other side. The defeat to Burnley was the fifth time Everton has invited 20+ shots in just 15 games under Allardyce.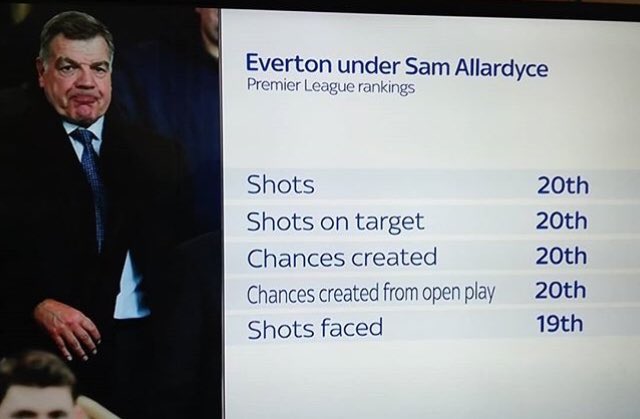 The midfield is struggling to function in either defence or attack. It lacks a commanding presence to protect the rearguard. Idrissa Gana Gueye is often left running around like a headless chicken. Opponents glide past him at will. Morgan Schneiderlin is public enemy number one.
The attacking half of the midfield features an ageing Wayne Rooney trying to adapt to a deeper role. Occasionally he flourishes. More often he fails. Meanwhile, Gylfi Sigurdsson has been shunted out wide and is enduring the joint-second-worst Premier League season in his career.
Unsurprisingly, the forwards leave much to be desired as well. Dominic Calvert-Lewin is young and a decent prospect but lacks clinical ability. Oumar Niasse is a good impact sub but hasn't any quality. January signing Cenk Tosun is still adjusting after his move from Besiktas. He headed in a flicked-on cross on 20 minutes against the Clarets, offering some hope of burgeoning form for the run-in.
Still, under Allardyce, this Everton attack ranks worst in most statistical categories. They haven't managed more than 12 shots in a game in any of his 15 in charge. The miserable display against Burnley was just the latest in a long line of tepid outings from Everton this season.
Allardyce claims matters have improved under him given the side was on relegation's cusp when he arrived. If he and his players aren't careful, they'll find themselves right back there before the campaign is over. At the moment they are sleepwalking into a relegation battle.