Everton's left-back future after Leighton Baines is secure thanks to Lucas Digne
Background Image: Flickr/Kathrin Mezger. Used under Creative Commons
When discussing Everton over the last decade, cult hero Leighton Baines is the first player that springs to mind. The left-back has made over 400 appearances for his beloved Toffees, but now, aged 34, his days at the highest level are numbered.
The Englishman did start the season in Marco Silva's starting line-up, but little did Baines know that his run in the side wouldn't last. Step forward, Lucas Digne.
Signed from FC Barcelona in a deal worth £18million, Digne would make the move to Merseyside after finding opportunities limited at the Camp Nou. The 25-year-old has already made 15 appearances for Marco Silva's new-look Everton, and it's fair to say he's improving with each passing game.
From a talent perspective, Digne has huge potential. He's quick, which is an essential trait for a modern-day full-back as the ability to bomb up and down the field is more important than ever. Being positionally sound is something that left and right-backs tend to struggle with, but not Digne, he has an excellent footballing brain. If you're going to play for the likes of Barcelona and Paris Saint-Germain as a full-back, you better be able to affect the game in an offensive capacity, too. The Frenchman has a stunning passing range, which allows Everton to turn defence into attack within the blink of an eye.
The icing on top is his dead-ball precision. That injury-time free-kick he struck against Watford was inch-perfect. The ball was struck with ferocity, accuracy and intent. Sort of like a young Baines...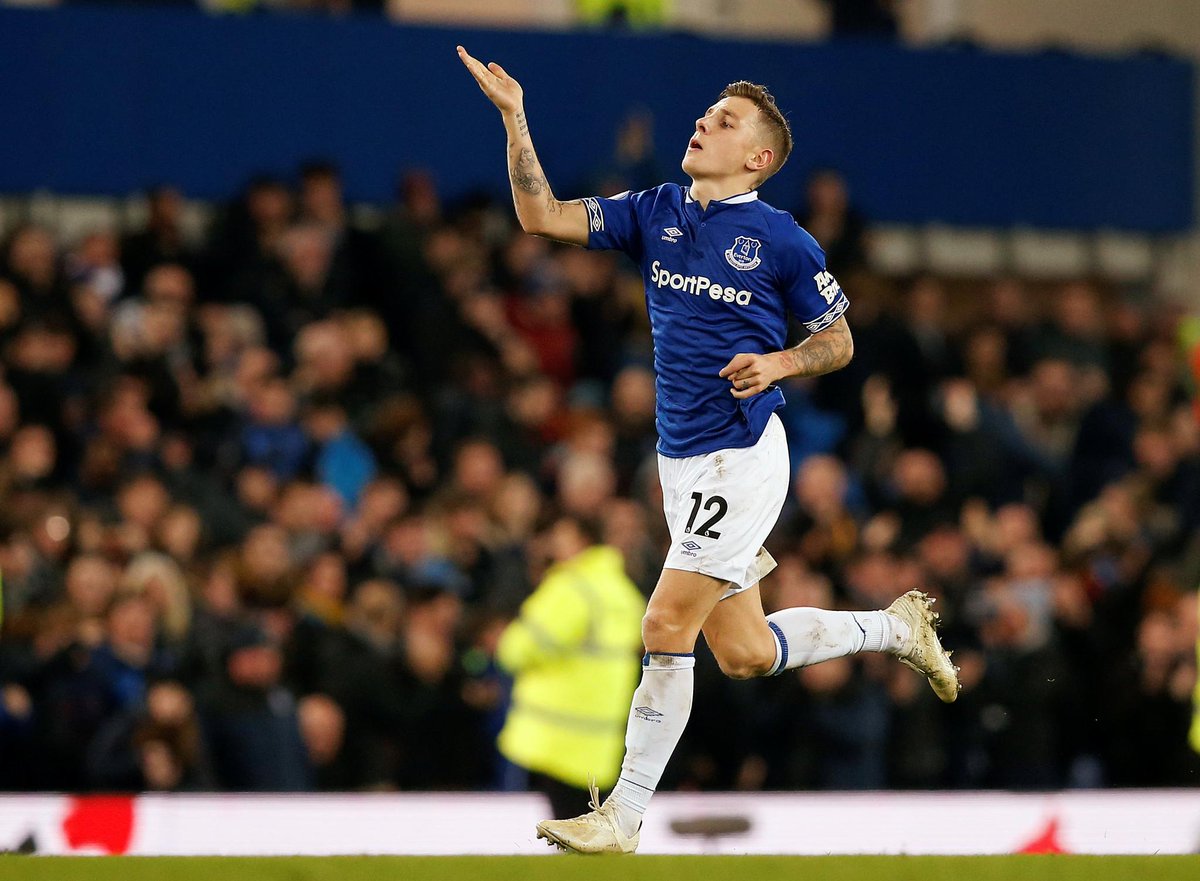 Lucas Digne's game by numbers vs. Watford:
81 touches
48 passes (85% accuracy)
7 crosses
4 clearances
3 chances created
2 shots
2 aerial duels won
2 tackles
1 injury time goal
The last-minute free-kick was the icing on the cake. 🔥
https://t.co/uPZxe0OBpL
In terms of complete defenders, Digne is great at everything. Understandably, moving to a new country, adapting into a fresh system and learning what living in England is like will take time. The 25-year-old has made a solid start, though, and no doubt they'll be bumps in the road, but Everton fans are an extremely loyal bunch. They'll back their man all the way.
I think the fact that Digne has France caps in 2018 tells you everything you need to know about the ability. Les Bleus are the most stacked team in international football, with the Everton man competing with the likes of Benjamin Mendy, Lucas Hernandez and Djibril Sidibe. Coming out on top against those guys has to be respected.
Digne isn't too dissimilar to the man he's replaced within the starting line-up, and winning over the Goodison Park faithful is made much tougher because Baines will always be regarded as an absolute legend across Merseyside. From a talent perspective, though, I think the Frenchman wins hands down. The goal he scored against Watford will be a huge confidence-booster for the left-back, and I'm fully expecting him to kick on from here and take his performance levels up yet another notch.
Things don't get any easier for Digne, however. Next up, a trip to The Etihad Stadium to take on Manchester City. I, for one, will be watching with intrigue to see how he deals with Raheem Sterling and company... Don't be surprised if he has another blinder as Everton steal a point; similarly to how they did last term.