FIFA U17 World Cup: The wonderkids to look out for
Once again, the ecstasy of the FIFA U17 World Cup is upon us. As usual, the brightest prospects will have that once in a lifetime opportunity to peddle their craft to the global audience. 
Over time, the tournament has become something of a breeding ground for emerging stars. Ronaldinho, Xavi, Tony Kroos, Neymar and the likes, all took the same baby-steps, before attaining their superstars status. Similarly, a plethora of young guns could follow that legendary path to greatness in India. The tournament runs from 6th October through to 28th October 2017.
Here are six names to beam your searchlight on as the competition gets underway
.
1 - Cameron Wadenges (New Caledonia)
Among three debutants at the competition, New Caledonia appears to be the least expected to make an impact of some sort. Nonetheless, the petit Oceania nation will certainly not give in without a fight. And Star defender, Cameron Wadenges, is the one heralded to champion that course. Leader, motivator and chief-orchestrator, the 16-year-old's exceptional qualities will be needed in India as his country hopes to upset the odds.
2 - Jann-Fiete Arp (Germany)
For a youngster who once scored 16 goals in a single game, you'd be right to put your money on Jann-Fiete Arphim hitting the back of the net in India. An exquisite finisher,  Arp will shoulder Germany's quest for goals as they hope to end a 32-year wait for the title. He proved that with aplomb at the U17 Euro Championship, notching two hat-tricks in just four matches.


3 - Yadier Meneses (Colombia)


When you think Colombia, two big names immediately come to mind: Radamel Falcao and James Rodriguez. But with the current crop of young lads coming through, it appears that there could be more superstars from that part of the world sooner than later. One of whom is Yadier Meneses. Like Rodriguez, Meneses is a naturally-gifted left-footed playmaker with an eye for goal. The 17-year-old didn't make the cut for the South American Championship, but will surely make up for the lost time in India.


4 - Tim Weah (USA)


Following in the footsteps of a famous parent can always be challenging for a youngster, especially when it is in the same endeavour. Well, that hasn't been too much of a task for USA U17 star, Tim Weah, son of legendary African footballer, George Weah. Similar to his dad, the newly signed Paris Saint-German star plays as forward with immense technical ability, as well as pace. His ability to play with both feet enables him to slot seamlessly either flank in John Hackworth's 4-3-3 formation.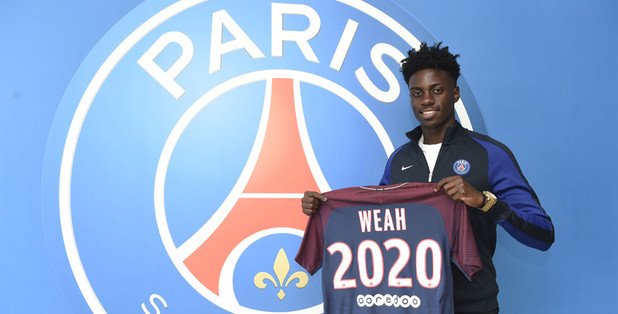 5 - Aniket Jadhav (India)


There's been so much buzz in the Indian subcontinent about this U17 World Cup. As hosting a FIFA tournament doesn't come too often in that part of the world. But it appears there is more to get excited about in one of the country's star players, Aniket Jadhav. Playing on home soil, the pressure will be on the Blue Tigers, with Jadhav happy to shoulder that burden. His dream is to one day play for a top club in Europe and a few good performances for his country might just help him achieve that.


6 - Paulinho (Brazil)
In the absence of Real Madrid new signing,
Vinicius Junior
, Paulinho may just be the man to deliver the goods for Brazil in India. The first thing that strikes you about the 17-year-old is his sheer versatility and superb work rate. One moment, he is bursting past his marker on the right wing to set up a goal; next, he is providing a delicate finish from the middle. Expect to see him dazzle in the U17 World Cup as the junior Selecao aim to win their fourth title.