Is De Boer tempting fate with another slow start in MLS?
After my time at Inter, I had to get back to coaching because football and doing crossfit are the best things. Here at Atlanta, 80% is organized. In Milan and at Crystal Palace, I had to do everything myself, even the cafeteria. Now I will have more time to myself.—Frank De Boer to de Telegraaf.
Assuming that "cafeteria" means controlling players' diets rather than preparing and serving meals himself or expecting lunch to be delivered to his office, Frank de Boer prefers a purely coaching role. Admittedly, he enjoyed tremendous success in that capacity with Ajax, a supremely organised club. Four Eredivisie titles on the trot is tremendous, isn't it? Unfortunately, the ability to focus entirely on match preparation isn't making a difference for the Dutchman at Atlanta United in comparison to his tenures at Inter and Crystal Palace. The question is whether he's completely lost his mojo or Major League Soccer and the CONCACAF Champions League represent a steeper learning curve than anticipated?
To make a long story as short as his stays at the Giuseppe Meazza and Selhurst Park, the Nerazzurri and Eagles baulked at the culture change he attempted to effect at the Serie A and Premier League clubs. Both outfits thought they were interested in keeping up with changing times, developing positive playing styles and that the four-time Eredivisie champion manager and former Barcelona defender was the ideal man to bring that about. When neither squad took to his strategies immediately, both clubs panicked.
He lasted 14 games at Inter, winning five, losing half.
Palace gave him five matches. He beat Ipswich Town in the EFL Cup but lost all four Premier League games. His squad failed to score a single league goal.
It took replacement Roy Hodgson another four games to register Palace's first Premier League goal of the season. Nearly two years later, Hodgson remains at the helm. The club remain a bottom-half side struggling against relegation rather than one striving for Europ. Exactly the status chairman Steve Parish sought to escape when he hired De Boer.
Fans don't regret the board's reluctance to take a risk by giving De Boer the time he needed so much as they do the decision to hire him in the first place. Palace gave that time to Hodgson, an Englishman, even though his initial failure matched the Dutchman's.
That isn't to say showing faith in De Boer would have paid off. I'm not Marvel Comics nor DC; I can't write alternate universes. On the other hand, the club could have hired another positive manager to replace De Boer or allowed Hodgson to steady the ship, then try again the following season. Everton cycled through Ronald Koeman, Sam Allardyce and Marco Silva because they were committed to dragging the club into the 21st century. Javi Gracia was out there. Brendan Rodgers was the odds-on replacement for De Boer. Sticking with Hodgson proves Crystal Palace's primary goal is remaining in the Premier League, nothing more.
As defending MLS Cup winners, Atlanta harbour greater ambitions. In their first season, and I do mean first, they stunned MLS by finishing third in the Eastern Conference. In their second campaign, the Five Stripes fell two points short of winning the Supporters Shield for the best regular season record. Knowing the club's architect and only manager, Gerardo 'Tata' Martino was moving on after the playoffs, the team stormed to the MLS Cup final, dominating Portland Timbers before 73,000 raucous home fans to win the league title.
Not only did the franchise lose their boss at season's end, playmaker Miguel Almiron secured a record transfer to Newcastle United for £27 million. Business as usual in 2019 was pie in the sky thinking. Fans always want pie, however. Thus, De Boer finds himself under pressure early in his third consecutive job.
The 48-year-old heads into his ninth game in charge today. The first eight can be divided in several ways. Atlanta's played four matches in MLS and four in the CCL. They've played four at home and four on the road. De Boer's squad found results in half their games. Unfortunately, half those results are draws. A 2-2-4 record isn't the pie fans expected to taste. Further, United kept just two clean sheets while MLS' most vaunted attack in 2018 failed to score in three games.
They've yet to win a league game in front of the home crowd. The good news is all four wins and draws came at the Mercedes-Benz Stadium. A team trying to find itself under a new manager with its most important player now in the North of England still shows fight.
Nor has winning on the road been an easy task.
De Boer's first game in charge came against Costa Rican side Herediano in the Champions League. The Dutchman received a lesson in the rough and tumble nature of Central American football. The refs don't call much; players take full liberty. Atlanta went home on the wrong end of a 3-0 score but progressed by destroying Los Rojiamurillos 4-0 in the return leg.
The new boss made his MLS debut against Wayne Rooney and DC United. The Black and Red burst out of the Eastern Conference cellar after Wazza arrived, knocking everyone aside on their way to the 2018 playoffs like Michael Myers in Halloween. DCU appear even more dangerous in the 2019 sequel. Atlanta fell 2-0 at Audi Field.
Reeling from one monster to another, De Boer and Co headed south of the border to face Liga MX's best side, Monterey. That didn't go well. A 1-0 victory in the return leg couldn't overturn a 3-0 deficit.
Then came last weekend's debacle at Columbus.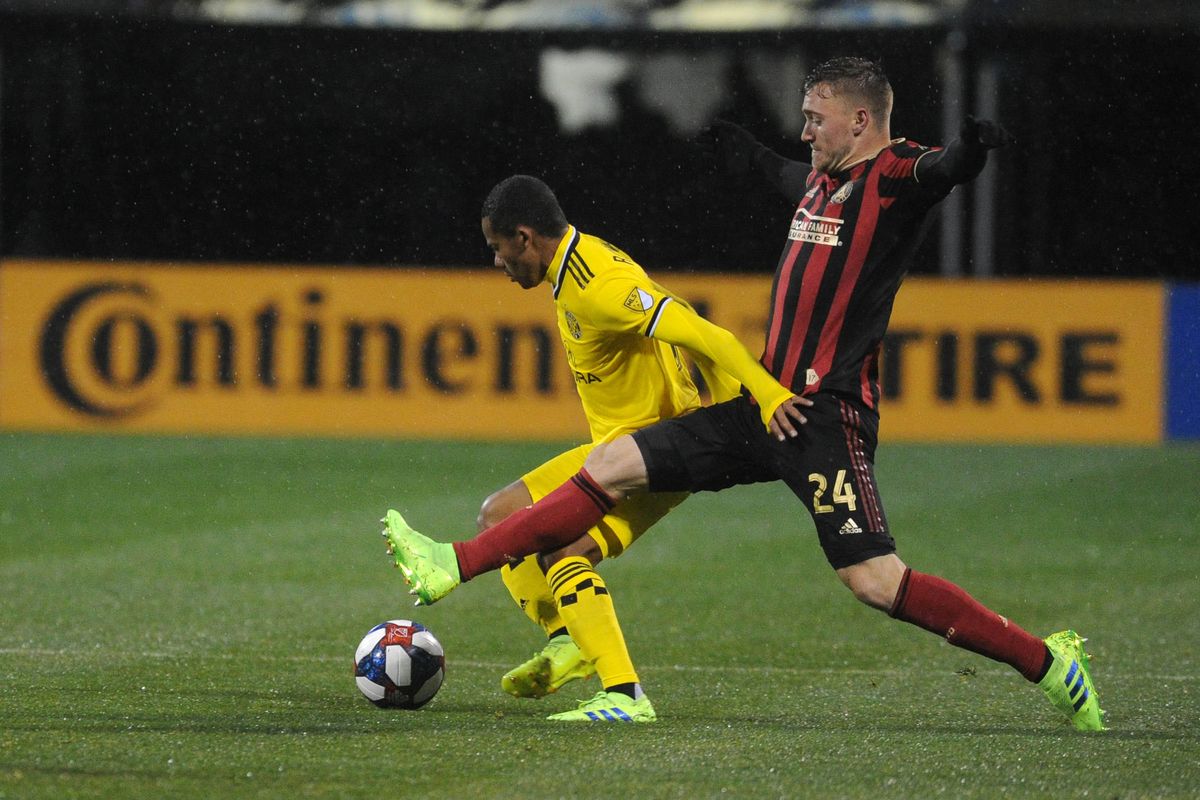 I'm going to start this with a hot take: under normal conditions, Atlanta United wins this game.
Back to that in a moment, but first: this match was a disgrace and MLS and PRO should be thoroughly embarrassed they allowed it to be played.
https://t.co/FD99yALYBh
The Crew's former owner, Anthony Precourt, delivered a death sentence to fans in Ohio when he announced his intention to move the club to Austin, Texas. #SavetheCrew was born. Supporters fought tooth and nail to keep their team. The state legislature filed suit on their behalf. Finally, MLS Commissioner Don Garber granted a last-minute reprieve, promising Precourt a new franchise in Austin provided he sell the Crew to local investors.
Job done, Crew fans were thrilled there were matches to attend whatever the conditions. The contest against the defending champions was allowed to proceed despite a thunderstorm delaying proceedings 30 minutes in, passing over quickly but leaving the pitch covered in standing water. Columbus, a side noted for consistently grinding out victories, had their way with the technically proficient Five Stripes in the ridiculous conditions, slogging their way to a 2-0 victory.
In all fairness to De Boer, it must be noted that last year's defending champions, Toronto FC went through similar struggles during their title defence. TFC didn't lose manager Greg Vanney or any players in the transfer window but a parade of injuries kept the squad from gaining any traction throughout 2018. No team's defended the MLS Cup since the 2012 LA Galaxy in David Beckham's final season although both Seattle Sounders [2015,16] and Toronto [2016,17] reached consecutive finals each winning and losing one.
Atlanta are in Foxborough to face New England Revolution, seeking the first win in their title defence. Brad Friedel's Rev's aren't in much better shape. They took a single win from their first five matches. Owner Robert Kraft's legal troubles after being busted for soliciting sex in a South Florida massage parlour not far from buddy Donald Trump's Mar a Lago mansion are more entertaining than the Revolution's play on the pitch.
Despite their struggles, the same can't be said about Atlanta.
Midfielder Julian Gressel is settling nicely as De Boer's primary playmaker. He owns two goals and two assists in the two competitions. The German sets up from the right whereas Almiron was more comfortable cutting inside from the left. Imagine driving in the UK all your life, then coming to America where you must adapt and learn to look in the opposite direction for oncoming traffic. That's the adjustment United face.
Five-foot-six 20-year-old Argentine, Ezequiel Barco makes it easier. He moves into a starting role, Almiron's in fact. In his sophomore session at the Mercedes-Benz, the diminutive winger already boasts a goal and two more created.
Thirty-five goal man, Josef Martinez isn't feeling the pressure. He's struck four times for the Five Stripes and converted a penalty in Venezuela's shock 3-1 win over Argentina in Madrid during the recent international break.
With 30 games still to come and a decent home record during an adjustment period, Atlanta's board needn't panic. History tells us De Boer needs time to find his footing. A little patience on their part will reveal what happens when he has it.