Are SC Freiburg the newest Bundesliga dark horses?
The Bundesliga has already served up pleasant surprises a month into the new season. Union Berlin introduced themselves in style at Borussia Dortmund's expense while RB Leipzig sit atop the throne and Schalke are soaring under David Wagner.
However, perhaps the most shocking story has been Freiburg's rise to a UEFA Champions League spot. Indeed, not even the wildest guessers would've seen this coming. By rolling the dice with a unique approach into the season, Christian Streich's men have shrugged away their mid-table reputation with a whisk.
Something helping them stand out is the German's constant tinkering to find the perfect balance. It has been five seasons since the last time Freiburg achieved a European finish, but Streich finally built a blooming squad. The German hasn't gone with the same starting XI for any games so far, opting for different variations to test his unit's ultimate potential. While too much rotating normally leads to disaster, it's quite the opposite for Freiburg.
They're actually benefitting from it as playing different players has created an unpredictable aura. It's becoming even harder for the opposition to decipher how to approach Freiburg due to the varied qualities for their distinguished line-ups. Fondly nicknamed Breisgau-Brasilianer (Brazilians of Breisgau) for their attractive attacking style adapted in the 90s, they're living up to the reputation with a cunning attacking style.
While not exactly opting for an unrelenting attacking vigour like fellow Bundesliga sides, they're smart with taking their chances. Indeed, the Breisgau-Brasilianer don't opt for a possessional game and remain far below the top sides in chance creation and work-rate statistics. However, they've been ruthless whenever venturing forward to catch opponents off-guard with swift-breaks or creative defence-splitting passes from outside the final third.
When you possess a fine-tuned striker like Nils Petersen or an up-and-coming gem in the form of 2019 UEFA U-19 Euros top-scorer Gian-Luca Waldschmidt, there won't be many missed chances. Indeed, the two have created a fiery partnership by possessing the intuition to wander into prime scoring positions and mirroring each other's movement extremely well. Lucas Holer has also maintained a proactive stance, chipping in with timely assists and creative vision.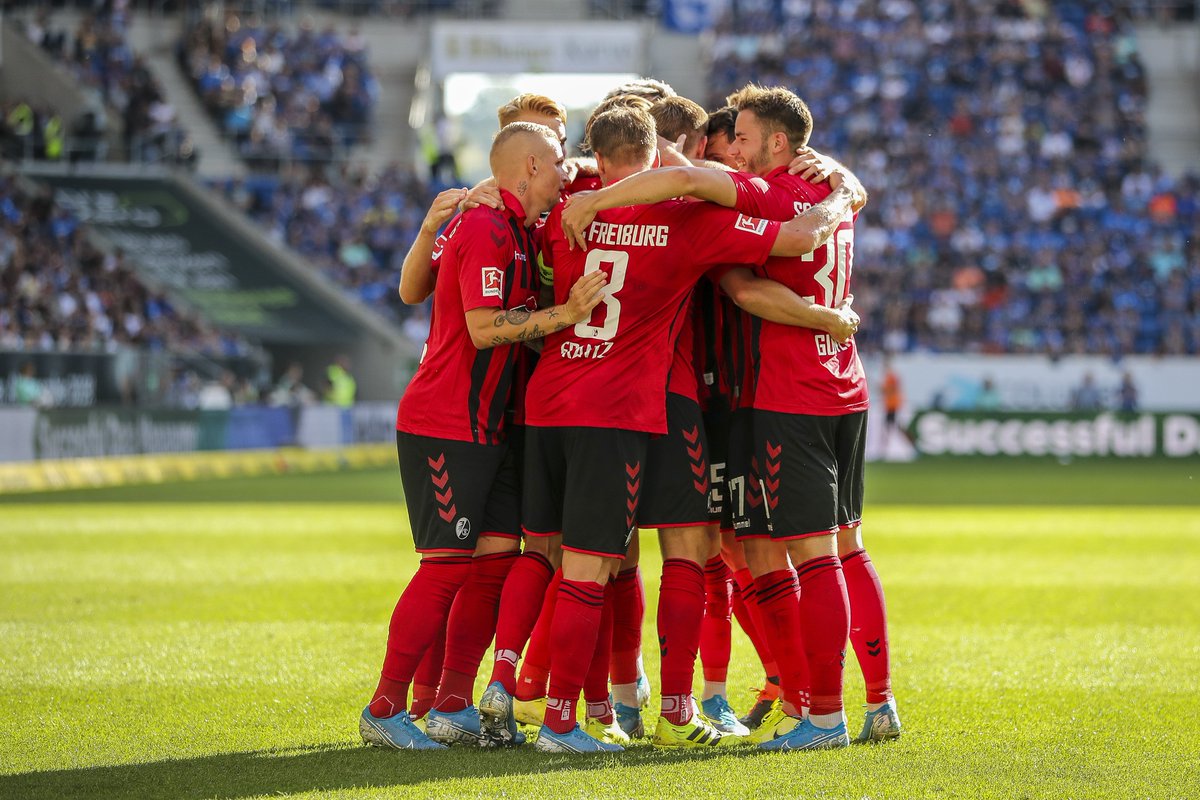 However, their striker's are only finishing off whatever those behind them churn out. Streich has opted for a 3-4-3 formation which forces his strikers to adapt on a wing-forward position. Nevertheless, once they get their groove on during games, those wingers adapt into a more central role to add bodies in and around the penalty area to pressurise defenders - allowing the wing-backs to march forward.
Christian Gunter has been a marvel as a wing-back, having created a plethora of chances as well as contributing a few goals himself so far. His debut Bundesliga strike in the stunning Hoffenheim thrashing validated the effective work he's relayed into this side. Jonathan Schmidt's also an industrious figure on the other flank, bombing forward repeatedly while also keeping a tight defensive shape.
Despite risking an inexperienced, young defensive trio, Freiburg have maintained a solid defensive record. Indeed, Robin Knoch and Philipp Leinhart have created a dynamic partnership with the hard-working, clever centre-backs maintaining a tight narrow shape frustrating opponents. The tidy Nicolas Hofler and captain Mike Frantz display a presence that has helped Freiburg further fortify themselves.
There's a reason why Streich won't be changing his shape anytime soon. The one time he risked a four-man backline against newly promoted FC Koln, the Breisgau-Brasilianer were embarrassed in their own backyard.
The three-man defence turns them into a rigid side capable of frustrating the opposition into submission. With a dynamic back-line, flourishing wingers as well as clinical strikers, this side resembles Eintracht Frankfurt's heroics from last season. The Eagles consolidated a European spot in a whirly ride in 2018/19. Can Breisgau-Brasilianer outperform them in this edition of the Bundesliga?
Well, the real test starts now for Freiburg. Title candidates RB Leipzig and Borussia Dortmund visit the Schwarzwald-Stadion in October. With a somewhat wonky home form, winning these two to reassert their top-four aspirations is the short-term goal. As their mid-table rivals keep dropping points like a clown in a juggling-act, consistency is key for Christian Streich's men to force their way into becoming a top-four contender...