Is Gattuso waiting in vain on Rafa?
Background image: Sir Nobby
When Gennaro Gattuso resigned as AC Milan manager and voluntarily forfeited the remaining salary due in his contract, observers probably reacted in one of two ways. Either they admired his sense of honour or thought he was crazy for turning down millions of euros.
The truth?
He isn't crazy.
There's no reason to doubt he acted from a sense of honour [mixed in with pride] but he didn't exactly throw himself on his sword.
As a Rossoneri player, Gattuso wasn't a top earner. He also played at a time where weekly wages rarely even approached six digits. That said, if he invested his money wisely, there's no reason to think he can't afford to take a sabbatical while he deals with being "mentally in pieces".
On the other hand, Italian rag La Repubblica is reporting that the man whose hand fits perfectly around Joe Jordan's throat is interested in the Sampdoria job but is biding his time in case Newcastle part ways with Rafa Benitez.
Working on the fact that anyone who can hold down a top managerial post like Milan's is nobody's fool and entertaining the possibility that there is some truth to the Samp/Toon rumour, those are sensible destinations for the former enforcer.
While he isn't stupid and is a bit more subtle than he lets on, no one is saying tactics are Gattuso's strength. He is a motivator whose building blocks are industry and solidarity. He expects his players to work hard and play for the badge.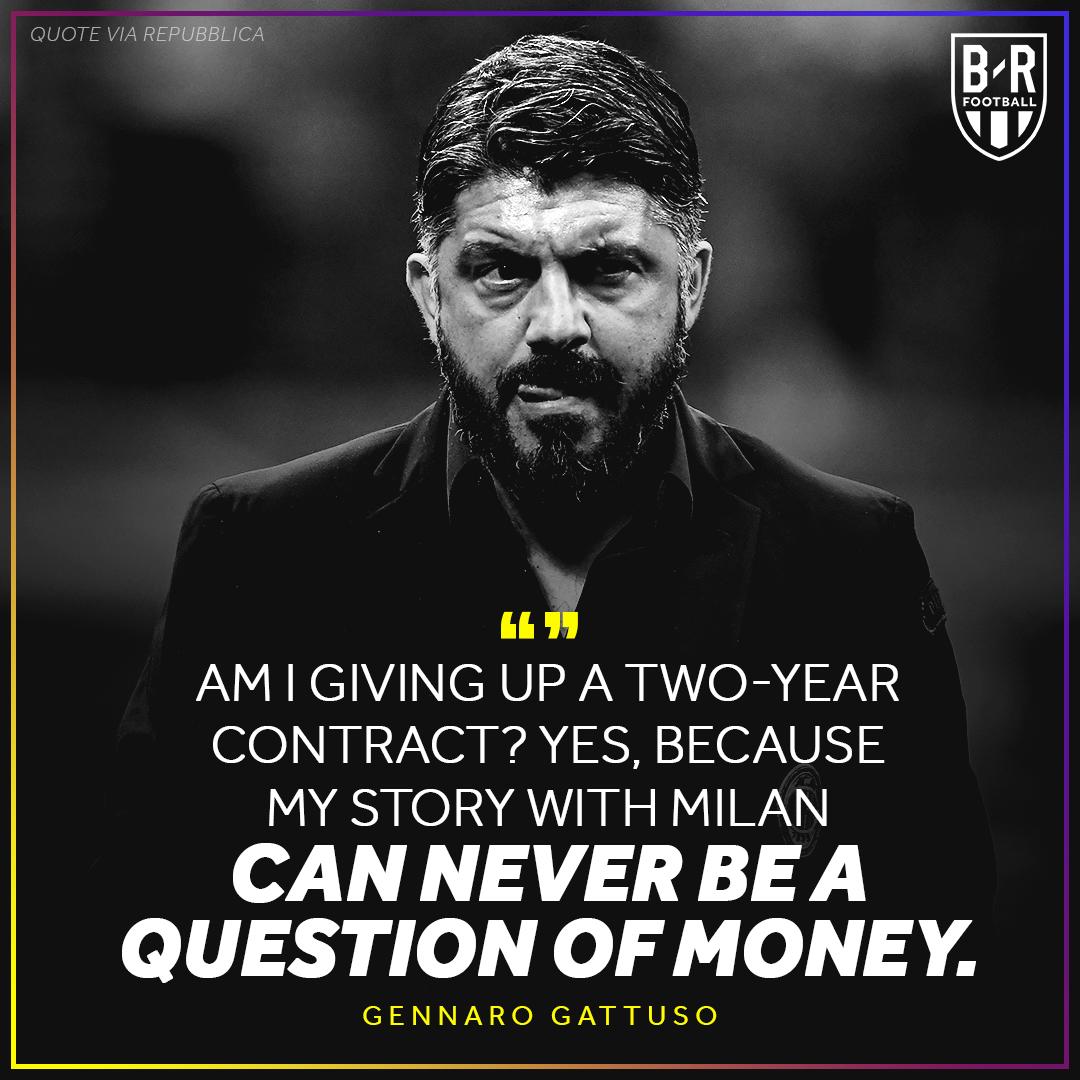 You don't want him managing a club filled with technically gifted players like Manchester City or Liverpool. Not any of the Premier League top six for that matter. In this era, he'll grate against the squad's sensibilities as Jose Mourinho did at both Chelsea and Manchester United. At a midtable side like the Blucerchiati or Magpies, though, he'll have them punching above their weight, perhaps occasionally in the literal sense as well as the figurative.
His clubs won't lack for competitive fire and his management style will invite the odd in-house bust-up like the one with Tiemoue Bakayoko. The Frenchman's refusal to come on as a substitute was unprofessional, no argument, but a manager imprints his personality on a squad. If he is prideful, he must expect it from his players. Gattuso dealt with the incident perfectly. He kept it in-house and told curious reporters to mind their business.
Although handling a different line of questioning, his position isn't unlike Rafa's when queried about his St James' Park future. Gattuso has the perfect attitude to manage a squad on a budget.
In that context, it's a shame he left Milan. The Rossoneri's new American owners, Elliott Management, intend to cut costs after running afoul of Financial Fair Play rules. In his season-and-a-half in charge, Gattuso brought Milan to the cusp of the Champions League. With a player exodus on the horizon, his good work will be dismantled. If he stayed, it would have meant starting over. Pride played as much a part in his decision as honour, if not more.
Right or wrong, the decision is made. Waiting on Rafa, however, is a major gamble.
First, Newcastle could be sold. The prospective buyer, Khaled bin Zayed Al Nehayan, is a member of the Dubai royal family and rumoured to be Manchester City owner Sheikh Mansour's cousin. Both the club and Khaled's people have confirmed an agreement in principle was reached although the Premier League is yet to receive any information. Khaled's personal net worth is undetermined but the royal family's is estimated to be £800 million collectively.
After ongoing speculation, we can confirm Metro has received a takeover bid from Sheikh Khaled bin Zayed Al Nehayan. Lucky passengers will now benefit from luxuries such as an onboard Spoons, waterproof seats and Jeremy Kyle repeats in HD. Service delays are still expected.
https://t.co/5aEdXx9FUj
It's safe to assume the man likes shiny, expensive toys. If the deal is legitimate, Khaled won't be buying the type of players with whom Gattuso works best. Nor will he desire a manager not steeped in tactical acumen. With that in mind, the oil merchant won't find many tacticians better than Rafa Benitez to transform the Geordies into juggernauts.
If the sale proves another Mike Ashley stall tactic, Gattuso would then need to worry about whether Benitez is in fact leaving. Given his own choice, the Italian probably anticipates he will. Regardless, the Spaniard appears stubbornly reluctant to abandon his battle of wills with the discount sportswear magnate.
His extended masochism mystifies observers who think people cannot change.
Rafa left Liverpool, a club he loved, to the mercy of Tom Hicks and George Gillette. It was a decision not unlike Gattuso's, one you'd guess he regrets given the trials that followed. He embarrassed himself when trying to rebuild Inter in Jose Mourinho's wake then warred with Napoli owner Aurelio de Laurentiis at the San Paolo and Chelsea supporters at Stamford Bridge. Given that history, you can understand why he stays in the North East. Better the devil you know.
If Gennaro Gattuso has his eye on St James' Park, you can wager he's yet to learn that lesson.