In the gym with Maradona
Remember the 1980s? In those innocent times, when Brexit and VAR were just a glint in the eye of some vengeful god, Diego Maradona turning up at a struggling club was considered a good thing. With his silky skills and eye for goal, he was the perfect player to dig any team out of a relegation battle. But the days when Maradona were an asset to football are long gone, having evaporated the day he hung up his boots. As a player, he was a force of nature. As a manager, well…his record speaks for itself.
Spells with Deportivo Mandiyu de Corrientes and Racing Club in the 90s were disastrous, and while a two-year spell with Argentina saw the nation win 18 out of 24 games, El Diez returned to mediocrity with stints in the UAE and Mexico.
Now, Maradona takes charge of Gimnasia, a club sitting at the bottom of the Argentine Premier League with a single point from their first five games. El Diez will need to work fast and get results if he's going to drag the club out of the mire.
Can he do it? On the one hand, Maradona worked well with the national team. But he's been nothing short of an abject failure when it comes club management. Even looking back at his time with the national team, it should be noted that he had access to the likes of Lionel Messi, Carlos Tevez and Sergio Aguero. You could put Father Dougal McGuire in charge of that lot and he'd still end up with a 75 percent win ratio.
Although his new club stated that "he succeeded in consolidating a clear and competitive playing style". What he didn't do was succeed in any kind of material way. The directors of these well-funded, second-tier sides weren't looking to be "competitive". They were looking to get promoted.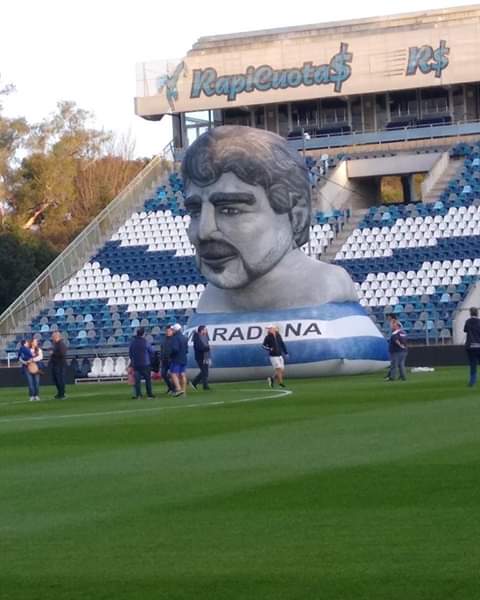 Even if Maradona does make it as a manager, Gimnasia won't be the place to do it. This is a club facing relegation from the top flight for the first time in 75 years, a place where tensions will be running high and the stadium atmosphere bubbling over like water on a stove. If the notoriously unstable Argentine can cope with that in any kind of meaningful way, he'll be surprising plenty.
While it's doubtful Maradona is tactically astute enough to organise his team effectively, he may at least have the contacts and the reputation to bring in a ringer or two. El Lobo scored two goals in five games, a haul that will undoubtedly see them plummet into the second tier if they can't improve on it. If D10S can call use his name to attract a couple of quality forwards to La Plata, it could go a long way to pulling off the great escape.
Maradona will need to consign his ego to the dustbin of history if he wants to get on. He's yet to complete a contract at club level, with many of his managerial spells coming to an end after disputes with the board. Here is a man who is widely adored, but incapable of normal relationships. Years of public veneration made his attempts to function in the workaday world of third-rate football clubs almost impossible.
This legend of the game wants to stand on the world stage, drinking in the adulation of his adoring fans, or immersing himself in fiery rows in full view of the media. He could never find what he was looking for in the air-conditioned vastness of the Emirates, or the backwater plains of Sinaloa. Things aren't likely to be much different with Gimnasia. Sure, this is a league the Argentine knows well. But succeeding in it will take an approach entirely unfamiliar to Maradona...