Guillermo Ochoa carries the torch for the misunderstood goalkeeper
It's said everything is connected. The exception to the rule is goalkeepers. We try to connect with everyone else. But no. Now, Guillermo Ochoa has taken our otherness to an entirely new level.
I was born in the United States, grew up in Canada. Among my earliest memories from childhood in the Great White North is going out to play for the first time after my parents had moved us to a new apartment. There were two buildings in the complex, fronting a huge parking lot.
On our first day in the new digs, I looked out the window to see kids playing ball hockey on a stretch of empty asphalt. I was bored. Not a good prospect for a mother trying to finish unpacking. It didn't take much wheedling to convince her to let me go outside.
I was probably seven at the time. Didn't have a hockey stick. Had never played the game. All the kids were older than me. Standing to one side, watching them play, I was the odd one out, the nervous stranger. Unaware I would be nomadic my entire life and needed to learn how to balance fitting in with doing my own thing, my first lesson was before me.
As I watched, one kid complained about being stuck in goal. In his mind, it was someone else's turn. Yet, no one was willing to change places. This should have been my first clue goalkeepers, whether in hockey or football, are looked upon as strange. Unfortunately, in terms of my chance at a normal life, I hadn't read enough Sherlock Holmes--or Encyclopedia Brown at that age--to pick up on the bread crumb.
Desperate to escape his lot, the kid in goal saw me. "Let him play."
"I don't have a stick," I said, hoping against hope.
He walked over to me.
"Don't need one," he answered, then began tugging at my parka. "Just put your coat on backwards and try to stop everything."
Doing as I was told with a smile, a development that would have shocked my mother, I stood between two tin cans designated as goal posts, trying my best. After taking several frozen tennis balls to the shins, not to mention letting a handful slip between the wickets, I dropped to my knees for the rest of the game, probably inventing the
butterfly style
twenty years before it became
de rigueur
in the NHL.
Balls began to bounce harmlessly off my padded coat. I became unbeatable. My teammates were cheering me on, save after save. I felt like a king. Or at least a knight, although I lacked the armour.
Since the other side couldn't beat me low, they decided to go high. Inevitably, I took a shot right in the mush. Blood poured out. The older boys looked around nervously for adults, fearing they may be in trouble for irreparably damaging the new kid. I laughed it off and kept playing, sniffling to keep back the flow, wiping the excess on my coat.

When the game broke up, the score something like 39-38, I put my coat on frontwards again, then went upstairs. As I headed to the bathroom to clean up, my mom shouted.

"Why is there blood all over the back of your new jacket?"

"Because I was the goalie," I answered, grinning from ear to ear.

"You were what?" Clue number two that keepers are an odd lot.

I continued playing goal throughout my childhood, then as an adult in beer leagues. Somewhere in the middle, I also began playing football.

Badly.
While crewing on a yacht in the Med, I was banished to the goal in a seven-aside game with yachties from several boats laying over in Mallorca. The Welsh engineer from my boat was on the other team. A high cross came into the box. Craig tried a bicycle kick just as I came to claim possession. He drove the ball full on into my face from inches away. A certain childhood memory came rushing back while I sat on the turf, half a pint or so of the red stuff gushing out.
"Ah," I laughed, pinching my nose and holding my head back. "My life has come full circle."
A northern lad named Jimmy, from another boat, shook his head. "Mate, you were born to play goal."
People are always shaking their heads at goalkeepers in either sport. Occasionally we can be sensible, however. Jacques Plante, perhaps the greatest netminder of his generation, became so tired with being hit in the face by pucks, he invented the goalie mask.
Still, Plante was an exception to the rule. His contemporary, Gump Worsley, refused to don a mask, even after every other netminder at every level had. Gerry Cheevers, who came into the NHL just as Plante was retiring, would paint stitches on his mask to commemorate every session with the team doctor (or dentist) it had saved him.
Football's goalkeepers are just as odd. NPR's Rosie Schaap once examined the phenomenon from a psychological perspective. One amateur keeper she interviewed, a man with a career and, one assumes, wife and family, told her the memory that would flash through his mind with his dying breath was stretching out in mid-air to save a penalty, "
four feet off the ground
." He considered it his crowning achievement in life.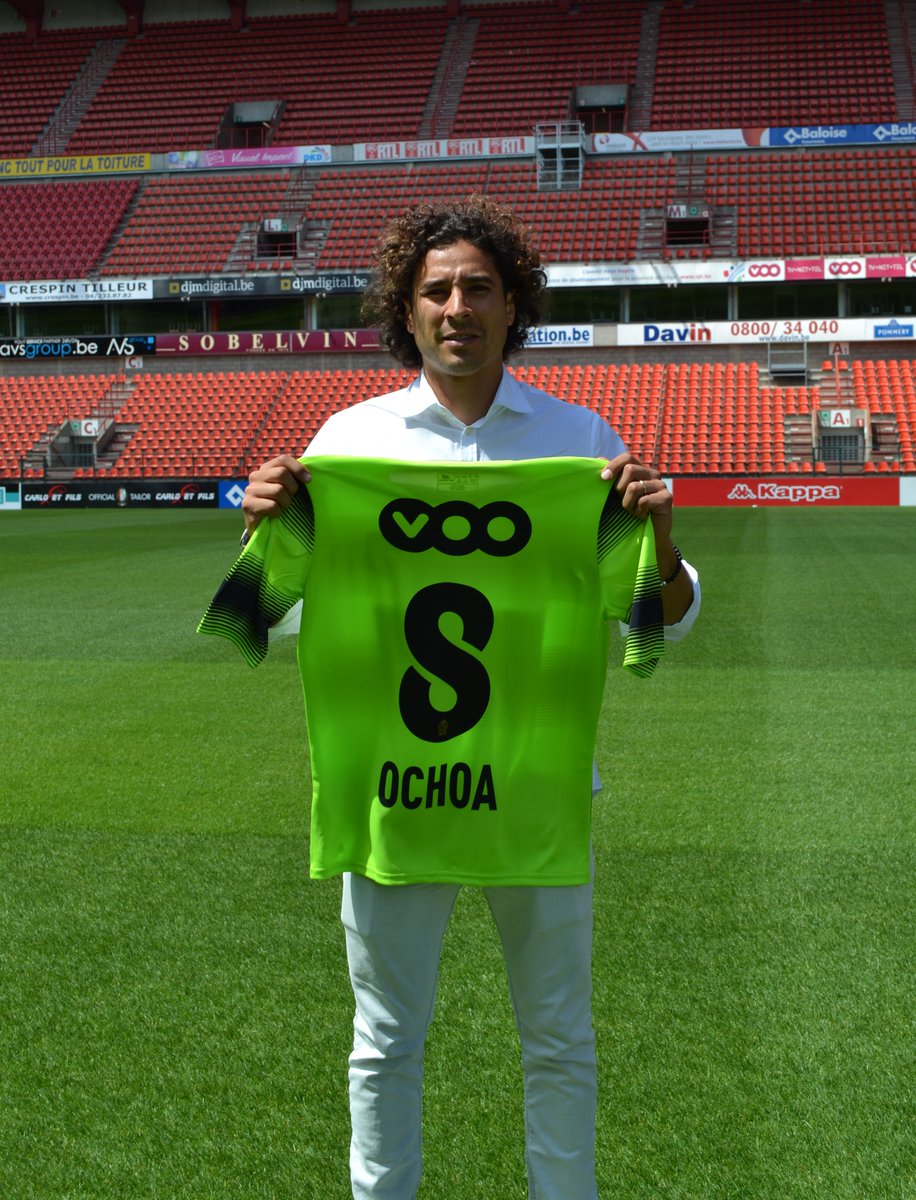 The poet Simon Armitage wrote thusly about netminders
for the Guardian
 after Robert Green's notorious gaffe against the United States at the 2010 World Cup in South Africa:
Yet, when it came time to choose his number for new club, Standard Liege, Memo didn't get the memo. Nor did he elect to go with the standard '1' or '13' traditionally reserved for those between the sticks. Instead, he decided to pay homage to his surname by claiming the number eight shirt.
There have been many famous number eights in football. Juninho Pernambucano led Olympique Lyonnais to a dominant seven-year Ligue 1 title reign from 2001-08. Gennaro Gattuso was Milan and Italy's hardheaded enforcer. Hristo Stoichkov put Bulgaria on the football map. Kaka won the last Ballon d'Or before the Messi/Ronaldo duopoly. Marcel Desailly anchored France's midfield.  Frank Lampard and Steven Gerrard divided England's. In hockey, the Washington Capital's Russian goalscoring machine, Alex Ovechkin, with 558 and counting, is known as the Great Eight.

Neither sport has ever had a netminder wear the number eight, however. Until now.

Assigning keepers their own numbers was a bit like placing a warning label on cigarette packs or inserting the legal disclaimer in Cialis ads warning men to see a doctor "if their erection lasts longer than four hours." It let you know goalkeepers could be dangerous and unpredictable.

Ochoa has broken that barrier. One wonders how normal footballers will respond. You can just picture all the immortal number eights, Juninho, Gattuso, Stoichkov, Ovie, everyone except the devout Kaka, gathered 'round a bar in some pub or cantina, laughing, slapping each other on the back, telling old war stories. Then Memo walks in and a dead silence falls. Nothing can ever be the same.