Is Arsenal losing too much talent, experience too soon?
The Gunners have lost some important players during Unai Emery's watch, including both Aaron Ramsey and Petr Cech.
Arsenal's initial promise under Unai Emery fizzled out in the season's later stage. Four defeats in April meant a fifth-placed finish was all the Gunners could manage, despite being given ample opportunity by their rivals to claim a Champions League spot.
The Europa League final couldn't prove Arsenal's salvation. A 4-1 defeat to Chelsea highlighted their shortcomings. Emery still has much work ahead.
The Spaniard seems intent on building a young team. This past campaign, he preferred 27-year-old Bernd Leno in goal to Petr Cech, 37. Ainsley Maitland-Niles, 21, was given priority over Stephan Lichtsteiner, making seven more competitive appearances than the Swiss veteran. In central midfield, Lucas Torreira, 23, and Matteo Guendouzi, 20, both took on significant roles. As did attacker Alex Iwobi, 23, whose game time exceeded that of 30-year-olds Mesut Ozil and Henrikh Mkhitaryan.
Youth has its advantages. It offers Emery's system extra pace on the wings along with added energy in central areas. Having had little time to suffer football's bitter disappointments, younger minds are often less fearful, too. The Gunners' boss can easier mold such prospects into what he wants.
Youth lacks in other criteria. Leadership, for instance. Those able to take command in difficult moments to ensure their team fight through. Ones who know how to deal with defeat and return stronger. Such attributes usually require experience.
The reigning Premier League champions, Manchester City's spine was occupied with experienced heads in Vincent Kompany, Fernandinho, David Silva, and Sergio Aguero. Arsenal once boasted similarly. Their 1997/98 double winners included David Seaman, Tony Adams, Steve Bould, and Ian Wright who were all aged 31 or over. Six seasons later, Jens Lehmann, Sol Campbell, Patrick Vieira, and Dennis Bergkamp each provided valuable know-how to the Invincibles.
Moving from Highbury to the Emirates, times have changed in more ways than one. At this past campaign's end, the Gunners had eight players in their thirties. Of those, five face uncertain futures and two have already left. Lichtsteiner lasted just one year in north London. Cech is now Chelsea's technical and performance advisor after hanging up his gloves.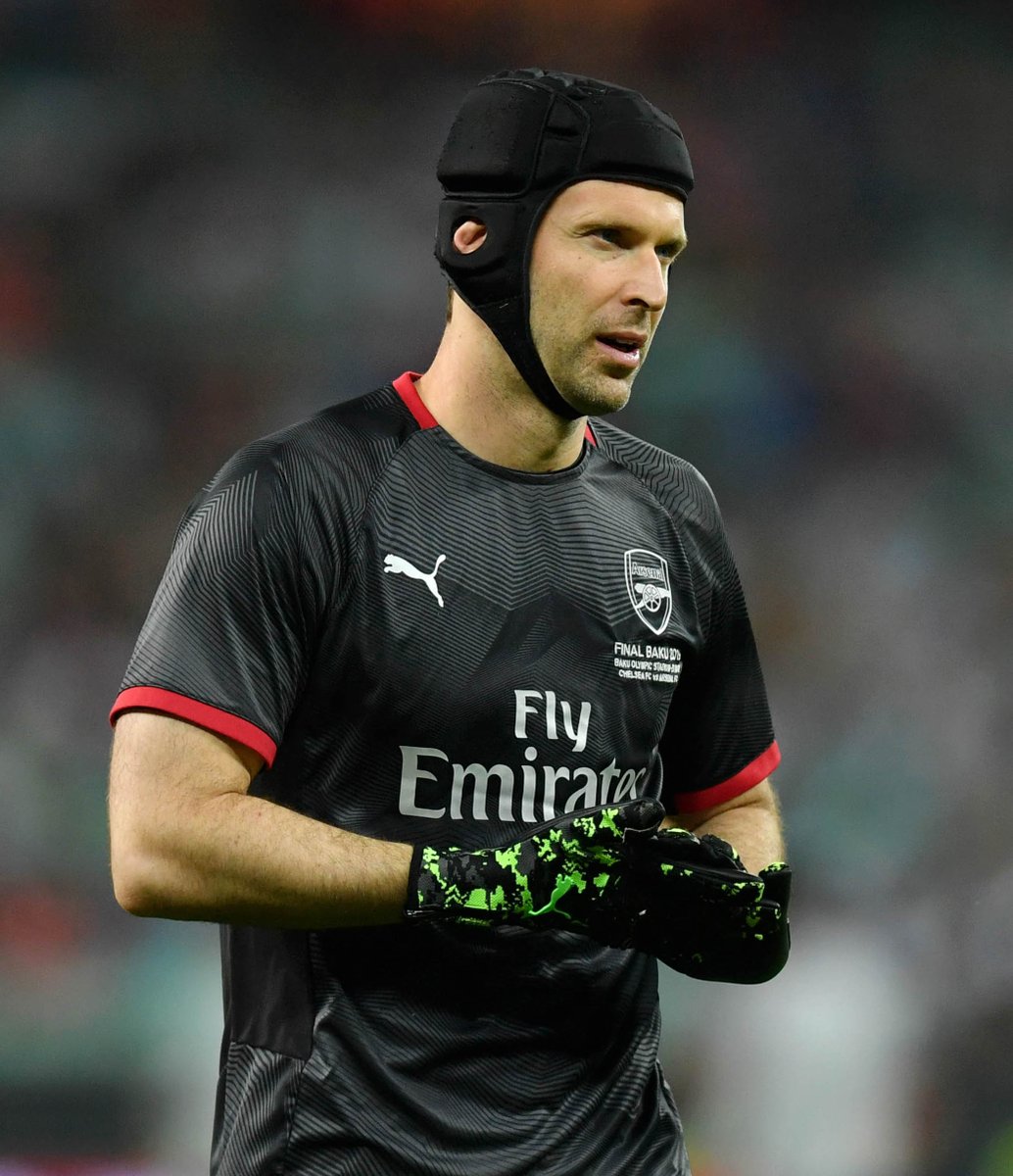 The Most Successful Goalkeeper in Premier League history Petr Cech retires.
👐 202 Premier League Clean Sheets
🏆 4 Premier League
🏆 1 Champions League
🏆 1 Europa League
Congratulations @
PetrCech
on an incredible Career! ❤️
https://t.co/GHUEi85KTi
Arsenal offered their former goalkeeper a chance to stay on in a coaching capacity. Persuading him would have benefitted them greatly. Cech's calm, intelligent demeanor means he's someone youngsters can look up to. His 20-year illustrious career, which included winning four Premier Leagues and a Champions League, is no doubt inspirational to all.
While Cech could've had an off-pitch impact, others who've gone still had a lot to give on it. Since Santi Cazorla's departure last summer, he's gone on a revival at Villarreal. The midfield maestro's performance during 35 La Liga contests earned him a recall to Spain's squad in May.
As well as Cazorla, Jack Wilshere's contract was allowed to run down. The Englishman never found the consistency to match his talent during ten seasons at the Emirates. He's expected to play a major role at West Ham United next campaign, injuries permitting, of course.
An even greater loss to bare, Aaron Ramsey swapped England's capital for higher wages and a better shot at silverware in Italy. The Welshman's free transfer to Juventus leaves the Gunners with a sizeable gap to fill.
Prior to Emery succeeding Wenger, Mikel Arteta was heavily linked. Having learned his trade from Pep Guardiola, the Man City assistant has a belief in valuing technique over brawn. He could have used his ethos to incorporate Wilshere's excellent dribbling, Ramsey's deft finishing, and Cazorla's expertise at controlling games. A wasted midfield trio, perhaps?
Arsenal's defence is at risk, too. Their old hand, Per Mertesacker played his final match last May before taking up as the club's academy manager. His retirement left Laurent Koscielny and Nacho Monreal to provide much-needed defensive experience. Those two's futures, though, aren't secure beyond this summer. Koscielny's contract only runs for another 12 months. He's been linked with a move away. Monreal's deal expired four days ago. It's unconfirmed whether he'll renew again.
If the pair departs, they'll follow Danny Welbeck who was released four weeks ago. In part owing to injuries, the Englishman's performance diminished under Emery. The opposite applies to fellow forwards Pierre Emerick-Aubameyang and Alexandre Lacazette. Scoring 35 league goals between them this past season proves any future Gunners' success relies heavily on retaining the linked-away duo. Losing one is a major worry. Losing both a catastrophe.
Reports have other attackers for the Emirates exit as well. Mesut Ozil and Henrikh Mkhitaryan are both struggling to fit into Emery's system. To do so, they must add the necessary work rate to complement their flair. They're likely to get another chance as neither has a serious suitor. Lucas Torreira, meanwhile, is attracting interest from AC Milan. The Uruguayan has impressed since arriving, adding bite to the midfield. Surrendering him after just one season would be insane.
With such a high-level of recent and potential outgoings, Arsenal must reinforce their squad considerably in this window. Possible new arrivals include winger Wilfried Zaha, left-back Kieran Tierney, as well as young centre-back William Saliba. A central midfielder is also needed. Yet, the club's £50 million budget, before factoring in players offloaded, means filling all those gaps is unrealistic.
Therefore, expect both returning loanees and youth to take on bigger roles. Emery can use Rob Holding and Calum Chambers as defensive cover. Centre back Konstantinos Mavropanos, 21, midfielder Joe Willock, 19, attacker Emile Smith Rowe, 18, winger Reiss Nelson, 19, in addition to striker Bukayo Saka, 17, all have a decent shot at making a breakthrough.
On Tuesday, the Gunners indicated their desire to go that way by signing Gabriel Martinelli. The 18-year-old forward, who scored 10 goals in 34 games at Brazilian side Ituano, arrives for £6 million.
During Wenger's second decade in north London, his side was often deemed 'two or three' signings from challenging for major honours. The current outfit is drifting further each passing day. Forget competing with rival top six clubs, their budget falls below teams' such as Everton, West Ham, Leicester City, and Wolverhampton Wanderers, before resting alongside that of a likely relegation candidate. Aston Villa's £47.5 million spent so far is only £2.5 million less than Emery's overall allowance.
Arsenal's failure to adequately replace talent and experience is set to continue this summer. Youth offers promise, but it can't provide a solid foundation. For Gooners right now, optimism is nothing more than a misplaced sense of loyalty.