Is Sebastien Haller the perfect spearhead in West Ham's new-look attack?
West Ham United finally found a solution to their latest striker woes. It only took six months.
The Marko Arnautovic saga can be closed. The Austrian left the club for China last month after expressing his displeasure with life under Manuel Pellegrini who, ironically, had travelled in the opposite direction to take the Hammers' reins to begin the 2018/19 campaign. Now, Arnautovic's replacement is officially signed.
The number one target was Celta Vigo striker Maxi Gomez. Gomez couldn't be lured to the London Stadium, preferring Valencia's Mestalla due to his preference for the Mediterranean climate and the more genteel play in La Liga. And here you thought Uruguayans were tough.
Spurned, West ham decided to look to harsher climes for a less sensitive finisher. At Eintracht Frankfurt, they found Sebastien Haller.
At first glance, spending £42.5 million on a second-choice striker from a mid-table Bundesliga side might not seem like a good deal but a case can be made that fortuned smiled on West Ham.
The Hammers weren't Maxi Gomez's first pick. If he had signed, that would be in the back of fans' minds and the player might find himself too much a like-for-like Arnautovic replacement in that he'd rather be elsewhere. Haller was in talks with other clubs as well, but he chose London as his next destination.
Haller isn't a like-for-like replacement either. He has the opportunity to take himself and the club to new heights in both the figurative and literal senses.
There is no denying Arnautovic's contributions at West Ham. He revived his career after the move from Stoke and was among the main reasons West Ham stayed in the Premier League. His intensity and arrogance helped West Ham before it all turned sour.
In Haller, West Ham will find similar confidence. The Frenchman made the most tackles and interceptions per 90 by a Bundesliga striker, last term. He covers ground much like Roberto Firmino does for Liverpool. The 25-year-old also had a 100% penalty conversion last season. He will push Mark Noble for that honour with the Hammers.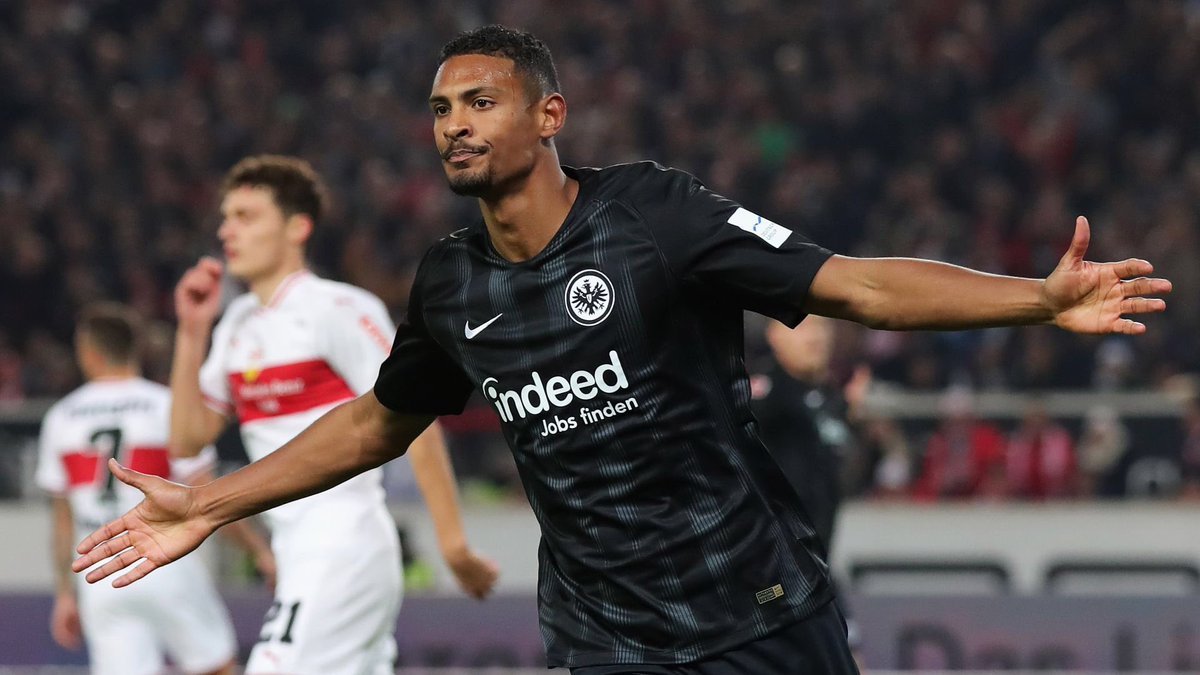 Minutes per goal or assist in the Bundesliga last season:
Timo Werner - 101 minutes
Luka Jović - 98 minutes
Robert Lewandowski - 92 minutes
Sébastien Haller - 91 minutes
This level of end product alongside his excellent work rate & link-up play... West Ham are signing a gem.
https://t.co/QWijfQ76ay
The new man's height will recall another tall target man who plied his trade in claret and blue. Andy Carroll was released from the club not more than a month ago after injuries and one-dimensional play limited his contribution to the club.
Aerial supremacy is the only trait the two players share, however. Carroll failed to score more than 11 league goals in a single season, Haller already surpasses him in that respect. In addition, he can play with the ball at his feet and make runs to unlock defences that Carroll never did. A better passer, mobile and more clinical, Haller brings more to the team. He mixes the old and modern schools of attacking football perfectly.
As a classic nine, he holds the ball under immense pressure, challenges for duels like a warrior and brings his teammates into play, an ideal target man. But he also offers inspired creativity. Haller created 38 chances in 29 Bundesliga appearances in his final Eintracht campaign.
The towering forward can put in a good shift even when he doesn't make the scoresheet. Haller won 6.9 aerial duels per game last season. In doing so, he brings his teammates 10-15 yards further up the pitch. That exerts pressure on opposing defences. His presence in the box will be a necessity against top-six sides if West Ham intend to compete for a top-half finish.
That said, Haller can also drop back to win balls, turn up the pitch and start a counterattack with an incisive pass. If no one happens to be available, no matter. He can carry the ball forward himself. The Frenchman completed 2.7 dribbles per 90 in '18/19.
Expect him to develop a strong understanding with attacking colleagues Pablo Fornals, Felipe Anderson and Andriy Yarmolenko. The latter pair are quick wingers who can make things happen in a second. West Ham is getting a player who was involved in more goals last season than teammate Luka Jovic who was snapped up by Real Madrid.
He combines all the West Ham strikers into one package, matching Michail Antonio's physicality and drive, Caroll's aerial prowess, Chicharito's pace and poaching instincts and Arnautovic's aura. If there's some criticism, it has to be that Haller doesn't always release the ball quickly. Much like fellow Frenchman, Paul Pogba, he can become enamoured with his own dribbling. It will be left to Pellegrini to drill that out of him.
Regardless, with Haller in the lineup, the rest of the Premier League can expect West Ham to be a more focussed and dangerous opponent.