Maurizio Sarri and Chelsea squad forging a mutually beneficial arrangement
Maurizio Sarri is a skinny, potbellied, chain smoker with male-pattern baldness. Luckily, the Chelsea squad is imprinting their identity on him rather than the more traditional opposite.
Maurizio Sarri is a changed man at Chelsea. He's not only given up a ridiculous chain-smoking addiction but also developed a special admiration for the club. Sarri's incredible start shows he's aiming for a lengthy stay in London.
Once an investment banker in Italy, Sarri couldn't have imagined he'd ever be managing a former Premier League champion. He's taken to Chelsea like a fish to water, becoming a huge fan favourite. Sarri-ball is transforming Stamford Bridge from a staid fortress to a launching pad. While his dazzling style remains, the Italian's nonchalance towards winning trophies has changed.
No longer is he the manager who emphasises footballing style ahead of silverware. At Napoli, low expectations resulted in little pressure. Despite an emotional owner in Aurelio De Laurentiis, Sarri was expected to please the audience by playing good football. Trophies were a secondary objective. That isn't the case at Chelsea.
Sarri's now driven to take Chelsea back to the Premier League summit by winning trophies on a consistent basis. The Premier League's brought out competitiveness he missed at Napoli. An ambitious side, the club Chelsea his commitment to winning. World-class players around every corner have something to do with that.
Back in Napoli, Sarri lacked clutch players who could win trophies on their own. He brought together an extremely talented bunch, but not many at the club had ever won anything big. The lack of experience cost him.
That isn't the case at the Bridge. Barring a few departed players, the Blues retain the same squad who won the Premier League two seasons ago. Chelsea's won the Premier League twice in the last four years, with an FA and League Cup thrown in for good measure. The roster's core is filled with natural winners. Eden Hazard, N'Golo Kante and David Luiz all know what it means to take home trophies on a regular basis. Cesc Fabregas brought his title pedigree from Barcelona, as well.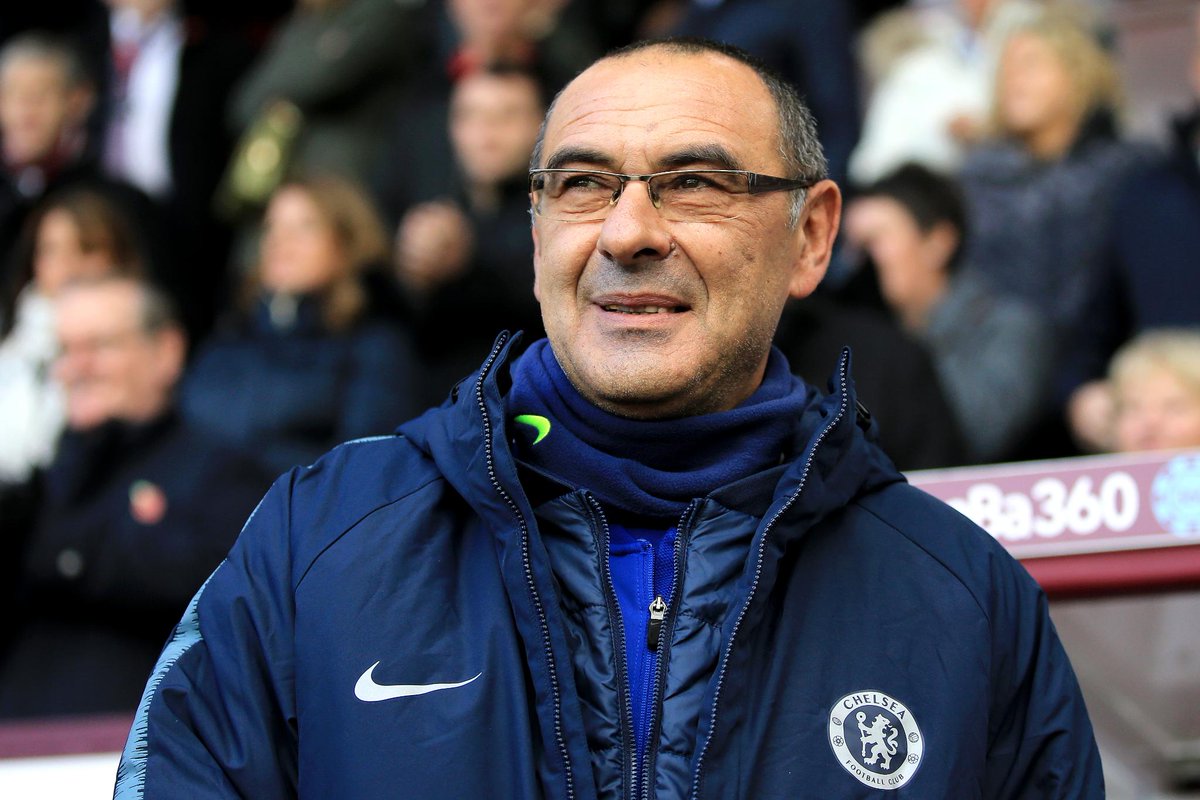 Along with Jorginho, the first three comprise Chelsea's core components under Sarri, each playing important roles in a completely transformed side. Hazard's been a marvel. After a prolific World Cup campaign, he's taken his scoring to a whole new level. His 16 goals in 2016/17 are his Premier League best. Seven in nine games project to 29 or 30 this term. In addition, he's revived the playmaking side of his game that tailed off after his first three Chelsea campaigns. He's on pace for a dozen assists in 2018/19. Freedom to roam and find open space is allowing him to make good like never before as Chelsea's biggest attacking threat.
Kante's role is slightly tweaked under Sarri. He makes forward runs far more often than the strict Antonio Conte permitted. Jorginho's introduction has reduced Kante's workload. David Luiz can be clumsy on occasion but remains a key distribution outlet when the Blues transition from defence to attack.
Willian, Marcus Alonso, and Pedro also fit Sarri's style perfectly, each providing glorious moments.
Sarri's signings, Jorginho, Mateo Kovacic and Kepa Arrizabalaga, are blending in well and quickly. The Brazilian-born Azzurri fast became Chelsea's midfield anchor, pinging the ball all over the field. His creativity sparks the attack. He's already completed more than a thousand passes. I said completed.
Kovacic, signed from Real Madrid on loan, makes things easier for Hazard with his intelligence. He gives Jorginho another passing option and attracts defenders like flies. Kepa isn't Thibaut Courtois but he's been a commendable keeper, saving Chelsea's bacon more than once and keeping five clean sheets, third in the PL behind the Brazilians Ederson and Alisson heading into the weekend.
While the established stars flourish, Sarri has worked magic on underperforming players. Ross Barkley, Alvaro Morata and Antonio Rudiger are all much improved from last season. Barkley's been a standout under Sarri, rediscovering his Everton form to produce consistently clutch performances. Morata's goal-scoring touch is returning, albeit slowly. He's looking much happier than under Conte. Rudiger isn't as reckless. Much more composed at the back, he sniffs out danger while holding down the fort alongside Luiz. Ruben Loftus-Cheek, amid all the complaining over insufficient game time, has also been brilliant in Sarri's set-up.
A complete team effort has allowed Sarri to progress ten games into the Premier League season, a benchmark for Chelsea managers. A manager's job is to improve his players. Sarri's done that and more.
In turn, his championship-quality players have brought out the trophy-winning hunger in him. Chelsea's elite mentality has engulfed Sarri, evolving him into a prominent winner. Be it the Premier League, Europa League or even the Carling Cup, he is hungry to prove how successful his fantastic style can be by winning something. Long gone is the Sarri content with second place. Chelsea's winning aura has brought out the desire for something more.