What has gone wrong for Vinicius Junior at Real Madrid?
Vinicius Junior is out of favour at Real Madrid
Vinicius Junior had the world at his feet before his European sojourn. Being Brazil's most-expensive teenage export after Neymar, he was tipped to follow the illustrious path of his superstar compatriot. A dip in form, managerial preferences and perhaps over-expectation, however, impeded his way at Real Madrid.
Los Blancos have enjoyed a strong start to the Primera campaign. Tied on points with Barcelona atop the standings, Zinedine Zidane's team are only a goal inferior. That's even exceptional considering a certain Lionel Messi still calls the shot. Karim Benzema, though, has been up to the challenge.
The Frenchman tops Messi for goals with 10. For assists, it is the Barca skipper who has the slight edge with five. The only dent on Zidane and his countryman's fine domestic run is a defeat to newly-promoted Mallorca in October.
A weakened Madrid side without Eden Hazard, Gareth Bale, Luka Modric and Toni Kroos suffered its first and only loss. Lago Junior scored the winner after just seven minutes when he drove in from the left and fired into the far corner. It was a game that began a new chapter in Vinicius' career.
Without his regulars in the attack, Zidane handed the Brazilian an opportunity to impress from the start. His performance left plenty to desire. Vinicius Jr. repeatedly took on his man, went past him but without any fruitful end product. When he was able to penetrate the box, he failed to pick out any teammate from the left flank. On occasions where he was able to find a gap and appear close to scoring, his shots ended up being tame or woefully wide.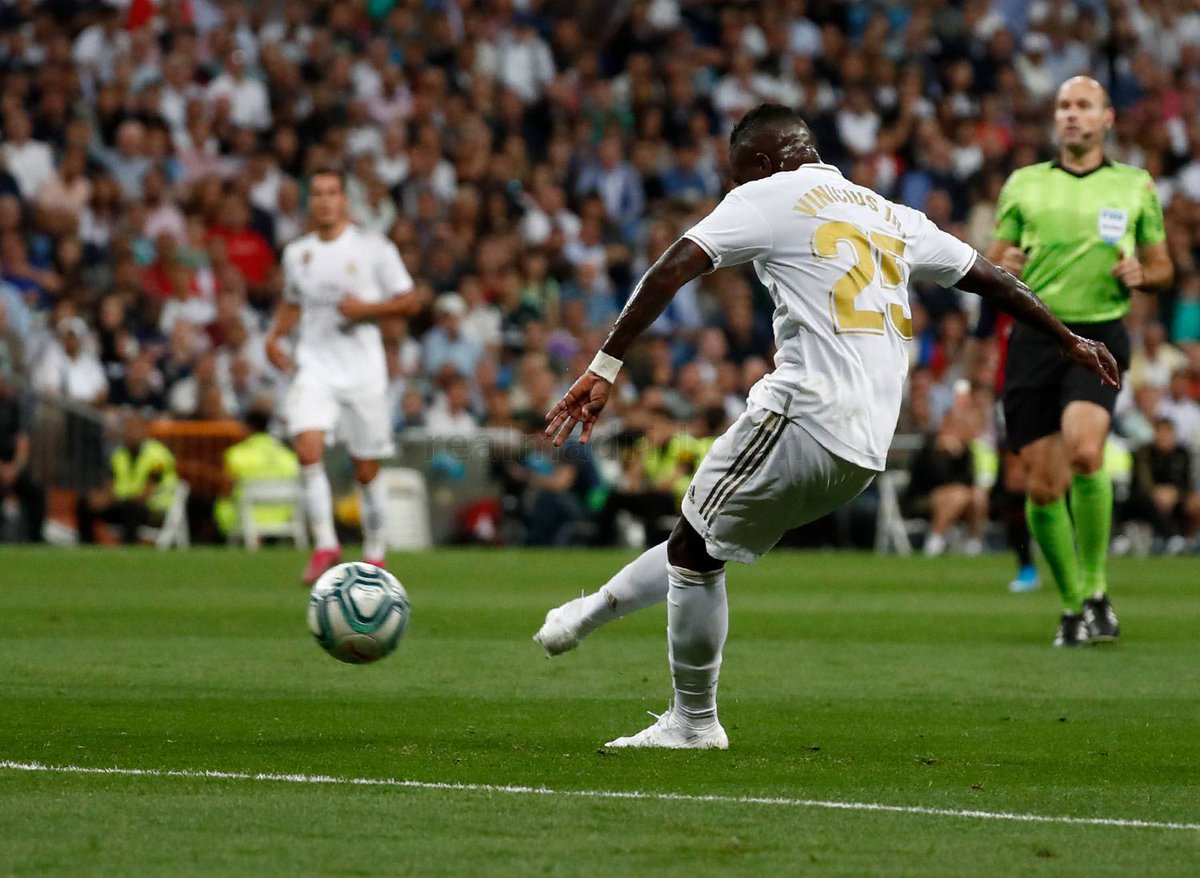 Real Madrid have no intention of letting Vinicius Junior leave the club in January, either permanently or on loan, according to Marca.
https://t.co/yAznkJim95
Vinicius hasn't started any games afterwards. He slid down Zidane's pecking order. The Brazilian got cameo roles, though, against Galatasaray, Real Betis and Eibar – amassing just under an hour of action. However, his contributions were minimal.
The 19-year-old returned to the squad for last week's trip to Mendizorrora after being dropped against Real Sociedad and PSG. Hazard's injury was the bait. He garnered 43 minutes in the last six matches. Overall, Vinicius featured for 448 minutes in the entire campaign, scoring and assisting once apiece.
The teenager struggles to regain Zidane's trust. In his first season, Vinicius grabbed seven goals and laced a further 13 along the way – partly due to Solari Santiago's faith in him. Hazard and Rodrygo's summer arrivals brought about competition. Vinicius hasn't been up to the challenge.
He is no longer the only prodigy at the Bernabeu. Rodrygo has taken his golden boy moniker. While his young compatriot is effective on the right just as he is on his less dominant left side, Vinicius isn't. That pits the Rio de Janeiro native against Hazard. The outcome is predictable.
Rodryo, meanwhile, gets ample game time as his only real competitions are Bale and Vazquez - two players not enjoying the best of time in Madrid.
Vinicius is exceptional and remains a threat on the pitch. The Brazilian does everything right on the ball; carries it into dangerous areas with an eye for his teammates. He puts in so much hard work on and off the ball, tracking back defensively to give his fullback more than sufficient cover. His finishing, though, needs sharpening.
At only 19, Vinicius is still far from the finished product. For the time being, he must act like one and show maturity if given the chance. That may the only solution to erasing his horror show at Mallorca from Zidane's thoughts.