Has MLS stymied Zlatan's trophy mojo?
A Saturday night tilt pitting the reigning Major League Soccer champions against the league's most-crowned franchise ought to be a marquee matchup. Instead, it was akin to rubbernecking a 22-car pileup on the QEW. That's Canadian for the M-25 if you're wondering.
The affair at BMO Stadium featured two sides at the end of their respective ropes. MLS Cup holders Toronto FC entered the match 12 points from an Eastern Conference playoff spot with seven games remaining in their schedule. With a half-dozen games left on their calendar, five-time MLS Cup winning LA Galaxy were three points behind Seattle Sounders, six adrift Portland Timbers. The Timbers lost in the afternoon. The Sounders were preparing for a late kick-off against Puget Sound rivals Vancouver Whitecaps.
Both sides score in bunches. Neither can play defence even by MLS' low standard. That makes for some spectacular catastrophes.
Greg Vanney's home side needed to end a two-game losing skid that was threatening to cut their gossamer-thin thread of hope to defend their title in the post-season. Injuries and poor discipline made a wreck of the campaign's first half. Portland and LAFC interrupted an eight-game run that included four wins and three draws. The Reds couldn't afford another loss.
The Galaxy's outlook was more robust, but the team didn't win in August. In fact, they lost two of their last three to Seattle and Real Salt Lake, 5-0 and 6-2 respectively. Twelve goals conceded in three matches [a 1-1 draw with LAFC was the thin slice of meat in that rancid sandwich] led to coach Sigi Schmid's resignation. Dominic Kinnear, who owns the third-most victories at the helm in MLS, stepped in as caretaker.
Although Schmid's the winningest manager in MLS history, he oversaw a slide in Seattle two seasons ago that brought the sack, took over for Curt Onalfo mid-campaign last year only to shepherd the Galaxy to the Western Conference cellar, and now this latest downturn.
Bruce Arena's the league's second-winningest boss. His last season at the StubHub centre [2016] was his second consecutive regression.
That the division's three top coaches aren't able to stem the tide tells you how bad the Galaxy are despite the obscene wealth they possess in attack. We're talking French playmaker Romain Alessandrini, los hermanos Giovanni and Jonathan Dos Santos, Norwegian finisher Ola Kamara, Ashley Cole rifling in assists from the left flank, and, of course, the incomparable Zlatan Ibrahimovic threatening a 20-goal season despite arriving late on the scene.
In 16 European seasons with seven clubs in five countries, the Swede won 11 league titles, seven domestic cups, 15 super cups, a Club World Cup and Europa League. He was top league scorer five times. Ibra announced his intent to win when he arrived in Los Angeles. That may still happen, but don't bet on it.
Coming into a match they needed to win, even in hostile territory, the Galaxy were down three goals in the first half-hour. On five minutes, Victor Vazquez was the lone attacker in the box but still managed a free header on a cross from Gregory van der Wiel while surrounded by three defenders. Sebastian Giovinco and Jozy Altidore added to the Reds' fun.
The Galaxy wasted two gilt-edged chances to keep pace. Right back Rolf Feltscher missed a far-post sitter from two yards on a corner. He bundled the ball into a grateful Alex Bono's arms. Soon after, the TFC keeper was helpless against Ola Kamara's flick-on header but it came back off the post.
Zlatan is not one to quit, though. In the 39th minute, he made a run culminating in a trademark karate kick volley that beat Bono inside the near post. It was his 17th MLS and 500th career goal for club and country, joining Lionel Messi and Cristiano Ronaldo as the three active players to reach the latter milestone.
After the break, it appeared he might be able to celebrate the feat. Kamara and Feltscher struck before the hour-mark to level terms. Then Jonathan Osorio put the Reds in front again on 75 minutes. Poor man-marking haunted the Galaxy, once more.
Referee Nima Saghafi handed out ten bookings. Late on, Toronto milked the clock with every foul, also hoping to draw more. After one call in added time, with the game still in the balance, Ibra intervened when Reds captain Michael Bradley began haranguing Emmanuel Boateng. The two ignored the referee, continuing their spat as they walked up the pitch. Meanwhile, Jay Chapman's volley put the match out of reach. The goal ended the scoring at Toronto 5-3 Los Angeles. It's the third time in four matches the Galaxy conceded at least five.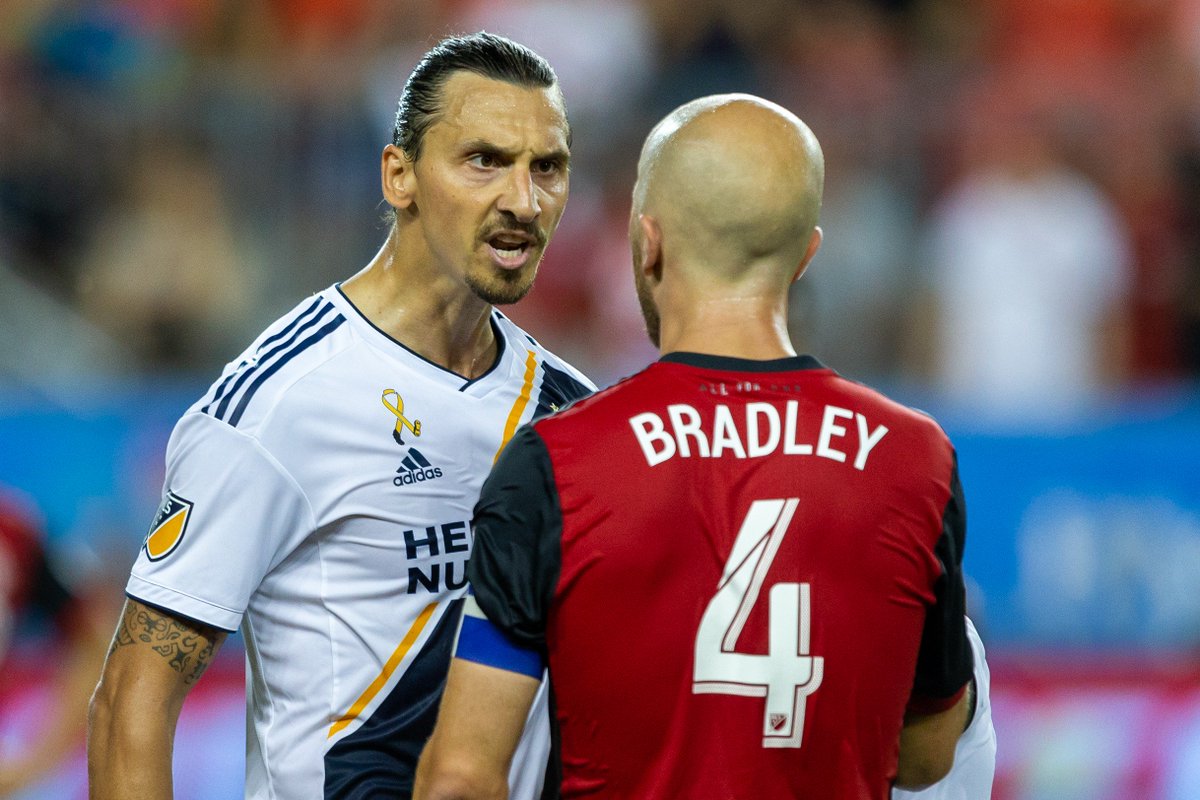 Ibrahimovic on his argument with Michael Bradley:
"He thinks he's a philosopher of football. I have more goals than he has [played] games, so he should follow my rules."
Well, that's fair enough.
https://t.co/hY9ZjglEUF
Seattle's subsequent win over Vancouver leaves LA needing two more results than the Sounders or Timbers in the run-in. Unfortunately, they've played two more matches than both, making the task nigh impossible even if they run the table.
As much as Ibrahimovic enjoys showing off, he lives to win trophies. A minor miracle alone, or maybe with a buddy, will enable that in his first MLS season. At 36, it's questionable whether he'll return in 2019. Considering the sorry state in which his new team exists, he might consider going elsewhere. With 17 goals and 5 assists in 22 matches, the Galaxy's failure is not Ibra's.