Has Adrien Rabiot rediscovered his best at Juventus?
The Frenchman's resurgent form aids Juve's charge on all fronts.
Adrien Rabiot endured a miserable 2019 calendar year. Banished from the Paris Saint-Germain first team and left to train on his own, one problem after another materialised. He forced a move to Juventus hoping for a new start only to find himself on the fringes again when the new campaign began.
Rabiot's story isn't Emre Can's however. Whereas the German midfielder was surplus to Maurizio Sarri's plans, the Frenchman figured prominently. He just wasn't ready. Transitioning into a foreign league, arguably one of greater quality, after missing months of first-team football is a formidable task. Upon arriving at Serie A's top side from the Ligue 1 champions' dog house, Rabiot had ground to recover.
Operating under a patient manager aided his progress. Sarri allowed the 24-year-old the necessary time, which turned out to be roughly half the campaign, but Rabiot started six of Juventus' last seven games. Limited to brief cameos before the holidays, his regular presence in the starting XI represents a breath of fresh air.
In his debut season with the club, as well, Sarri can't be blamed for experimenting with his varied midfield options. Miralem Pjanic, Blaise Matuidi and Sami Khedira were the old guard. Emre Can wasn't firmly rooted following a single campaign under Massimiliano Allegri. Young Uruguayan Rodrigo Betancur had a year on Rabiot too. The more experienced Aaron Ramsey joined in the summer alongside him. The new boss needed to learn what he had. The players, old and new, needed to learn what was expected.
Rabiot demonstrated his aptitude. He adapted his game to Serie A's tactical shroud. Slowly, his authoritative nature emerged. While Miralem Pjanic continues to dictate tempo, averaging 70 passes per game, the Bosnian's focus is delivering the ball in the final third. Rabiot transitions the squad from defence to attack and sports the most efficient pass-rating, 91.2%, for Bianconeri non-defenders [WhoScored]. Yet to score or assist, he remains an effective barrier against opponents' attacks with his anticipation and quick reactions, averaging 1.6 tackles and 1.2 interceptions per 90. All that held him back was his caution in an uncertain environment. Now that he feels at home, he thrives.
The lacking end product should come, however. Pjanic operates as a deep-lying playmaker, emulating Jorginho when he played for Sarri at Napoli and Chelsea. Rabiot functions in a box-to-box role. As his confidence grows, expect his distribution and incursions into the box to become more daring.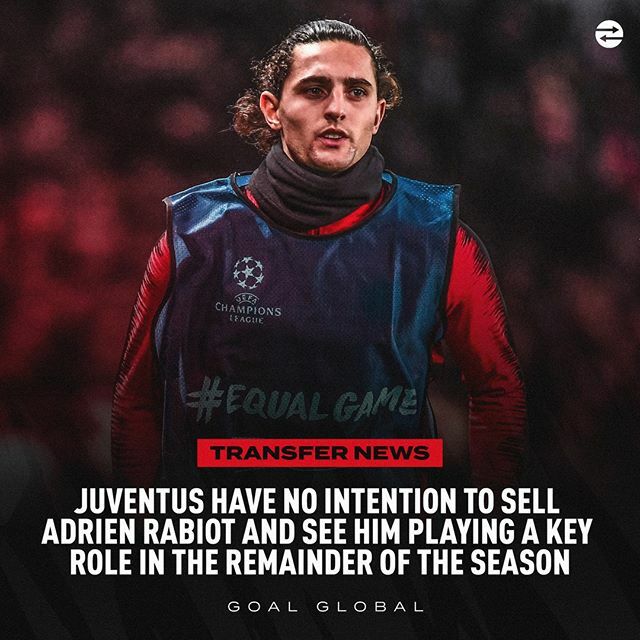 Sarri makes his mark on skilled midfielders, not only transforming Jorginho into a force but improving Marek Hamsik and Allan at Napoli, Ross Barkley and Mateo Kovacic at Chelsea. His influence on Rabiot is evident.
Emre Can is now in Dortmund. Aaron Ramsey takes on a more advanced role. Rabiot's chief competition for playing time is 32-year-old Blaise Matuidi. The elder Frenchman is passing the baton but, to maintain his role, consistency is key for the new man.
While Sarri suffers a reputation as a tinkerer, he sticks with a preferred XI when he finds it. He's found Adrien Rabiot. It's now up to the notoriously moody French youth not to lose himself.