Has the end come for Joachim Low and Germany?
Joachim Low is going through a poor spell as Germany manager...
Image Via Steindy/Wikipedia.
Few countries have achieved results similar to what Germany has accomplished in world football. In fact, Germany remains the only nation to have won both the men's and women's World Cups. And it is one of only four nations to win all three of the most important men's titles recognised by FIFA: the World Cup, the Confederations Cup, and the Olympic tournament. Others in this exclusive club include Brazil, France and Argentina.
After winning the 2014 World Cup in Brazil, humiliating the host nation 7-1 on the way to the final, Die Mannschaft totally dominated world football. They earned the highest Elo rating of any national football team in history, with a record 2205 points. The team spent considerable time as the number one ranked national team in the world by FIFA as well. This all attributed to manager Joachim Löw's tutelage.
It is this enviable position that the team found itself heading into the World Cup in Russia. Unfortunately, the fall from this height was epic. Tipped to defend their title as fellow contenders Brazil and Spain were doing a rebuilding job while the Italians failed to make it to the tournament altogether, the Germans were expected to run away with another world title.
As it turned out, Didier Deschamps and France had other plans. But that plan only succeeded because the defending champions did the unthinkable; they failed to make it past the group stage. Surprising losses to Mexico and South Korea meant the 2-1 victory against Sweden counted for little or nothing.
One could have thought that was that. The Germans were expected to bounce back from the disappointment. Unfortunately, that has not happened. Despite beating Peru 2-1 in a friendly before the Nations League meeting with France, they played a barren draw with the newly crowned world champions.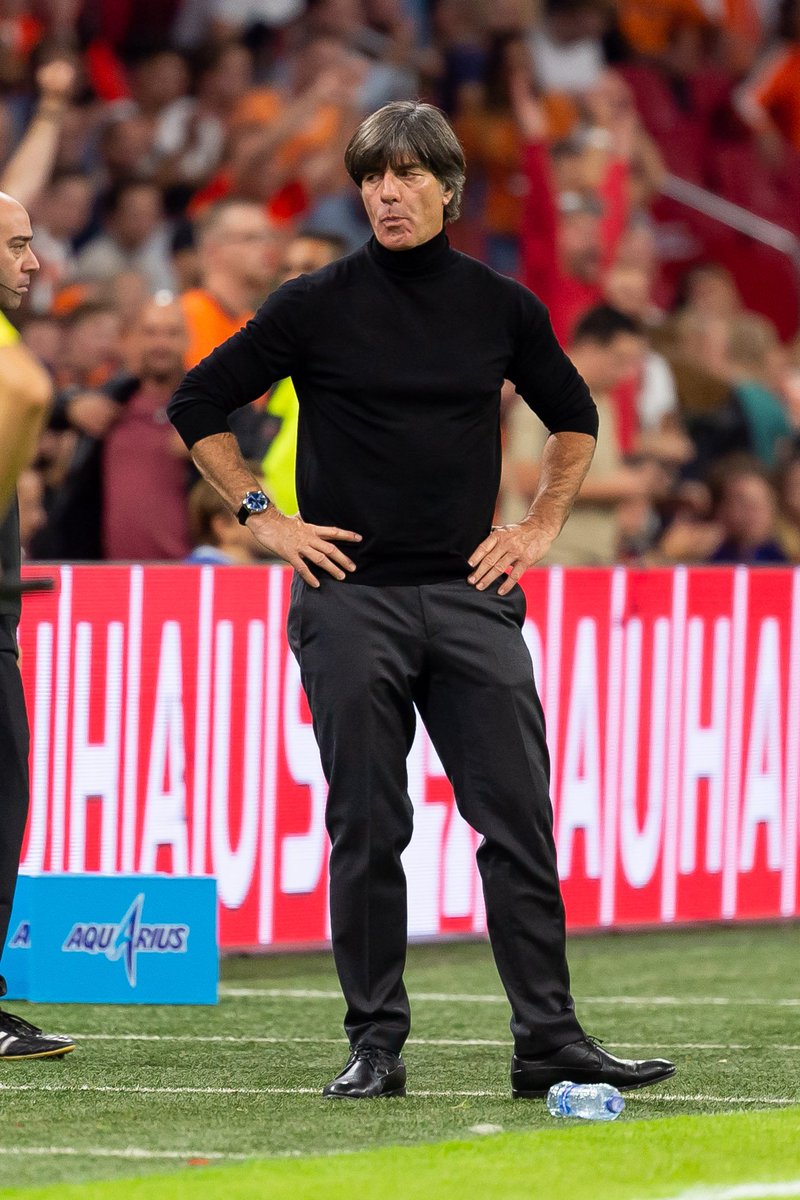 Netherlands 3, Germany 0
In his team-record 168th match as Germany's coach, Joachim Löw presided over Germany's largest-ever defeat to the Netherlands.
Germany has also lost 5 matches in a calendar year for the first time since 1985 (as West Germany).
https://t.co/kkk67pzaia
However, history was to be made on Saturday night as the Nationalelf fell to a 3-0 loss to the Netherlands for the first time in the nation's history. At a time when Löw was supposed to be celebrating his achievement as the longest staying manager in the team's history, he was creating unwanted records for the Germans.
The 3-0 thrashing at the hands of the Dutchmen made it three consecutive competitive matches without a win and without scoring a single goal for Die Mannschaft.
The question now is could this be time up for Löw?
Results are the most important factor in modern football. As a manager, you are only as good as your last game. Löw's last competitive match was an embarrassment for Germany. Yet, there is no denying the fact that he is still one of the best managers out there.
Also, he still enjoys the support of his players as epitomized by Real Madrid's Toni Kroos who spoke out in defence of the former Stuttgart and Austria Wien boss in a recent press conference. This was despite calls in some quarters for his sack. Former national team captain, Michael Ballack has been one of those calling for his exit.
But it will not be easy to get a capable replacement that can transform the team's fortunes immediately. Löw's experience and success so far means that, with support, he can still turn things around.
All the same, if results continue to be poor and the team continues to suffer, it may be time for a change. Sometimes that's necessary. The team may be in need of some fresh air and fresh ideas that only a new manager can provide. Whatever happens, the 58-year-old has proved his quality and paid his dues. His name will, or should, forever be written in gold in the annals of German football.