Signs that Eden Hazard won't be Real Madrid's main man
It wasn't like Real Madrid didn't sign new players after Cristiano Ronaldo left the Santiago Bernabeu for the Allianz Stadium in 2018. They didn't lack superstars, either. But somehow, everyone concurred there was a massive void that remained. Not many think that way anymore; because Real Madrid just broke the bank to sign Chelsea's Eden Hazard.
Former Real Madrid president Ramon Calderon is beyond convinced:
"This is the real one, the other three [signings] I'm not quite sure but Eden Hazard is really that player that can make the difference in a team…"
The fact Hazard's deal can potentially rise to a mammoth £130million means Madrid has spent more on Hazard than they did for Ronaldo in 2009. Although if you factor in inflation, that seems a bit cliché. The reality is, Hazard is indisputably the man attracting the spotlight at the Bernabeu currently.
From what we know of Real Madrid, it's a club that's never short of big players. Hence, Hazard isn't coming to become a big fish in a small pond. It's perhaps the reason why Hazard swapped the English capital for Spain's.
The signs of things to have started playing out.
What's my squad number?
The best players usually stake claim to an iconic squad number. You won't catch Lionel Messi playing without the #10 on his back. For Ronaldo the #7 is untouchable.
Like Messi, Hazard is known to wear the #10 for club and country. For a player his calibre, he's absolutely earned the right to do so. Not at Madrid though…
When Ronaldo was unveiled as a Real player in 2009, he was presented to fans brandishing a #9 jersey. Of course, we know why – the legendary Raul Gonzalez was still an active member of the Real Madrid squad at the time. And Raul was Real's #7.
In Hazard's case, he thought for a minute he could get the #10 from Luka Modric. He coyly asked the Ballon d'Or winner if he could get the number. The answer was an emphatic no.
The Belgian then turned to Mariano Diaz, the man who wears the historic #7 jersey. Diaz said no too...
Many felt the #7 would've been more befitting for Hazard since he's the man being looked at to replace Ronaldo. His teammates think otherwise.
If you remember, Real Madrid printed and displayed some Hazard #7 on their official store. It's uncertain if they did sell some of those jerseys. What we know, Hazard was unveiled to 50,000 Madrid fans on 13th June without a jersey number...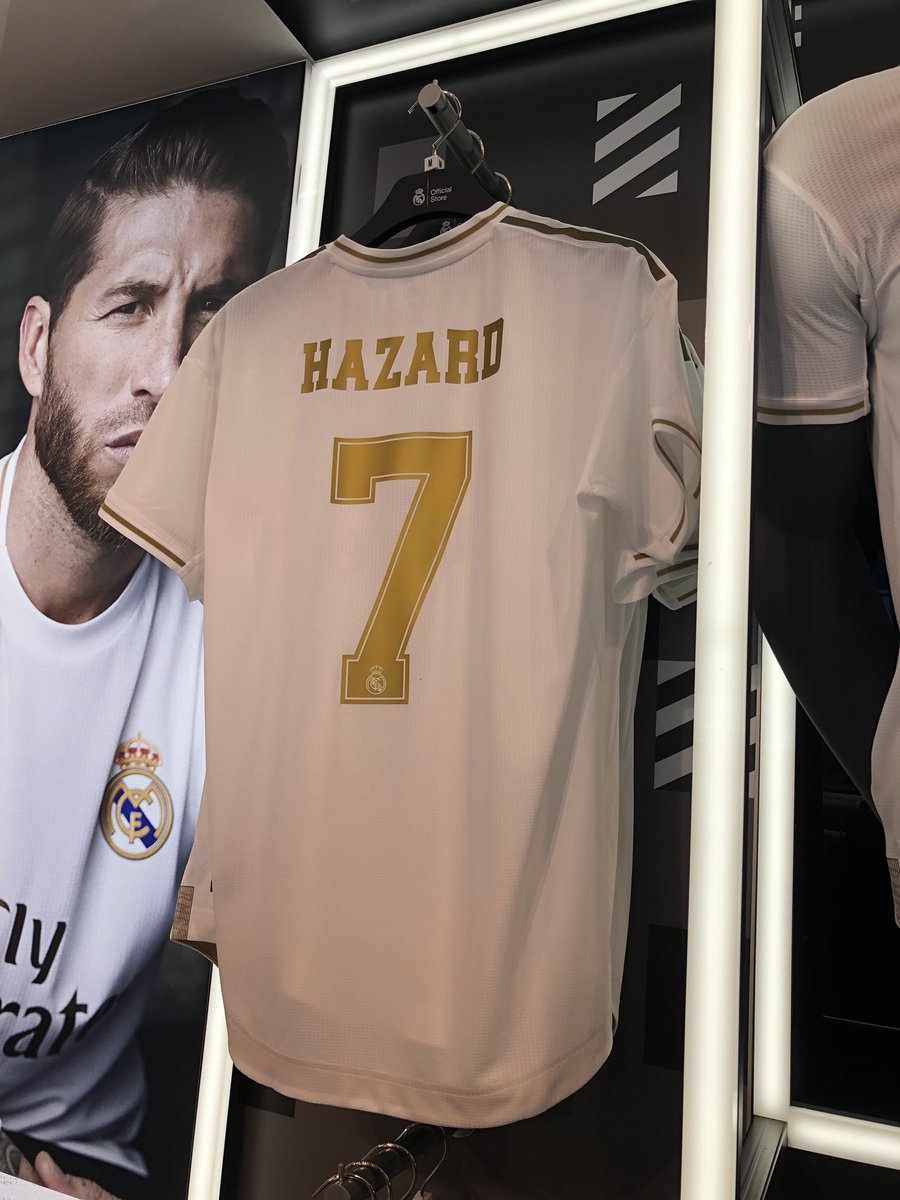 Eden Hazard No.7 shirts already hanging in Real Madrid official store.
I'm really happy for Hazard, but damn this is painful.
#CFC
https://t.co/4AfPqCJ6pv
Hazard was later forced to settle for jersey number 23. The last big Madrid star to wear that shirt was David Beckham. Hazard himself chose the number for personal reasons, of course. There are lots of theories circulating online on why he did. The man hasn't said anything to that effect.
The jersey doesn't play
If that was your opinion before you started reading this, you're not far from the truth. What a player wears on his back has little to do with how well he plays on the pitch.
"Play for the badge on the front and they'll remember the name on the back" are the famous words of Tony Adams.
Still, there's an underlining side to things like this. Does this mean Hazard will find it more difficult to command the respect of his teammates? Remember, Hazard is a leader – presently the captain of the Belgium national team.
Like we've seen with Gareth Bale and Thibaut Courtois, life in the Spanish Capital can quickly get frustrating. Regardless of how much you came in for. It's why Hazard has no choice but earn the adoration of his peers the hard way. The man himself knows this, hence his statement: "I'm not a Galactico, not yet."
Beyond the lights, the panache unveiling, and the thrills of being a Madridista – Eden Hazard has some fighting to do. With an unrecognisable shirt number, the point he has to prove just got bigger. Will he find it difficult or take it in his stride?