At Wembley, the Son also rises for Spurs
Tottenham continue to contend for yet another Premier League season. In the last three years, Mauricio Pochettino's men have arguably been the league's most consistent side. Heung-min Son has been a key figure in attack for Spurs and still, in some quarters, is seen as not being in the same bracket as the league's top attackers. Why not?
When Lucas Moura joined Tottenham from Paris Saint-Germain in January, many 'experts' felt Son would find himself on the fringes. It hasn't exactly panned out that way. The South Korean has been exceptional in the last few months. Pochettino singled him out for special praise after his man-of-the-match performance at Goodison Park.
Son proved too hot to handle for the Everton defence in what was a real statement of intent from the North Londoners. He followed that up with a double against Bournemouth. The 26-year-old has always been a streaky player but when he hits form, look out. The South Korean has scored eight goals in his last eight games, five in the last four. The numbers don't lie; Son has been imperious in front of goal.
Of Tottenham's so-called Fab Four, Son is perhaps the most underrated. He isn't the most athletic of footballers and won't play every game. Regardless, when on the pitch, he makes it count. In the last two years, Son recorded double figures in Premier League goals, more than either Dele Alli or Christian Eriksen despite making considerably lesser appearances.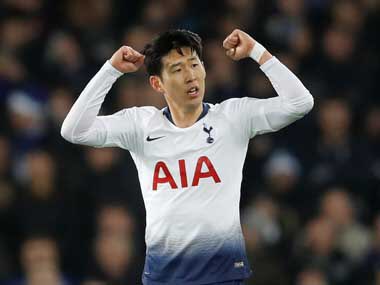 Minutes/Goal Contribution - excluding penalties
🥇87.5 - Son #
HeungMin
🥈87.6 - Leroy #
San
é
🥉87.7 - Sergio #
Aguero
4️⃣90.6 - Sterling
5️⃣93.2 - Hazard
6️⃣95.0 - Shaqiri
7️⃣97.2 - Salah
8️⃣101 - Barkley
9️⃣101 - Lamela
🔟105 - Aubameyang
(Minimum 4 Goals+Assists)
https://t.co/5QA3dCdnAC
Son scores so many goals less from speed and skill than a good footballing brain. His intelligence with and without the ball singles him out. He knows when it's best to lay the ball off or have a go himself; to take the defender on or just knock it to a teammate. Supreme decision making comes naturally to few players. It does to Son. He is always a step ahead, keeping defenders guessing.
The former Bayer Leverkusen star is sometimes criticized for not doing enough defensively. Credible to some extent, dedication to the cause is one thing for which he can't be faulted. He is such a willing lad, very humble in the way he goes about his business. He has completed the full 90 minutes just once in a Premier League game this term although he started ten. You'd never know. He always has a smile on his face, eager to enjoy his football and help the team however he can.
Behind Eden Hazard and Mohamed Salah, who live in a world of their own, lies a category filled with high-quality attackers. Son is surely on that list.
Although defeat to Wolves was something of a gut punch, the future looks bright for Spurs. A great second half of the season could see them crowned champions in May, although you wonder if Liverpool can really be caught now. Whatever the case, Mauricio Pochettino knows he can count on Son Heung-min. So do his teammates. So do Spurs fans.