Is Gonzalo Higuain experiencing a career renaissance?
Gonzalo Higuain is loving life under Maurizio Sarri at Juventus...
When he re-emerged at Juventus' Vinovo training facility back in July for pre-season warm-ups, Gonzalo Higuain's presence was met with questionable moans. The Bianconeri were toying with signing Mauro Icardi, while Higuain's poor run at Chelsea cast doubts over his stay in Turin.
Having returned overweight and considerably unfit, uncertainty lied ahead. Nobody was willing to bank on him after watching him make school-boy errors during a distasteful stay in London.
With his back pinned against the wall, Higuain found faith from his most trustworthy ally in Maurizio Sarri. Himself settling into a bigger, more challenging job, at having to crown Juventus as European champions, the Italian took his chances by pinning hopes on his experienced striker.
Of course, unwillingness to replace him with a younger, more polished forward was met with dismay. Following his winner to displace Inter Milan from the Serie A's pinnacle, nobody is laughing at the decision anymore. Instead, it looks like a masterstroke.
As for El Pipita, he's reformed his heroic reputation in Turin. The Premier League's competitiveness or high-octane style didn't really suit an old-school contender like him. The Argentine is a well-honed student of Sarriball, having thrived in its evolution during his peak at Napoli.
Now, he's using that extensive knowledge to bound his place in his highly competitive Juventus side. Moreover, having played in Serie A for several years certainly helps his case. In certain ways, he's more Italian than Argentinian. He knows exactly how the rigid, tactical defensive set-ups operate, while also knowing the loopholes to break them down.
Moreover, here he's getting more freedom to move along the channels rather than just sticking to his central position. Despite not being the quickest, he's using experience as a weapon to drag defenders into unfamiliar territory, thus allowing Ronaldo and co freedom inside the area.
While his role isn't quite like Olivier Giroud's for France, he does strike resemblances with his former Chelsea teammate. He's like a pawn sacrificing his goal-scoring hunger for a greater good. At this point in his career, just being able to perform for the Bianconeri is enough.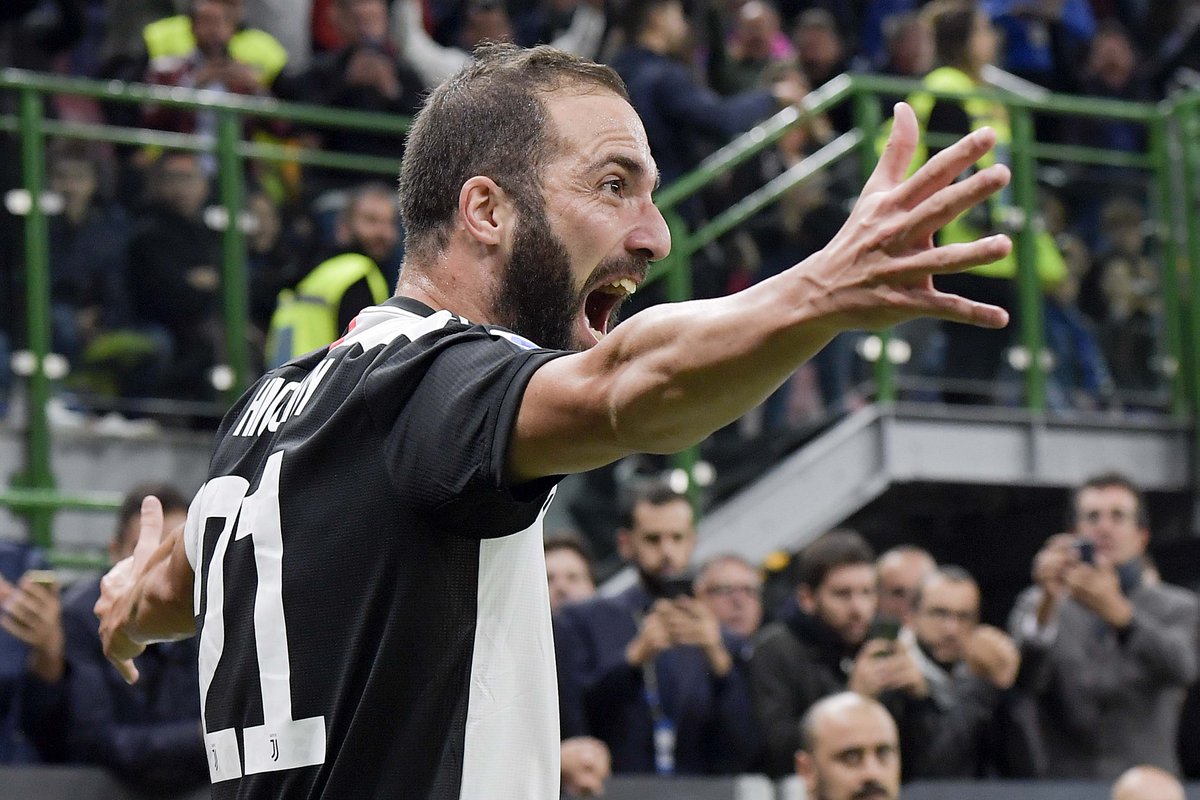 Gonzalo Higuaín, everyone ...
✅ Comes off bench to win Derby d'Italia
✅ Sends Juventus 🔝 of Serie A
✅ Two goals in two games
#UCL
https://t.co/pMgZZCIFDb
However, one cannot doubt how hard-working the Argentine has been in asserting his role in the squad. He's worked overtime to regain his fitness to the expected level. Sarri himself is doing an admirable job amplifying the effectiveness of players like Blaise Matuidi and Sami Khedira, perceived by some destined to be sold off, though Higuain's case is special as his confidence was completely shot last season.
Despite having bagged just a few goals, he's proven himself a big-game player by flooring title rivals Napoli and Inter. His tendency to slyly dribble past opponents, move into space to sniff out opportunities has, surprisingly, been particularly aggravating for Serie A's best defenders.
Unlike earlier this year, Higuain isn't wasting easy opportunities. Granted, the Argentine doesn't get into prime scoring positions that frequently, but when he does, he's almost a shoe-in to score. With relatively less pressure to contribute consistently, as well as more players backing him up, the 31-year-old is thriving this rotational role up-front.
By drifting in and out from the squad, El Pipita can continue being an impactful entity by maintaining his lethal edge in helping to accelerate the performance-levels of those around. Sarriball's diligent student, he'll help Dybala, as well as Ronaldo, enjoy the boons from the crisp, quick-linked attacking style the Italian's trying to implement.
Of course, experiencing a drop in form or being unable to score for a stretch of games will bring back questions. There will be calls for sacking Higuain. Pressure will start mounting on his future. But for now, the Argentine sits comfortably as a fan-favourite after having redeemed himself in his second coming with the Bianconeri.