Hisato Satō pursues career revival at Nagoya Grampus
The veteran striker has joined the Grampus in the hope reigniting his career after a relatively uneventful year with Sanfrecce Hiroshima. Whilst he'll be playing in the second-tier; Nagoya is an important club which can help him rekindle his form.

Satō had spent twelve seasons with Sanfrecce Hiroshima, where he enjoyed a lot of success and earned a cult status and his own following. Throughout the bulk of his time in the famous purple shirt, Sato had no issue finding the back of the net. Between 2005 and 2015, he would score on average eighteen goals a season. This ability directed the team to several accolades including four league titles and four super cups.

His performances in Hiroshima also saw him individually praised by the J.League for his great work in front of goal. Named in the season's best eleven several times, named the MVP of the whole league and earning both the top scorer awards for both the J1 and J2 divisions. The good times seemed to have no end.
A spectacular goal from Sato.
Last year both the player and club were subject to an almighty shortcoming. Sanfrecce failed to qualify for the Asian Champions League for the first time in six years, whilst Satō struggled to replicate the impact he previously had. He started the season playing along with on-loan Peter Utaka, after the first week couldn't sustain his momentum and ultimately found himself as a rotation option behind Utaka and Shibasaki. With good reason too, Peter Utaka finished as the league's top scorer – leaving very little room for Satō. He ended the season with just five goals, he hadn't scored this few since his rookie days with Cerezo Osaka.
Before the end of the season, it was reported that
the experienced forward would be joining Nagoya
; who also underwent a traumatic season which resulted in relegation. He'll join an attacking line-up – which is need of bolstering. Swedish forward Robin Simovic and Japanese attacker Kensuke Nagai were unable to set the world alight and scored relatively few goals between them all season.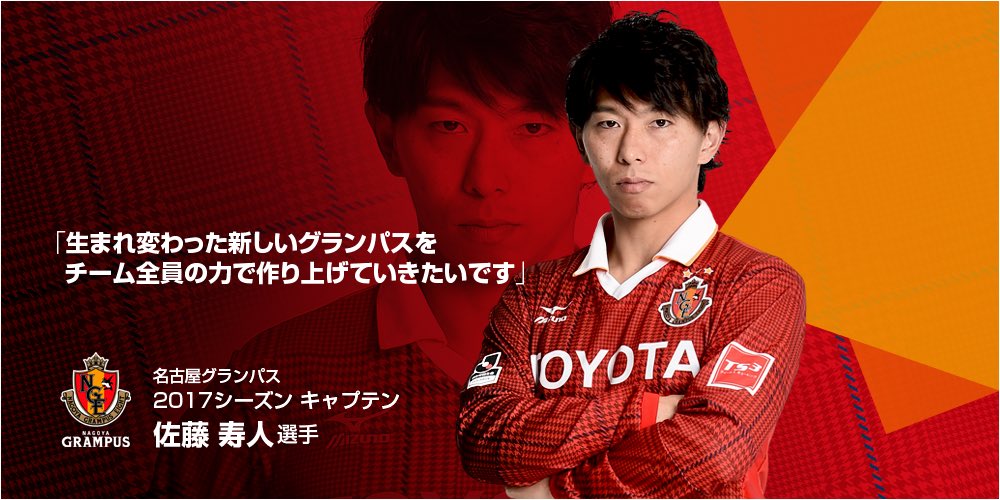 The official tweet naming his as an official player and stating he will be the vice-captain of the squad.
Whilst signing for a relegated team might not be a conventional career move, there are several reasons why for Satō – it could prove to pay dividends. He's an experienced striker and overall player which help the team progress as they find themselves in this post-relegation lull. Younger players will benefit greatly from training and play with this Japanese football legend.
Despite his age; he'll be the first choice attacking player at this club. At thirty-four years of age, Satō will struggle to find a team which can offer him a starting eleven spot. Nagoya lacked goal-threat all last season and famously went eight games where they only scored once; therefore they do have a real opening for Satō in their first team. Satō's bread and butter is making attacking opportunities and finishing them. He may play upfront with Simovic, but either way, he will play a major part of Nagoya's forward game.
The step down to J2 should also be a good augury for Satō. The teams he'll be lining up against will be of lower standard and ideal for him to revive his career and enhance goal scoring records. Throughout his career, he's never spent consecutive seasons in J2. This is a result of him leading his team to promotion or playing well enough to attract a top tier team to buy him. He also has a very good goalscoring record in J2, having scored 55 goals in the second division accumulatively over three seasons he's spent in the league.
Satō also deserves to play his latter years out with an important/big club. Unlike many of the contemporary J1 clubs, Nagoya Grampus were formed before the inception of the J.League in 1992.  Their history dates back to 1939; and have connections to some of the football's elite. Gary Lineker previously lined up for the team, and they were managed by Arsene Wenger before he took the helm at Arsenal. Their plight towards J2 is comparable to Newcastle United's relegation last season – a big important club, which will be followed irrespective of the division they play in; and usually missed by neutral fans due to their standing.
The one major snag in this move is that after twelve years with one club, Satō at his age may find it difficult to adjust to a completely new environment.
Yahiro Kazama is also new to the Toyota Stadium
and he is a good manager who helped Kawasaki Frontale to the championship stage last season; and who has experience in managing both transitions and veteran players. Over his five-year tenure, he made Frontale into a championship-vying squad. He also managed Ōkubo who's the same age and of similar status to Satō. This experienced manager may be able to ease the stresses of such a change for the player; changing clubs after such a long time.
Should be able to find a rhythm for his new club, they'll be no doubt that Satō will be a success for Nagoya. He'll want to end his career in the top flight and there's no reason why he can't get back either with Grampus or via a transfer to another team.