How can Freddie Ljungberg get the best from Nicolas Pepe?
Freddie Ljungberg's standing as Arsenal boss may depend on involving Nicolas Pepe in Arsenal's attack.
Every transfer window comes with its big-money moves. Clubs recruit standout players who can add quality to their teams. Last summer saw its fair share of blockbuster moves. Eden Hazard, Antoine Griezemann, Joao Felix and Neymar's proposed return to Barcelona were the most sensational news items but Arsenal also gave the football universe something to talk about. The club broke its transfer record to sign Nicolas Pepe from Lille LOSC.
The Ivorian had a season to remember in Ligue 1. He scored 22 goals and set up another 11 to take the Lille to second in the league and on to the Champions League. For a club that had recently been struggling to stay in the division, finishing as the best of the rest after Paris Saint-Germain was a huge achievement. Emerging as Christophe Galtier's star player, Pepe naturally became a wanted man across Europe. Speculation was rife concerning his destination and possibly interested parties. Arsenal made a statement in securing his signature.
Already parading Golden Boot recipient Pierre-Emerick Aubameyang and Alexandre Lacazette, Pepe was expected to be the final piece of the attacking puzzle for Unai Emery. Equipped with a wicked left foot that tormented French defenders last term, the 24-year-old was expected to take the Premier League by storm and Arsenal to the next level. Unfortunately, that scenario failed to materialise.
Unai Emery paid the ultimate price for that and the Gunners' other woes. Now, interim boss Freddie Ljungberg is finding there is no easy fix. Arsenal came away with a draw against relegation-threatened Norwich before losing to Brighton in the Swede's two Premier League fixtures in charge.
The team's failure to perform is a complex problem, Pepe's failure to rise to the occasion a critical factor. A club-record signing should make an immediate difference. Apart from a solitary performance against Vitoria Guimaraes in the Europa League, wherein he scored a sublime free-kick to secure three valuable points, the 24-year-old has been anything but a difference-maker.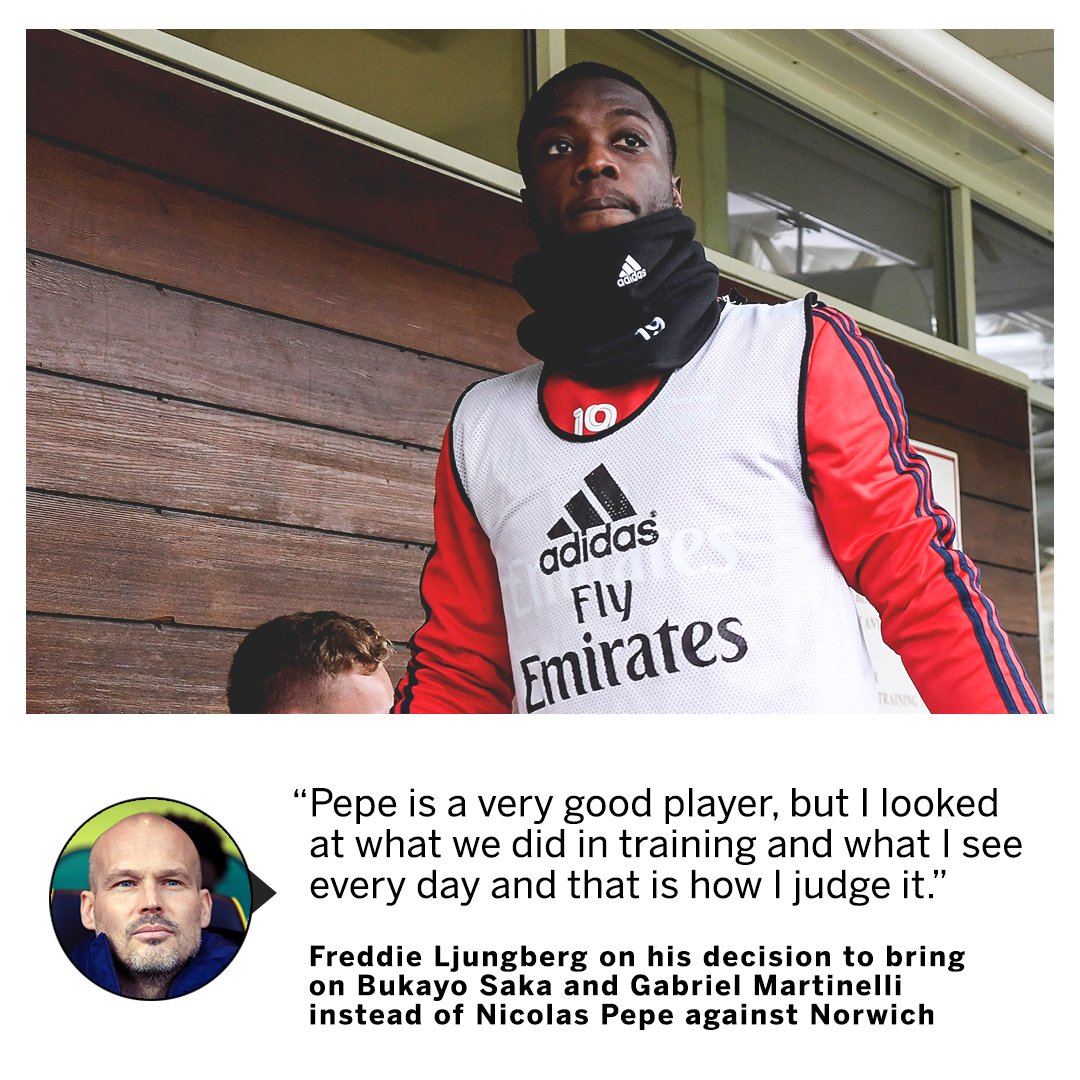 Ljungberg ignored the winger in his first game. When asked about the decision, the 42-year-old stated the player failed to convince him in training. For an inarguable talent who has already demonstrated the ability to carry a team, that is an alarming statement. Still, no manager can write off a £72 million investment without consequences. How can Ljungberg evoke the desired performance from Pepe?
Still adapting to life in a new league and culture, the player needs man-management. He seems lost. Cosmopolitan London is not provincial Lille. There are distractions even while he learns a new language. In addition, the Premier League is a cut above Ligue 1 in terms of both quality and physicality. The manager needs to show faith but the player must also give him reason. As a man who played in the league and won trophies, the Swede can show all his players the way. Pepe desperately needs a lesson or two.
Tactically, Ljungberg must set up the team to bring out the best in his players. A 4-2-3-1 system allows Lucas Torreira and Granit Xhaka to operate as a double pivot, protecting the club's porous defence. Pierre-Emerick Aubameyang and Pepe can play to either side of Mesut Ozil as wingers. The duo should benefit from the German's passing ability, as will Alexandre Lacazette, operating as the striker. Pepe can cut inside to shoot with his favoured left foot as he did to devastating effect for Lille. Aubameyang can do likewise from the left side. Lacazette's numbers ought to improve as the focal point in attack. With the defence less exposed, the team as a whole should be stronger. Results like the 2-1 loss at home to Brighton can become a thing of the past.
That said, just putting players in positions where they can succeed isn't enough. It isn't all on the manager; players must respond. In the end, it's up to Nicolas Pepe to justify his status as the Gunners most expensive signing.