How can Peru adjust and replace Paolo Guerrero in the upcoming 2018 World Cup?
Without doubt, Peru were among the biggest surprises in the World Cup Qualifiers all over the world. Despite the fact they were ticketed for yet another four-years without playing in the tournament, Ricardo Gareca's men came out of nowhere and finished the CONMEBOL Qualifiers in fifth place, ahead of more powerful teams such as Chile, Ecuador and Paraguay.
Los Incas, then, didn't have problems to secure a World Cup berth after defeating New Zealand in the playoff round. But unfortunately, the South American side has things to worry about... With less than one month for the start of the tournament, Peru received the news nobody wanted to hear; as Paolo Guerrero's suspension has been confirmed. And as a result, the former Bayern Munich striker won't feature on Russian soil.
Undoubtedly, this is hugely tough news for Peru. Losing Guerrero is the equivalent of Egypt losing Mohamed Salah, Chile losing Alexis Sanchez, or Colombia losing Radamel Falcao. They have lost their star forward and most important player… but the real question shouldn't be whether the ban was fair or not. The team need to do everything they can to replace him – and mask his absence – as soon as possible. But losing him is a big blow. Guerrero was the team's leader on and off the pitch, their best forward, and their captain. It is not easy to replace someone will all those traits.
Fortunately for Gareca, there a few alternatives to replace the current Flamengo star, who also starred for Corinthians in the Brazilian Serie A a while ago. Let's see which players could fit the bill now that Guerrero is all-but gone.
Jefferson Farfan
By all accounts, having Farfan in the lineup instead of Guerrero has been the most logical choice for quite some time. 'La Foquita' tore up the Russian Premier League this season and was the top scorer (10 goals in 22 matches) in the RPL champions, Spartak Moscow. Even though the 33-year-old profiles better as a winger, he can also operate up-front. Peru would lose strength and a defined target man, but there is no question they would gain pace with him in the lineup. An attacking trio of Farfan, Edison Flores and Andre Carrillo will create nightmares on opposing defences.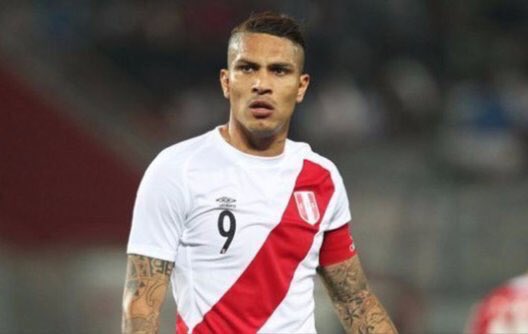 Captains of France (Hugo Lloris), Australia (Mile Jedinak) & Denmark (Simon Kjær), who are in the same World Cup group as Peru, sent a letter to FIFA, asking them to allow captain, Paolo Guerrero to play in the World Cup.
He got suspended after testing positive for cocaine
https://t.co/DmT45YSrGQ
Raul Ruidiaz
Gareca does not change tactics all too often, and he would be crazy to change what is already working. Therefore, the most likely scenario is that Raul Ruidiaz will likely enter as the starting forward – at least during the pre-World Cup friendly matches – while Farfan and Watford's Carrillo would compete for the right winger role. Ruidiaz plays in the Liga MX and has emerged as a deadly scorer in Mexico, notching 36 goals in 66 appearances for Monarcas Morelia in roughly 18 months. At the very least, his club form gives him the chance to show he can fill the void left by Guerrero.
Andy Polo
This one is somewhat outside the box, but it does make sense. Polo began his career as a striker and most of his displays with the national team have been as a winger, most notably on the right. But he knows the striker role, too. In case Farfan and Ruidiaz do not pan out, it probably wouldn't hurt to give the Portland Timbers player a shot to see what he can do. He is not Guerrero by any means, but he can get the job done. And his pace could be an interesting weapon against teams such as Australia and Denmark, that are not known for their speed on the defensive end.
Names who didn't make the cut
Peru had other alternatives that could have been decent replacements for Guerrero. Beto da Silva, Cristian Benavente and even Claudio Pizarro could have done decent jobs. But the coaching staff have already picked their squad, so these three players will have to wait for another chance on the National Team.
Only time will tell whether Guerrero was properly replaced or not. But there is no question that his absence should make things even more difficult for Peru in Group C, where they will square off against the world-class France and the aforementioned Denmark, and Australia.