How Champions League success could spell terrible fate for RB Leipzig
Julian Nagelsmann is unlikely to remain with RB Leipzig if they keep doing well in the Champions League
RB Leipzig is bulldozing their way forward in the Champions League. The latest casualty of their fine form was Jose Mourinho's Tottenham Hotspur. While Leipzig awaits their quarter-final opponents; onlookers in Amsterdam may have some stern warning for Julian Nagelsmann's hotheads regarding treading softly in Europe's premier club competition.
Ajax's European success last season attracted attention far and wide. They didn't secure the Holy Grail, but blowing away holders Real Madrid and bundling out Cristiano Ronaldo-led Juventus for a semi-final berth can be considered a success for a team who had to play three rounds of qualifiers just to get into the group stage.
De Godenzonen's fine run among Europe's elites came at a dire consequence, however. Their squad got picked apart by heavy spenders. Key players such as Matthijs de Ligt, Frenkie de Jong, Max Wober and Kasper Dolberg were all sold in a massive transfer clear out that saw Ajax rake in a staggering €191 million. Hakim Ziyech will also depart in the summer. While profits soared at the Johan Cruijff Arena, the team took a hit it clearly can't recover from in two seasons at the very least. This term, Ajax were knocked of the Champions League at the group stage, fell to the Europa League, and got booted out at the first knockout round. In the Eredivisie, they've led since matchday three, but AZ Alkmaar is only behind on goal difference with eight games to go.
Apparently RB Leipzig has replaced Ajax from 2018/19. Ajax posted the youngest average age in the Champions League last season. This campaign, Leipzig's average age of 23.5 isn't bettered by any team who started the competition. The Red Bulls don't just play a young team, their management staff is also made up of youth. Head coach Nagelsmann is only 32. Even Sporting Director Markus Krosche is still in his 30s.
The Champions League is known for being a competition where experience trumps exuberance. Perhaps the tide changing. Young teams like we saw of Ajax, and now Leipzig, seem too quick, smart and physical for their more experienced opponents. The result is glaring – Spurs who reached the competition's final in 2018/19 gets bundled out in embarrassing fashion.
Back to the consequences of fielding a successful young team in the Champions League. RB Leipzig risks getting raided in the summer. The clear-out could even see them lose their charming gaffer.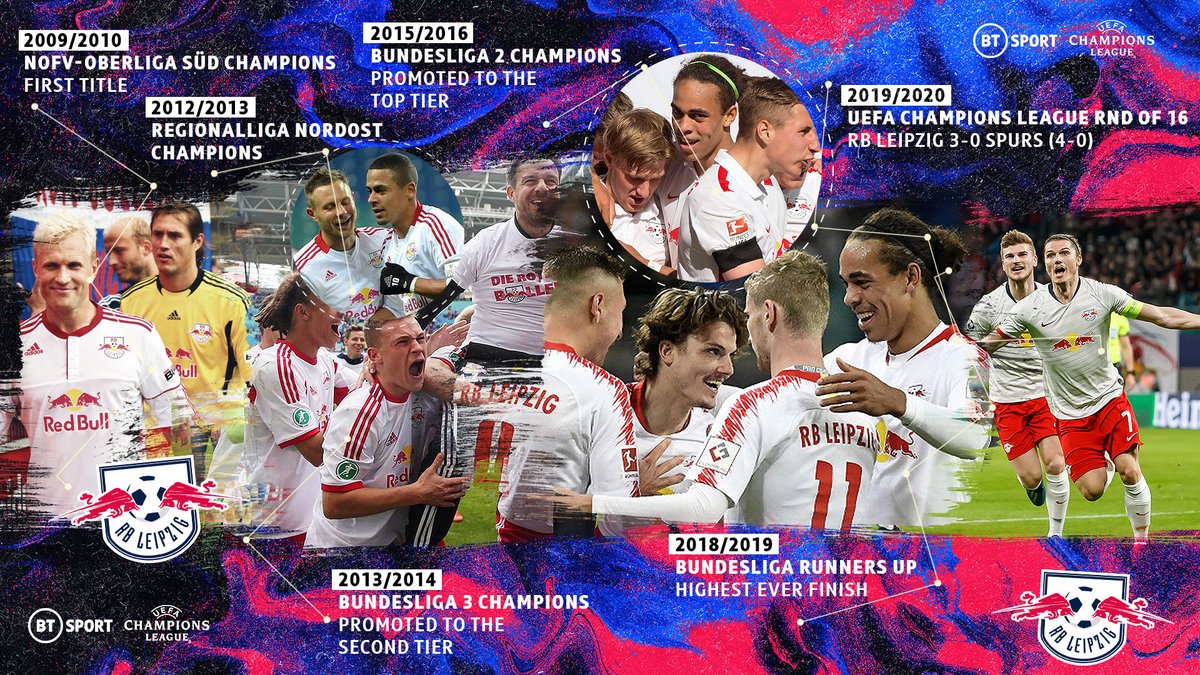 📆 2010: Playing in German fifth tier
📆 2020: Champions League quarter-finalists
RB Leipzig's rise over the last decade has been phenomenal 😳👏
https://t.co/TTX6IRqWQW
Spurs were flat-footed and lacklustre but it's no excuse. There's no slowing down this Leipzig side in the Champions League. Regardless of who they face in the quarter-finals. They've already set a personal record in the competition. If they negotiate the next stage RB Leipzig could well do the unthinkable. Meanwhile, as the team's performances continue to improve, the top sides in Europe will surely be alerted of the Leipzig players meeting their requirements.
The effect of a transfer shake-down from bigger clubs cannot be overemphasised. Leipzig's sister club, RB Salzburg, failed in the Europa League first knockout stage, which isn't unconnected to the sale of Erling Harland to Dortmund in January. Without him, they've also lost their place as leaders of the Austrian Bundesliga title race
Last season, Leipzig lost Naby Keita to Liverpool. What followed was a porosity in their midfield that could fit a car. They fumbled in the Europa League, lost the DFB Pokal and managed to qualify for the Champions League. The signing of Hannes Wolf, Christopher Nkunku and Dani Olmo has more than covered the gap. Still, they could easily lose someone, Timo Werner to Liverpool or Real Madrid, and end up back at square one.
RB Leipzig may care less about losing players in the summer if they can win the Champions League. For a club that didn't exist the last time Spurs won a trophy, there's no better definition for tremendous success. But the rebuilding process after that could take years. Inter Milan would agree.