Manchester United have themselves an Andreas Pereira problem
Manchester United's rotten fortune with Brazilian's continues. Andreas Pereira is the latest in a long line. Kleberson, anyone...?
Background Image Via: Flickr/Daniel. CC BY 2.0.
Manchester United have been trending downwards since Sir Alex Ferguson decided to hang up the clipboard, that much is obvious. From David Moyes to Ole Gunnar Solskjaer and everyone sandwiched in between, this club has been fighting a losing battle.
I'm not sure anyone is good enough to turn this club's fortunes around under the current regime, but the thing with football fans is they never stop believing. That said, this Red Devils squad is up there amongst the poorest we've ever seen. United are wallowing away in ninth place in the Premier League table, a huge 20 points behind Liverpool. Amongst the Old Trafford terraces, there's two main topics of discussion in regards to their woes; a non-existent midfield and a thin attacking line.
Paul Pogba aside, the creativity, or lack thereof is what is seriously holding this side back. The mercurial Frenchman has missed the last two months with an ankle injury, while Scott McTominay, the only real driving force from that unit, was sidelined this weekend when the 20-time Premier League champions drew 3-3 with Sheffield United. Enter, Andreas Pereira.
The Brazil international (yes, he actually has a cap), has been a regular in United's midfield all season and despite doing my best Inspector Morse impression, the reasoning as to why is a code I'm yet to crack. Pereira is now 23. He's been with the Manchester club for almost a decade and I'm still unsure as to what he's actually good at? In fact, does anyone even know his best position?
When Pereira joined United from PSV Eindhoven, he was a winger by trade. Quick, hard-working, two-footed and a supreme crosser of the ball. We've always known about his deadliness from the set-piece situation, too, though right now, none of those underlying qualities are coming to the fore.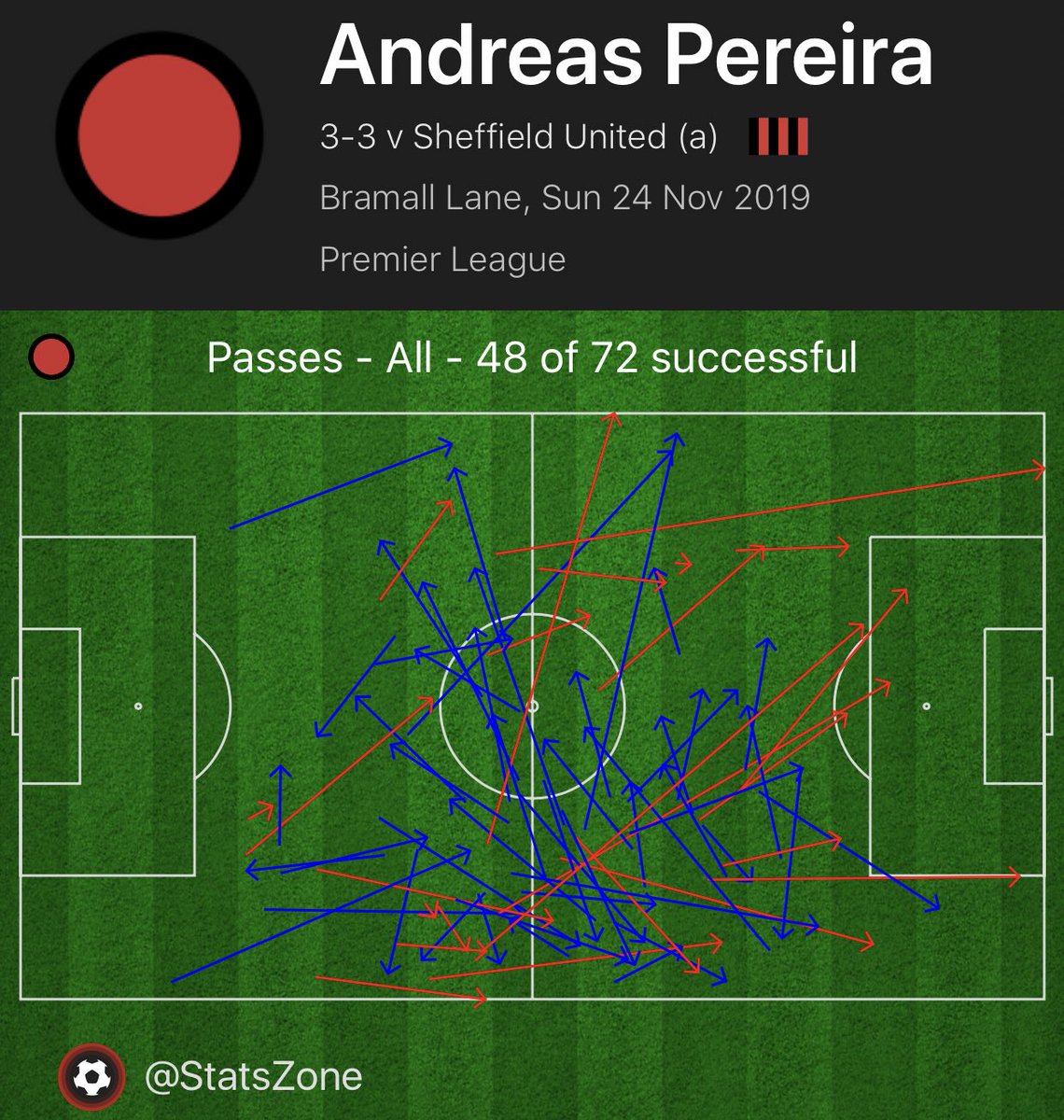 Andreas Pereira 24 passes against Sheffield United.
24 misplaced passes from central midfield. Absolutely shocking stuff.
#MUFC #
SHUMUN
https://t.co/g56jg2cxYd
In 2016/17, it felt as though a loan spell at Granada was going to be the making of Pereira. He'd come back hungry and impress on pre-season, though Jose Mourinho would take the decision to send him away on a short-term deal again, this time to Valencia CF; where the 5'10 midfielder wouldn't be anywhere near as successful. From that point forward, his career has been a complete mish-mash.
Pereira hasn't been helped by several position changes. From winger, to attacking-midfielder, to holding-midfielder, to box-to-box midfielder. It's not as if he's a jack of all trades and he certainly isn't the master of one. The point is, the Brazilian's struggles aren't all his own doing. He's been constantly chopped and changed around, but his displays this season have been mightily underwhelming. That fact simply cannot be denied.
His passing is sloppy while his positional sense remains nonexistent. Pereira's decision-making, particularly in the final third, leaves an awful lot to be desired. He doesn't have that defence-splitting ball or consistency in his long-rate shooting which is normally typical of a midfielder with his style, either. Again, it's down to the club. The pressure simply shouldn't be placed on Pereira's shoulders. At the end of the day, he's doing the best he can but the decision shouldn't be in his hands.
You can make the case that his versatility means he'd be a semi-decent squad player, but then again, I'm not sure he'd break into Everton's 18, let alone Leicester City's. It's just further indictment on how for Manchester United as a club have fallen. Andreas Pereira may not be good enough, but right now, he's Solskjaer's only option...