How Donny van de Beek can turn his Manchester United career around
Things aren't going to plan so far for Donny van de Beek at Manchester United.
It hasn't quite clicked for Donny van de Beek during his 315 Premier League minutes for Manchester United so far this season, following his £35.1 million move from Ajax last summer. Excusable? Maybe. However, the Netherlands international has played 14 times in cup competitions. He's still struggling to find his feet.
Van de Beek drove out of Ajax with fans chanting his name as he left the Amsterdam sunset for his new Manchester home. The central midfielder was amongst the most sought-after talents in Europe, with Real Madrid reportedly chasing his signature as well as the Red Devils.
United's new number 34 was the last remaining shining light of an Ajax team which had credibly made its way to the Champions League semi-finals in 2019. Frenkie de Jong had left for Barcelona, Matthijs de Ligt headed to Turin, while Hakim Ziyech would move to Chelsea in the same transfer window. With Bruno Fernandes having flourished in his first half-season at Old Trafford, van de Beek came in, three years junior to the Portuguese, hoping to challenge his spot.
Van de Beek has been given the chance to play in Bruno's role several times in cup competitions - but has flattered to deceive in all of them. 1,117 minutes have yielded just one goal and one assist. The 23-year-old hasn't found it easy stepping into the shoes of a player with 26 goal contributions in 29 Premier League games this season. That's understandable.
Playing the Dutchman in a deeper role would surely take the pressure off him and allow him to express himself more. When Ole Gunnar Solksjaer has given van de Beek the rare opportunity to play slightly further back, the former Ajax man has often appeared to play the safe option, rather than forcing the ball forward into the smallest of gaps. He was at his best in an Ajax side which favoured a more gradual build-up on the ball, adapting his playing style is seemingly proving a struggle.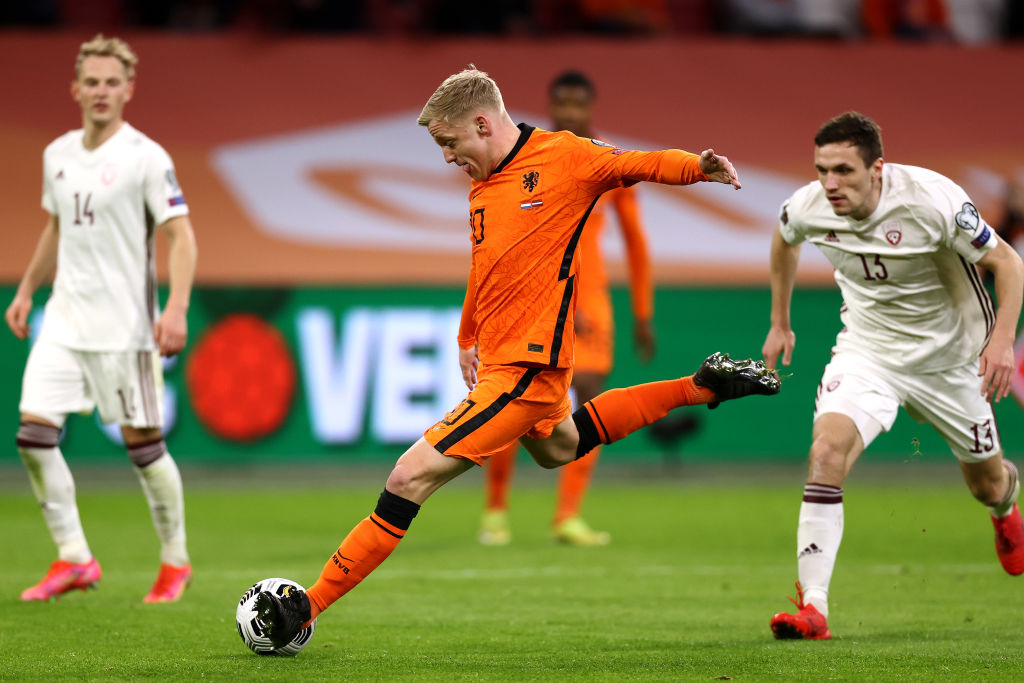 🥴 Donny van de Beek has scored more goals for the Netherlands this season (3 in 9 caps) than he has for Manchester United (1 in 27 apps)
https://t.co/C7AO73vXpw
The physicality of the Premier League compared to Eredivisie has also been a talking point around Dutch arrivals in England's top flight. Davy Klaassen arrived for a similar fee with a similar reputation from Netherlands' most successful club, and struggled to adapt to the English game in both advanced and deeper roles before leaving the following season. Van de Beek is two inches taller than Klaassen at six foot nothing, but with a similar build. However, it is his passing choices and positioning rather than his physicality which has been the issue separating his performances from those of his teammates so far.
If Paul Pogba were to leave Old Trafford this summer, it would surely present van de Beek with more opportunities. However, his performances this campaign will have to justify those chances. Rather than giving Bruno the odd rest and telling Donny that this is his chance to shine, Solksjaer may have to ease his summer signing into a new role in the team. He played all over central midfield for Ajax – as a playmaking defensive pivot, a productive offensive midfielder, and a box-to-box role.
With Solksjaer not having settled on a single pivot in defensive midfield but often pairing two of Fred, Scott McTominay and Nemanja Matic, the answer could be to play van de Beek as a sole deep-lying midfielder. This would depend on the opposition and could work best in a game where United would have the majority of possession and van de Beek would be allowed to showcase his passing range without the constraints of a high-press opponent.
If van de Beek's performances don't turn around by the end of the season, rumours of a return to the Johan Cruijff ArenA will inevitably begin to float around. Regardless of these, van de Beek needs to be given time to settle into a role without the pressure of producing a goal contribution every single game in order to be properly bedded in at Old Trafford.