How Manchester City's Ederson can avoid the mistakes made by Claudio Bravo
Cast your minds back to when Claudio Bravo first landed in England, he was perceived as the perfect bride for Manchester City. But one year after, their union turned out to be a left-handed one. Hence, what should latest arrival, Ederson, do to avoid a similar fate? 
Everything seemed to be falling in place for Bravo. He had just sealed a dream move to the Premier League to join City. The club's ever-expanding reputation on the continent, coupled with their astronomical pay on offer, was simply irresistible. But that wasn't all; the prospect of working alongside Pep Guardiola was even more tantalising to the Chilean. Both had missed each other by a whisker during their spells at Barcelona.

And Bravo stormed the Premier League with so much swagger, knowing he's one of the best in the world. His rich resume says it all; a Champions League winners medal, two La Liga and Copa America titles, a UEFA Super Cup and FIFA Club World Cup, to mention but a few. His superb ball control, distribution and skill with the ball at his feet kept the English audience in suspense as to why he earned the double tag as the "Sweeper Playmaking GoalKeeper".

However, unknown to Bravo, his reputation was on the verge of crashing like a pack of cards. His City career headed for the woods after a horrible debut against Manchester United where he was culpable for the goal scored by their rivals. Suddenly, the Chilean became a shadow of himself, committing schoolboy errors and ultimately lost his place to Willy Cabellero. But it wasn't just about the cheap goals he conceded. His control of the ball deserted him, he lost his composure and his highly-praised skill set diminished. An egoistic Bravo suddenly became humble.
Now, young Brazilian goalkeeper, Ederson, is about to follow in the footsteps of the Chilean. The 23-year-old's crazy £32.5m fee speaks volume of his quality, putting him way above some of the greatest goaltenders in history. Just like Bravo, Ederson earned rave reviews for his assured performances over the last couple of seasons, more significantly, the previous where he kept 22 clean sheets in all competitions.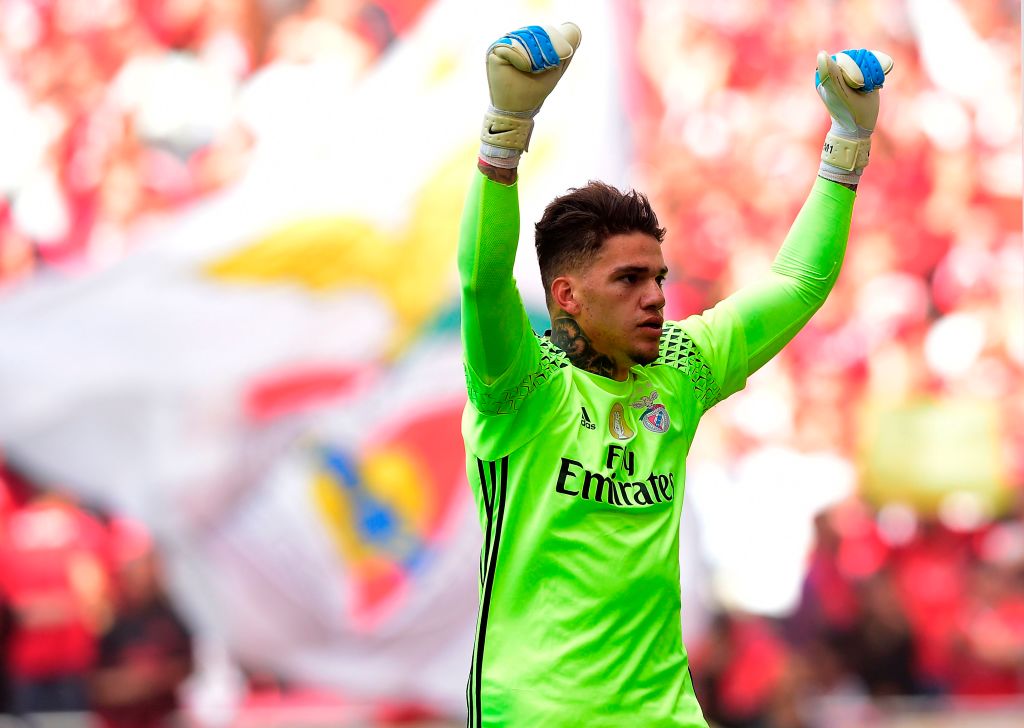 Ederson's record for Benfica in the Primeira Liga in 2016/17:
27 games 🏃
20 wins 👊
18 clean sheets ⛔️
12 conceded 🙌
1 title 🏆
https://t.co/1p8dUvu4YC
Yet it wasn't entirely his ability to shut out opponents that really thrilled Guardiola. Ederson's ball-playing prowess captured the Catalan too.
Former Brazil coach Dunga said
of him:
"He comes out of his goal, he has a good reading of the game. In modern football, a goalkeeper must know how to play as the last defender and he possesses these characteristics".
These, of course, are common traits he shares with Bravo; another perhaps is over confidence.
"The risk is that he has to show he can cope with the pressure of a top league. In the Primeira Liga, he is facing minor teams 80% of the time. Ederson has a great game with his feet but in some matches, he has shown overconfidence. He will have to learn how to be able to control that,"
-
Vitor Alvarenga, editor
of the Portuguese magazine Maisfutebol.
Indeed, Ederson has shown to be complacent at times. His howler cost Benfica in the Lisbon derby against rivals, Sporting back in April. The young goalie misplaced Luisão's pass unto the path of Bas Dost, before conceding a penalty which was converted by Adrien Silva. To avoid this, he must try to remain focus and never undermine the English top flight. His predecessor did so and paid the ultimate price.