How far can Arsenal go in the Europa League?
Unai Emery's Europa League charm didn't work in Baku. Can he test it again in Gdansk?
Once upon a time, Arsenal were English juggernauts. Under Arsene Wenger, they rose to challenge Sir Alex Ferguson's Manchester United, their run of dominance culminating in the 2003/04 Invincibles season. While their English legacy is secure even though they've finished outside the top four for three years, the Gunners have never gone the distance in Europe. Last season's Europa League run ended with their third defeat in a continental final against no triumphs. That figure doubles if you count their two Cup Winners Cup appearances and single UEFA Super Cup shortfall. This season represents another opportunity. As the rest of the country prepares to Leave, can the Gunners finally open their European account?
That undefeated Premier League season and their only Champions League final, two years later, offered great promise for Arsenal's future in their new Emirates Stadium. Instead, servicing the debt on the structure set Arsene Wenger on an austere path when it came to the transfer market. His best players, Patrick Vieira, Thierry Henry, Cesc Fabregas and Robin van Persie, one after the other, signed with more ambitious clubs. No replacements were signed until Mesut Ozil and Alexis Sanchez arrived in North London. Soon enough, the Chilean forced his way out too.
Pierre-Emerick Aubameyang and Alexandre Lacazette came next, just as Wenger departed. New manager Unai Emery enjoys a wealth of attacking options but, like his predecessor's later years, it hasn't amounted to much. Or has it? Liverpool are running away with the Premier League but the Gunners sit third, only a point behind Manchester City. The Spanish boss brought that about despite the club's newest jewel, Nicolas Pepe, failing to show any lustre. There are reasons to be optimistic about Arsenal's chances in the Europa League season and others to doubt them. Which will it be?
In part, that depends on the manager's priorities. Wisdom teaches that chasing two rabbits catches none. Manchester City's upside is much higher than Emery's squad. The Sky Blues may trail the Reds by eight points but they erased an 11-point deficit in 2018/19 to retain their crown. Meanwhile, the Gunners are already operating at peak capacity. If third place is the best hope in the domestic league, why not chase that elusive European glory?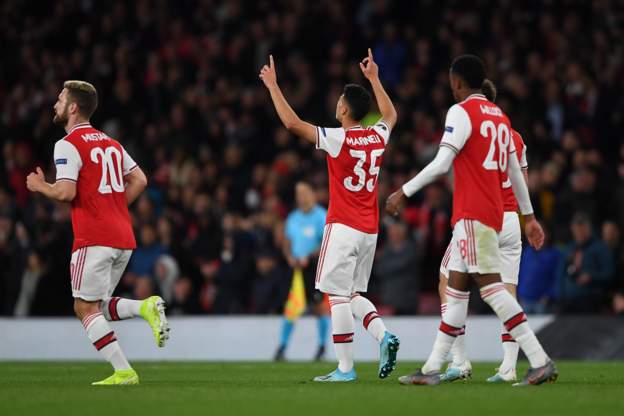 Two Europa league games
Two wins
Two clean sheets
Six points
Seven goals scored
Zero goal conceded
https://t.co/DXWV3QOPX0
Unai Emery came to the club with a reputation as a Europa League specialist. When the Gunners booked a place in Baku, hopes rose that the Spaniard would finally end Arsenal's continental hoodoo. But the curse proved too powerful a magick for the 47-year-old. He couldn't add to his three Sevilla winners' medals. Defeat to London rivals Chelsea only made the pill more bitter to swallow.
Forgetting all the worthy European contenders for the moment, the Blues are not in the tournament. Not yet, at least. Frank Lampard's crew may drop down if they cannot catch either Valencia or Ajax in their Champions League group. For now, Arsenal's English competitors are Wolverhampton Wanderers and Manchester United. Nuno Espirito Santo's Wolves would be a surprise finalist from a historical perspective but are looking far more formidable than the Red Devils in the campaign's opening weeks.
Although all four semi-final places in the Champions and Europa Leagues went to Premier League clubs last term, it's hardly a given that any will return. Sevilla, Wolfsburg, Roma and Borussia Monchengladbach all deserve to be considered favourites among the current participants. Then it's a question of who drops down from the Champions League. After two rounds, Real Madrid, Tottenham, Chelsea, Galatasaray, Bayer Leverkusen, RB Leipzig, Inter, former champions Shakhtar Donetsk and explosive Red Bull Salzburg are all outside the qualifying places for the senior tournament's knockout rounds.
Even if they maintain top form throughout the season, the odds are against Arsenal winning the competition. If a European trophy is their sole aim, that's one thing. If their intent is a Champions League return, then the Premier League offers them two chances rather than one, assuming that Liverpool and City maintain their respective grips on first and second. Whether or not Unai Emery is in the mood for rabbit stew, he'd be foolish to disregard the Gunners' domestic form.
In truth, the Spaniard needn't commit to one option or the other this early. While it's a tricky balancing act, he'll want to keep both rabbits in sight for as long as possible. A moment will arrive in the spring when the Premier League table is more clearly defined and the path to Gdansk clearer. Then he will be forced to decide which target is the easier prey.
When he does choose, however, he can do so knowing a squad with the talent to bring home silverware is at his disposal.