How injuries could destroy Neymar's fine career
If looks could injure, no one would have ever heard about Neymar.
Think about this, Paris Saint-Germain pays taxes for Neymar before they pay him his weekly wages. Investopedia ranks the Brazilian as the third highest-paid football player in the world. But the Brazilian's career is beginning to spiral - no thanks to the incessant injuries he's picking up...
When PSG threw caution to the wind to sign Neymar for a world record fee, they scarcely anticipated the baggage that's followed. The truth is, Parisians have been treated to the shenanigans, panache and brilliance that accompanies a player of Neymar's quality. Yet, like kids and candy, the fans want more.
A fully fit Neymar is almost an unstoppable force, especially when he decides not to dribble himself to the ground. For a winger, his goal return is quite scary. The 27-year-old already has struck 230 times for the three different clubs he's donned for. On the international level, his 60 goals for the Selecao puts him second on Brazil's all-time best scorers list. It's why someone like Lionel Messi can say this about Neymar:
"I only wish that I can play together with him once again."
Injury worry
Two things are certain to ruin a player's career; bad decisions and injuries. The latter is proving Neymar's bane. A career littered with stops and starts usually never reaches its full potential. Neymar's has been halted too many times to overlook.
The first alarming injury for the striker was when he fractured his lumbar vertebrae following a knee-in-the-back challenge from Camilo Zuniga in a 2014 World Cup quarter-final match against Columbia. The player was later told by doctors his football career would've been over if the fracture had occurred two centimetres to the side.
Surprisingly, it only took 30-days for Neymar to recover from that harrowing injury. Still, the winger has continued to find his way to the treatment table. Last February, Neymar fractured his metatarsal bone in a Ligue 1 match against Marseille. Again, surgery was required and the forward was sidelined for three months.
In January 2019, Neymar suffered a foot injury which kept him out for three months. Two months after his return, he ruptured his ankle ligament while playing for Brazil in a friendly against Qatar. The injury ensured he could only watch Brazil win the Copa America.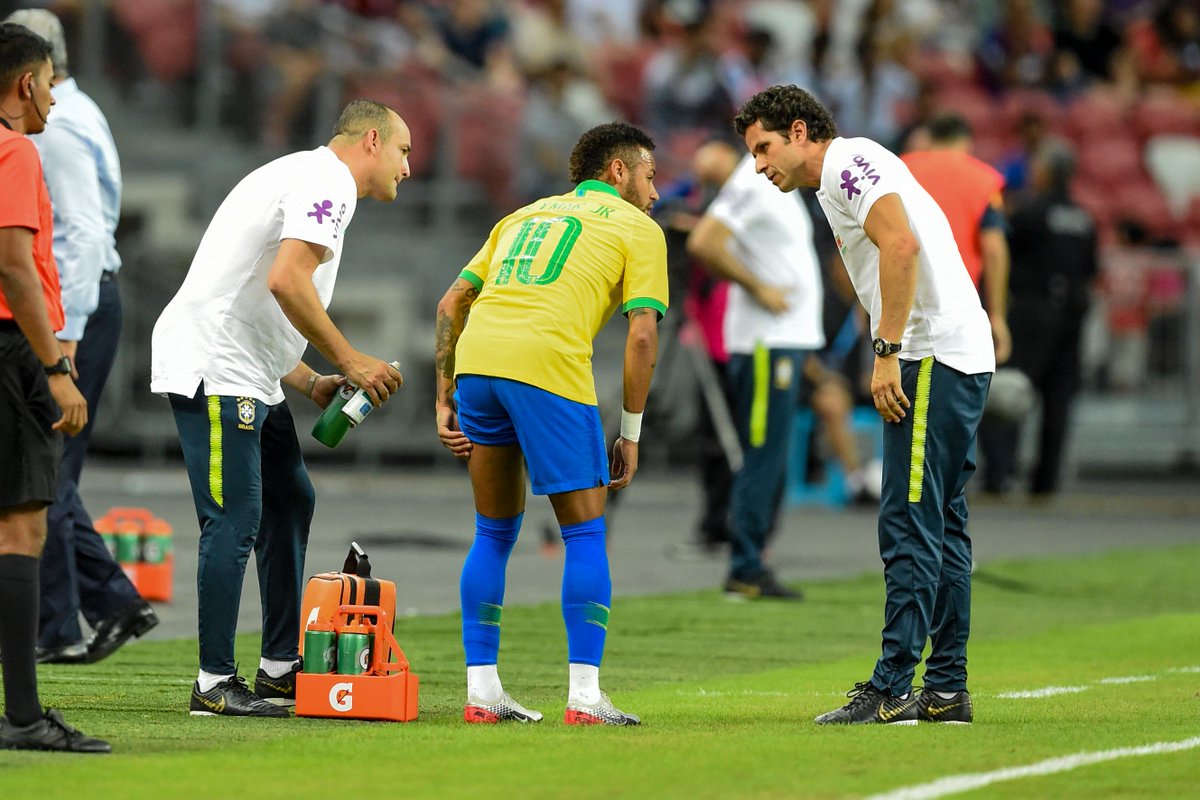 Despite his recovery, more fitness problems meant Neymar couldn't start the 2019/20 campaign with PSG. He marked his return by scoring the winner in a 1-nil win against Strasbourg. The former Barcelona man has found the net in four of the five games he's played since his comeback. But Neymar's troubles seem far from over.
Only 12 minutes into Brazil's friendly against Nigeria, Neymar hobbled off with another injury to his muscles. Officially, it's Neymar's third injury in 2019. Combined, he's been injured for 177 days in 2019 [Transfermarkt].
Back to what was said in the introduction. Besides being signed for nearly £200million, Neymar is heavily paid to play football. His wages amount to £667,000 per week. That's £95,285 per day. If you do the math, PSG has paid Neymar a staggering £16.8million while he was injured. Not including footing his piling medical bills.
Bad luck or bad management
Injuries are the inevitable hazards of football, and no player sets out to get injured. A slip, a bad landing, a collision or a reckless tackle can all result in a terrible injury.
But injury management and treatment is paramount to the longevity of a footballer's career. Rushing a player back to action after a bad injury can be inimical. Relapse is more difficult to treat. Too many surgeries can be just as bad. Referees not protecting players is a scourge.
Albeit, with the money available to PSG, they should be treating Neymar better. Arjen Robben and Messi are two players who conquered the injury plague thanks to the care they received. Others like Marco van Basten, Ronaldo de Lima and Owen Hargreaves weren't so lucky. Will Neymar join this ill-fortuned pack?