How can Alexandre Lacazette gain France recognition?
Despite impressing at Arsenal recently, Lacazette hasn't had a look in for Les Bleus
Arsenal forward; Olympique Lyonnais hero. Firing for the Gunners, but not for France. Pourquoi? Didier Deschamps says no. What more can be done in North London to book a Eurostar ticket?
Alexandre Lacazette follows a long lineage of French players at Arsenal. Thierry Henry, Patrick Vieira, Emmanuel Petit, Robert Pires, the list goes on. Those four all had successful stints with Les Bleus, too.
Lacazette does not have such a luxury, having been frozen out of France's national team for 11 months now.
Missing out on Russia 2018, Lacazette likely spent the summer with eyes fixed on the TV screen. If asked, the media-friendly striker would have probably expressed delight about his country's World Cup triumph; however, there must have been some elements eating him up inside. He was playing at the top level, arguably performing better than some Les Bleus members, yet was not selected.
Two international windows have since passed, with France competing in the UEFA Nations League, and again Lacazette was forced to watch from home. When questioned as to what he must do, Deschamps replied: ''Continue the good work at Arsenal''. It's a deceitful answer at best. A positive spin on, 'he's playing well, but he's not good enough'.
I happen to disagree.
Why Lacazette Needs France
After joining the Gunners last July, Lacazette was coupled up with his fellow Frenchman, Olivier Giroud. The pair were often described as chalk and cheese. Arsene Wenger preferred the former Lyon frontman. Deschamps, meanwhile, held the opposite view.
The Anglo-French banter was in full force at the Emirates during 2017. Lacazette and Giroud filled the strike force with a fair few goals, including both getting on the scoresheet in the same match at home to Huddersfield Town in November.
Lacazette has totalled 22 competitive goals for Arsenal. Five of which have been scored this campaign. His recent brace against Fulham means he's the club's second-top marksman, just one strike behind Pierre-Emerick Aubameyang.
Lacazette twice broke the 30-goal barrier while at Lyon. Deschamps has a prolific striker available. So why isn't he interested?
Lacazette's great Ligue 1 performance was rightly rewarded with a move to the Premier League, but it's yet to be recognised on the international front. The 27-year-old has even gone on record to say he misses the atmosphere in France. As well as signifying love for his country's football, it's a cry to the FFF. He wants to get into the organisation's good books.
Why France Needs Lacazette
World Cup success? Fantastic. Lacazette once struggled for Les Bleus? The past is the past.
Granted, it's difficult for any player to break into a squad which is performing well. Global superstars such as Paul Pogba, Antoine Griezmann and Kylian Mbappe will be hard to dislodge. Yet not impossible. Deschamps' men could only manage a 2-2 draw at home to Iceland two weeks ago. A month prior, Switzerland hit Strákarnir okkar for six. A few changes in France's attack wouldn't be the worse thing.
Of course, complacency comes into effect. After winning the most prestigious prize in world football, what else is there to achieve? In Spain's case, the utter dominance between 2008-12 resulted in too much of the same, culminating with a disappointing World Cup on Brazilian soil. Les Bleus will do well to avoid such stalemate tactics.
Having not got his hands on the Jules Rimet trophy, Lacazette still has a fire burning inside. He has a point to prove and desire to pull on the famous blue shirt. France's 23 victors, meanwhile, have already reached the highest echelon. They'll say otherwise but for them, it's all downhill from here.
Putting Lacazette in for another striker, potentially Giroud given he's yet to score this season for Chelsea, will show the rest of Deschamps' regulars that they're not safe.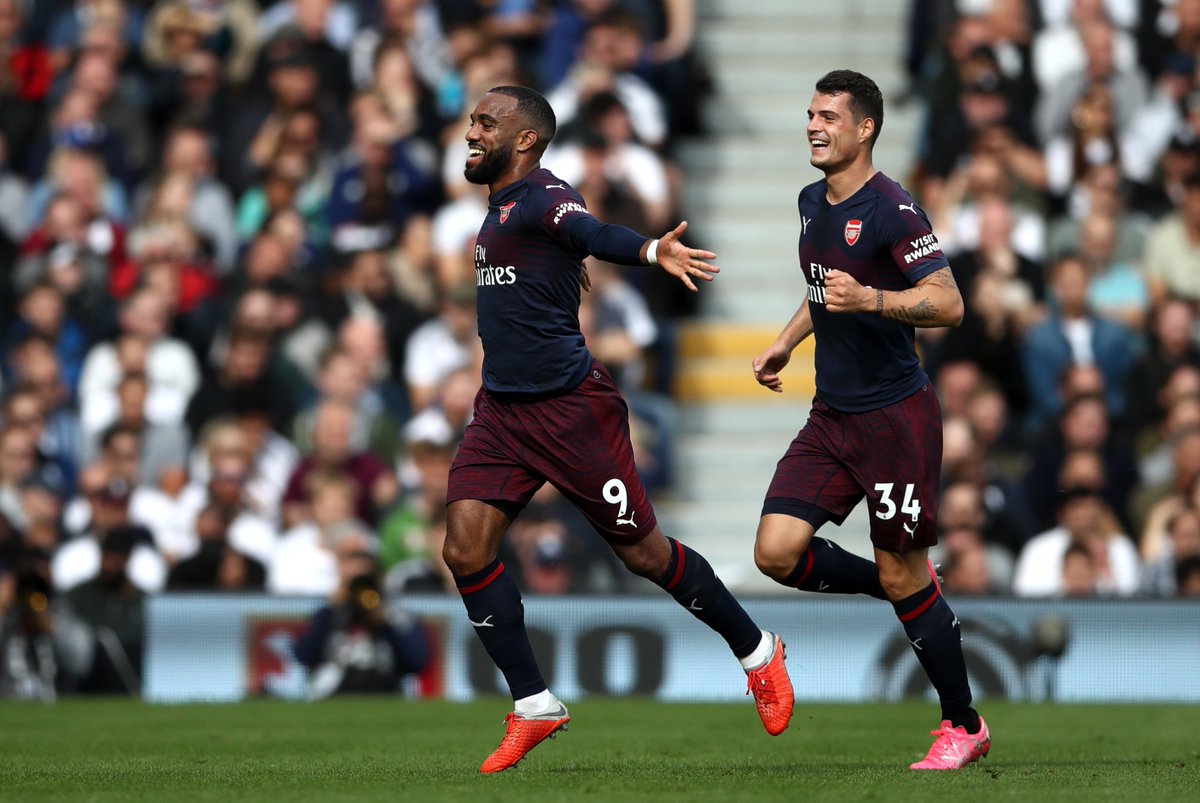 @
JenningsWrites
Alexandre Lacazette has scored four goals and provided two assists in 535 minutes of Premier League football for Arsenal this season.
Directly involved in a goal every 89.2 minutes. 👏
https://t.co/uKtWhbByiE
Lacazette's proactive, fast playing style suits Les Bleus. He's popping up in all the right places for Arsenal, bagging both goals and assists. Although his international form lacked consistency in the past, times change. Managers should base their selections solely on the right now.
France next meet up in mid-November for a Nations League clash with the Netherlands followed by a friendly against Uruguay. In the meantime, Deschamps will have to monitor whether Lacazette does "continue the good work" before reconsidering his options.